White House spokesman Josh Earnest said Tuesday that Republican presidential candidate Donald Trump has disqualified himself from being president with his proposal to ban all Muslim immigrants.
"What Donald Trump said yesterday is an automatic disqualifier from being president," Earnest said. "For Republican candidates for president to stand by their pledge to support Mr. Trump, that in and of itself is disqualifying. They should say right now that they would not support Donald Trump for president and any Republican who is too fearful of the Republican base to admit it has no business serving as president either."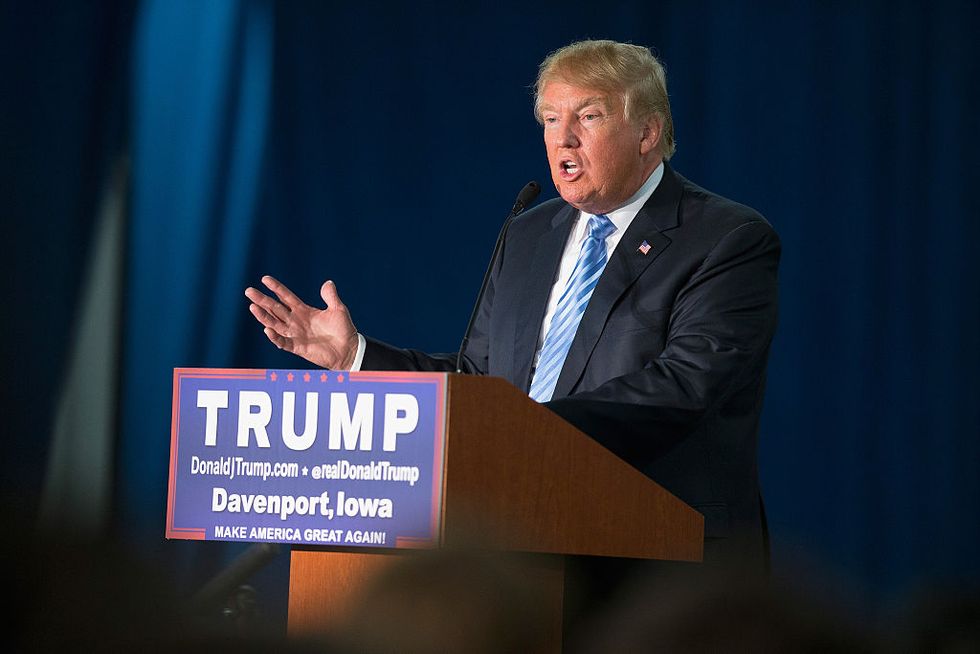 Republican presidential candidate Donald Trump speaks to guests Dec. 5. (Getty Images/Scott Olson)
Trump recently said that as president he would restrict Muslims from entering the United States as immigrants.
"The Trump campaign for months now has had a dust bin of history like quality to it from the vacuous sloganeering, to the outright lies, to even the fake hair, the whole carnival barker routine that we've seen for some time now," Earnest said. "The question now is about the rest of the Republican party, and whether or not they are going to be dragged into the dust bin of history with him."
Earnest later doubled down on his comments regarding Trump's appearance.
"I was describing why it would be easy for people to dismiss the Trump campaign as not particularly serious because he's got a rather outrageous appearance," Earnest said. "That is a hallmark of his campaign and his identity. That's the point I'm trying to make."
Asked, "How do you know it's fake?" Earnest said, "I guess I'm happy to be fact checked."
Though House Speaker Paul Ryan (R-Wis.) criticized Trump's statement, Earnest pointed out, "Just today, today, the newly elected speaker of the House promised to vote for Donald Trump if he is the nominee."
Earnest said that all presidential candidates must issue a "definitive statement" as to whether they would support Trump if he were the nominee.
"To stand by him is in and of itself disqualifying," Earnest said.
Earnest stressed that this rhetoric would make it more difficult to build relationships with Muslim Americans.
"As toxic as Mr. Trump's rhetoric is, it does not justify any kind of violence," Earnest said, adding, "Rhetoric like the offensive bluster we hear from Mr. Trump makes it harder to build that relationship with the Muslim community."