FBI Director James Comey, warning about encryption problems that have to be settled between the government and technology companies, cited the Garland, Texas, terrorist attack before which 109 emails were exchanged between one of the attackers and an overseas terrorist.
"In May, two terrorists attempted to kill a whole lot of people in Garland, Texas, and were stopped by the action of great local law enforcement," Comey told the Senate Judiciary Committee Wednesday.
"That morning, before one of those terrorists left to try to commit mass murder, he exchanged 109 messages with an overseas terrorist," Comey continued. "We have no idea what he said because those messages were encrypted. To this day, I can't tell you what he said with that terrorist 109 times the morning of that attack. That is a big problem. We have to grapple with it."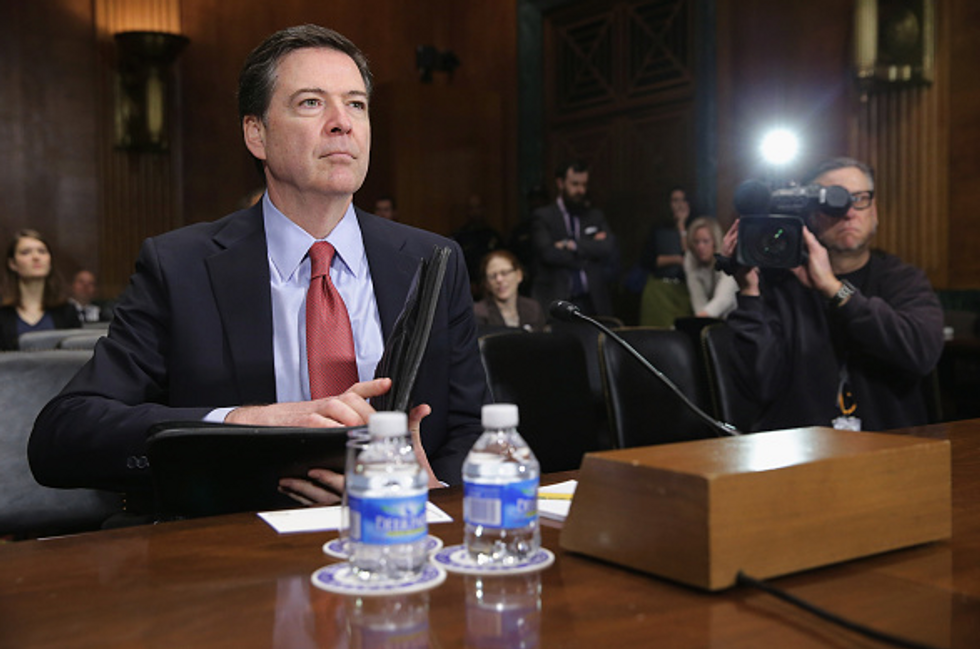 FBI Director James Comey prepares to testify before the Senate Judiciary Committee on Capitol Hill Wednesday in Washington, D.C. (Chip Somodevilla/Getty Images)
The attempted terrorist attack in Texas was committed by two gunmen, Elton Simpson and Nadir Sofa, who opened fire outside a building hosting a Muhammad cartoon contest when they were both fatally shot by a security officer.
Comey mentioned the Garland attack after speaking about the issue of encryption and how some companies choose not to comply with judges' orders. He said that, for the most party, technology companies and federal law enforcement are on the same page.
"We understand that encryption is a very important part of being secure on the Internet. We also all care about public safety," Comey said. "We also all see a collision between those things and we see that encryption is getting in the way of our ability to have court orders effective to gather information we need in our most important work."
"The government doesn't want a back door," he added. "The government hopes to get to a place where if a court issues an order to supply that information to the judge, and figures out on its own what's the best way to do that, we shouldn't be telling people how to operate their systems."
He said it's less of a technical issue than a business-model question.
"Lots of good people have designed their systems and devices so that judges' orders cannot be complied with for reasons that I understand. I'm not questioning their motivations," Comey said. "The question we have to ask is: Should they change their business model? That is a very, very hard question. Lots of implications to that. We have to wrestle with it because of what's at stake."