Israel's Arrow anti-ballistic missile system, which is being developed jointly with the U.S., scored a major success Thursday, hitting a target meant to simulate an incoming missile for the first time.
A source at Israel's Defense Ministry told the Jerusalem Post that the Arrow 3 intercepted and destroyed its target in space, a major milestone in the system's development.
The successful interception test came the same week a report emerged that Iran may have conducted its second ballistic missile test since the controversial Iran nuclear deal was announced.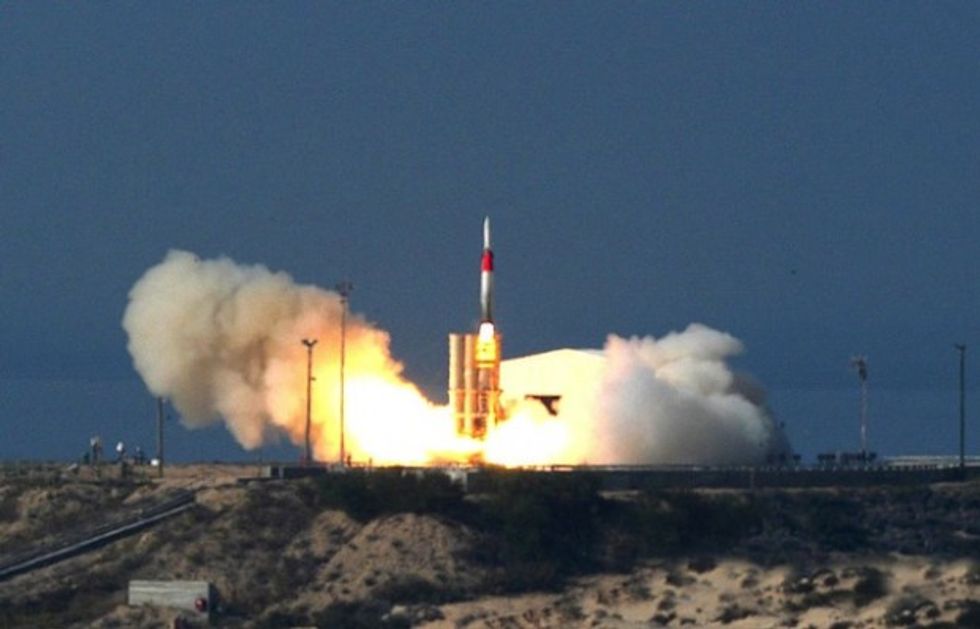 This file photo, taken Dec. 2 and released by Israel Aircraft Industries Ltd., shows an Arrow missile being launched from an undisclosed location in Israel. (AP photo/Israel Aircraft Industries, File)
The Israeli government has repeatedly criticized the Iran deal, driven by concerns that Iran has vowed to wipe Israel off the map.
"We can confirm a complete success," Yair Ramati of the Defense Ministry's Administration for the Development of Weapons told the Post, adding, "It is the best result possible."
The test was designed to simulate the interception of long-range missiles that might one day be used by Iran or other adversaries of Israel.
The Post explained that the Arrow 3 travels at twice the speed of a tank shell in order to leave the atmosphere and intercept its target in space. Taking out the target earlier in its trajectory not only provides more opportunity to take down an incoming missile attack, but it also helps protect against fallout from a possible nuclear, chemical or biological warhead.
The Times of Israel noted that developers of the Arrow 3 interceptors aim to destroy more than five incoming missiles within 30 seconds at altitudes of more than 60 miles.
A similar trial last year of the Arrow 3 system was aborted, and the test was quickly changed from a missile interception test to a "target-tracking" exercise.
United States Ambassador to the U.N. Samantha Power said that the U.S. is investigating the report of the Iranian ballistic missile test. "[I]f we can confirm it, and if there is a violation of any Security Council resolution, we will come here and we will seek appropriate action," Power told reporters Tuesday.
The anti-missile shield is being developed jointly by Israel and the U.S. Missile Defense Agency.
The Arrow 3 is one of several anti-missile systems Israel is developing to defend itself against different range missiles. Israels famous Iron Dome is designed to shoot down shorter-range rockets launched by Hamas in Gaza and Hezbollah in Lebanon.