An Afghanistan War veteran and Christian is suing the iconic Metropolitan Museum of Art in New York City, saying several of its paintings which depict the baby Jesus as a blonde-haired, blue-eyed "Aryan" are racist and represent a clear cut case of "white supremacy" in the public sphere.
The suit, filed by Justin Renel Joseph in the Manhattan Supreme Court, also alleges that the artwork is a violation of the Civil Rights Act of 1964, which prohibits discrimination by businesses and institutions that provide a "public accommodation."
WATCH: Are Paintings of Jesus That Depict Him as White 'Racist?'
The "Racist Artworks depicts the historical and public figure of Hebrew descent, Jesus Christ, as a blonde haired fair skinned, Aryan adult male, despite that an adult male native to the Middle-Eastern region of Hebrew descent… would not be genetically disposed to possess such features," Joseph wrote.
In the suit, Joseph says historical accounts suggest the Christ child actually had "hair like wool and skin of bronze color." Joseph also points out that he himself "possesses black hair like wool and skin of bronze color, and is a Christian."
Joseph said he has suffered some psychological damage from the artwork, all of which still hangs on the venerable museum's walls, according to a brief survey done by TheBlaze Wednesday afternoon.
"The Plaintiff suffered, among other things, lowered self-esteem, discomfort, personal stress, emotional distress, and further, the Racist Artworks caused the plaintiff to feel reject and unaccepted by society," read the suit, authored by Joseph.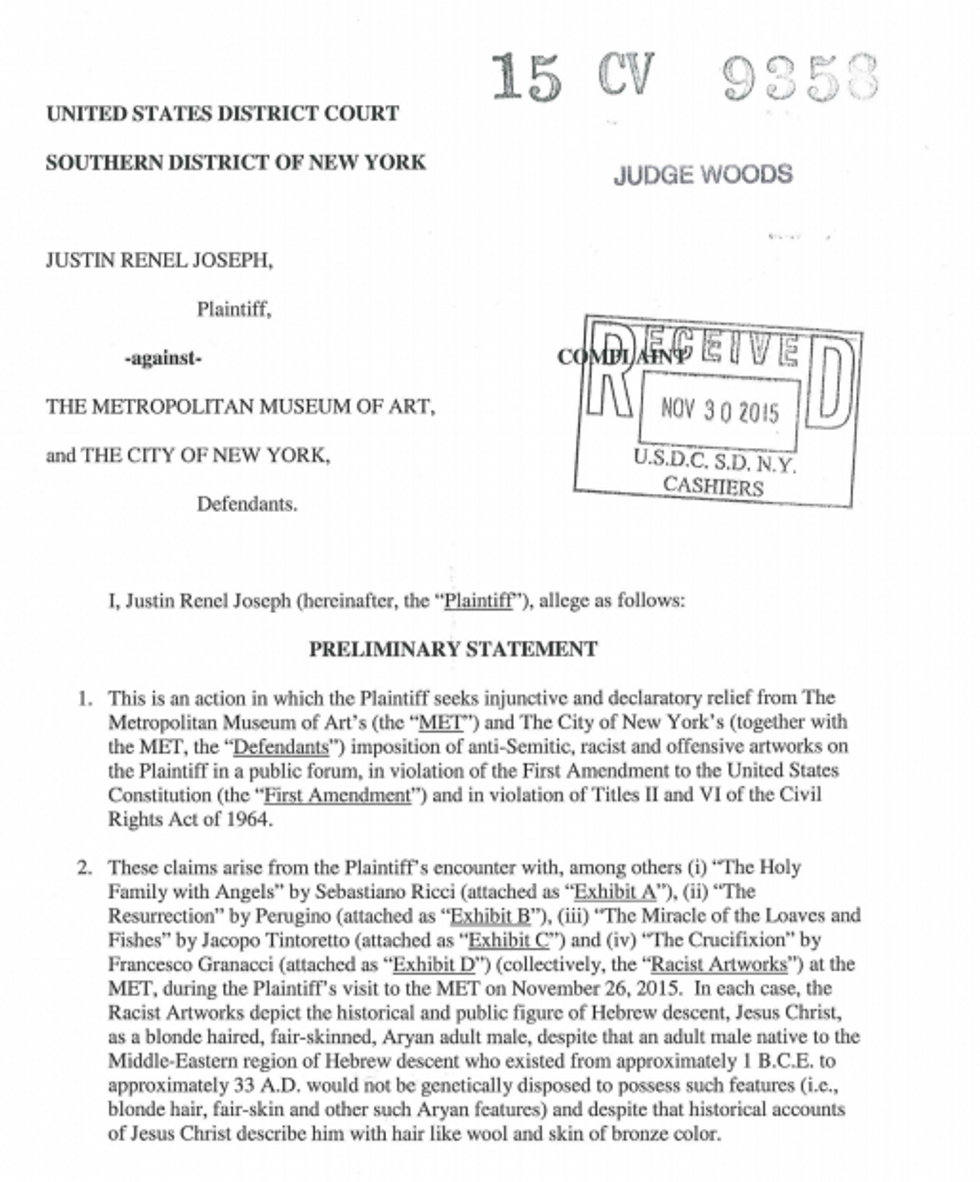 Unlike many high-profile lawsuits that seek stunning payouts for the plaintiff, Joseph's suit does not seek financial restitution at all, instead simply demands that the Met remove the material he found offensive from public sight.
"This whole thing is costing me money and time," Joseph told TheBlaze Wednesday. "I want them to take down what I am calling 'white's only art.'"
"It goes against the Civil Rights Act and I want it down," he added.
The Met, meanwhile, responded to Joseph's suit with a statement to the New York Post, arguing it is common practice for many cultures to depict the subjects of their artwork to resemble themselves.
"When they were painted, it was typical for artists to depict subjects with the same identity as the local audience," Met spokeswoman Elyse Topalian told The Post. "This phenomenon occurs in many other cultures, as well," 
Follow Josiah Ryan on YouTube, Twitter and Instagram:
Twitter (@JosiahRyan) and Instagram (@ahhdannyboy.)