Bernie Sanders' campaign slammed major news networks for what it referred to as a "Bernie blackout" on Friday.
Citing a recent Tyndall Report, which tracks various nightly news programs on networks such as ABC, CBS and NBC, the Sanders campaign accused flagship news networks for vastly ignoring the Vermont senator's Democratic presidential bid.
As reported by Media Matters, the Tyndall Report findings said that ABC's "World News Tonight" has given a total of 81 minutes to Republican presidential candidate Donald Trump's campaign versus less than one minute to Sanders' campaign. The report states that Trump has received approximately 234 minutes on nightly news, and Democratic presidential frontrunner Hillary Clinton has received 113 minutes. In comparison, Sanders has only received 10 minutes.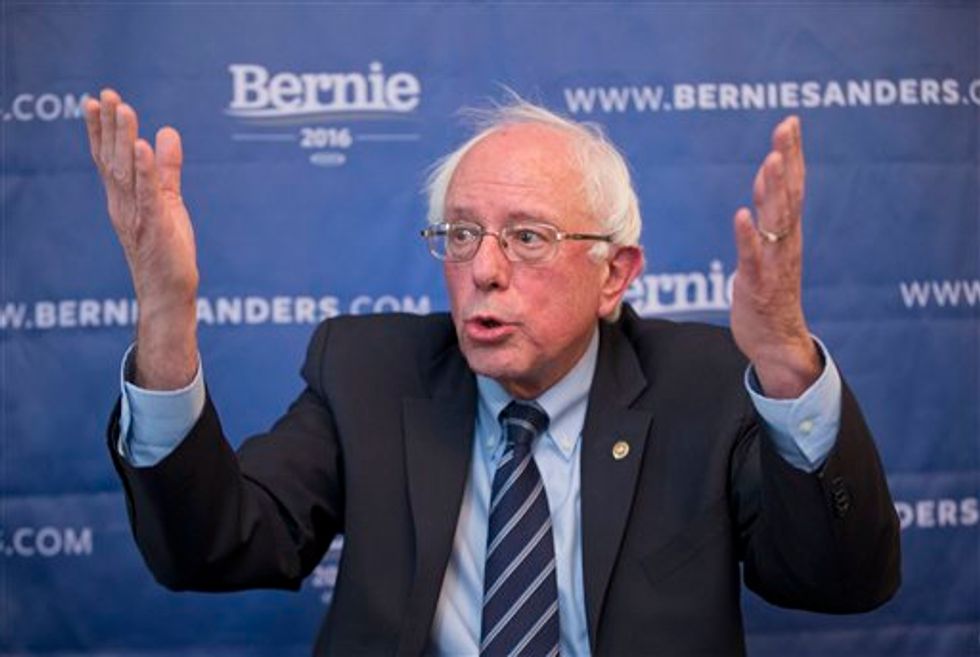 Democratic presidential candidate, Sen. Bernie Sanders, I-Vt., during a live broadcast from his campaign office in Washington, Monday, Dec. 7, 2015. (AP Photo/Pablo Martinez Monsivais)
"The corporately-owned may not like Bernie's anti-establishment views but for the sake of American democracy they must allow for a fair debate in this presidential campaign," Jeff Weaver, Sanders' campaign manager, said in a statement. "Bernie must receive the same level of coverage on the nightly news as other leading candidates."
Tyndall also noted in the report, according to the Washington Post, that the GOP primary debates have received more airtime than the Democratic primary debates — albeit, there are vastly more Republican candidates than Democrats.
The Washington Post also noted that Vice President Joe Biden, who only considered a run, received more airtime for his probable campaign than Sanders' actual campaign — a total of 56 minutes.
"If you're not winning, saying outrageous things, or embroiled in an email scandal, it can be difficult to garner the attention you think you deserve," Callum Borchers wrote, adding that, besides for Sanders, the media attention could be particularly disappointing to Sens. Ted Cruz (R-Texa) and Marco Rubio (R-Fla.) as well as former Florida Gov. Jeb Bush (R).
According to a recent CNN/WMUR poll of New Hampshire's likely Democratic primary voters, Sanders has a lead among the Democrats with 50 percent. Clinton is polling at 40 percent and former Maryland Gov. Martin O'Malley has just one percent. Yet according to Real Clear Politics' aggregated polling data, Clinton leads at 55.4 percent ahead of Sanders with 30.8 percent.
Sanders, who recently won Time Magazine's readers' poll for 2015 Person of the Year, faced some backlash when his communications director, Symone Sanders, told reporters that they were not to ask the self-proclaimed socialist any questions pertaining to the Islamic State in the wake of the Paris and San Bernardino terrorist attacks.