Just hours before the Republican candidates take the stage for their fifth debate, Republican hopeful Ben Carson has released a new policy proposal outlining seven steps to combat the Islamic State and Islamic terrorism.
In the plan, Carson calls for a formal declaration of war against the Islamic State, a "war-time emergency visa and immigration policy," and for national guard troops to be stationed along the United States' southern and northern borders.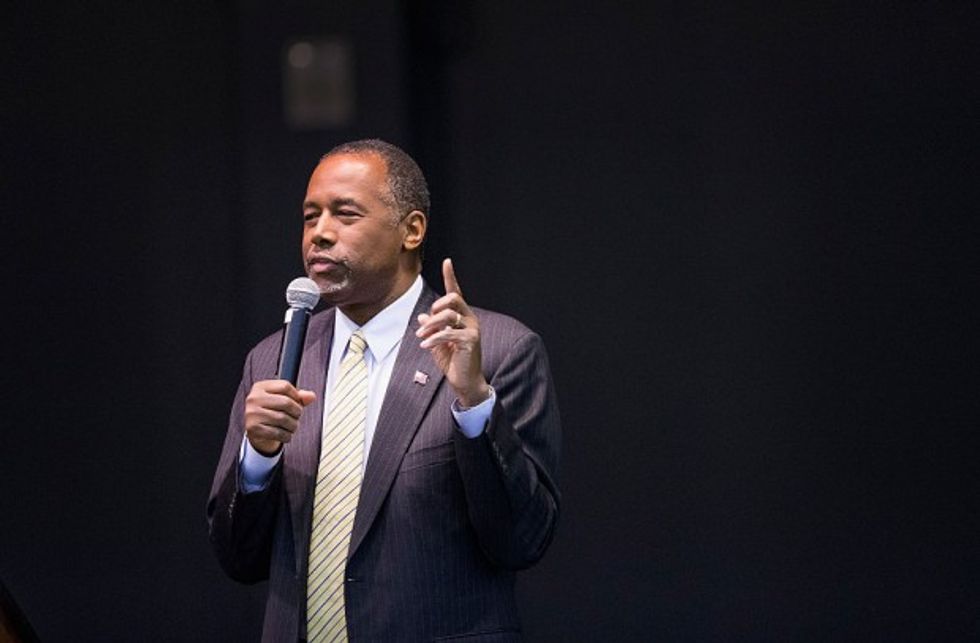 Ben Carson speaks to guests at a Nov. 22 event. (Getty Images/Scott Olson)
In addition, the retired neurosurgeon said that the Muslim Brotherhood should be designated a terrorist organization, as well as other organizations that "propagate or support Islamic terrorism." Carson also said that the Council on American Islamic Relations should be investigated as an "offshoot of the Muslim Brotherhood and a supporter of terrorism."
Meanwhile, Carson added, the U.S. should aid the Kurds and moderate-Muslim countries in the fight against the Islamic State while establishing a refugee "safe zone" in the "free al-Hasakah Province in northeast Syria."
More from the proposal:
The United States should lead the immediate formation of — and provide substantial advisory, financial and military support to — a military coalition in the Middle East to wage war against ISIS. Such a regional coalition would consist of countries such as Egypt, Saudi Arabia and Jordan.

The United States should urge its allies and partners in the Middle East to engage in massive recruitment and training of Sunni Syrian men based in Saudi Arabia and the Gulf and of Sunni Syrian male refugees in Jordan — to establish a military force to destroy ISIS and to establish a protection zone for the victims of the terrorist state.
"Our country faces grave national security threats. We must act boldly and decisively to protect American citizens from terrorists at home and abroad," Carson said in the statement. "We can no longer dawdle while ISIS continues to persecute Christians, enslave young girls, oppress civil societies and perpetrate terrorist attacks against the free world."
"We must destroy their caliphate and prevent their terrorists from infiltrating our homeland," he continued. "We must also secure our borders, identify radical Islamic extremism by name and root out its agents and collaborators in our own country."
While Carson has struggled over the last 6 weeks — most attribute it to his lack of foreign policy experience — Tuesday night will be a prime opportunity for Carson to prove his worth as a serious candidate vying for the Republican nomination.
The debate, which is hosted by CNN and will take place at 9 p.m ET, is widely believed to mostly likely focus on foreign policy and national security issues.
—
Follow the author of this story on Twitter and Facebook:
[facebook //www.facebook.com/plugins/like.php?href=