A Christian filmmaker took to Facebook after the Republican debate this week to highlight some key moments that he thought were incredibly profound — comments from the candidates about the current "alliance of Iran and Russia" in the Middle East.
Paul Lalonde, producer and writer of end-times film "Left Behind," wrote on the movie's official Facebook page that he was struck by GOP candidates' open discussion about this coalition, saying that he believes that the alliance possibly pertains to biblical prophecy.
He also said that the contenders could "have stirred things up" had they openly tied the alliance to end-times verses in the Old Testament.
"So I'm watching the debate tonight and listening to the candidates talking at some length about the politics in the Middle East," Lalonde wrote. "They even specifically mention the alliance of Iran and Russia."
He continued, "And yet not one of the entire panel of self-professed Christians said, 'Oh, and by the way, that's the very alliance that the Bible says will attack Israel in this generation."
Lalonde said that, had one of the candidates mentioned the widely held evangelical belief that Russia and Iran could form a military alliance during the end times —  a theological construct that is based on interpretations of Ezekiel 38-39 – that it could have really "stirred things up."
"Maybe next time," Lalonde concluded.
At a few points during the debate, the nations of Iran, Russia and Syria were discussed, with New Jersey Gov. Chris Christie invoking problems surrounding Syrian president Bashar al-Assad — among other grievances — in describing what he believes to be "reckless" behavior.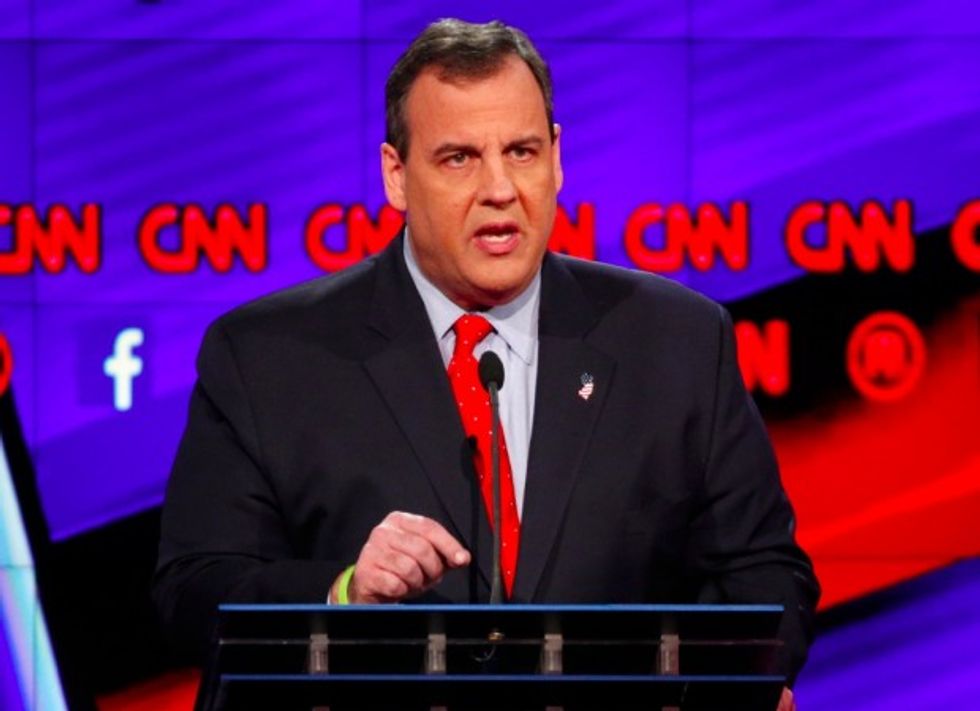 Chris Christie speaks during the CNN Republican presidential debate at the Venetian Hotel & Casino on Tuesday, Dec. 15, 2015, in Las Vegas. (AP Photo/John Locher)
"What reckless is is calling Assad a reformer. What reckless is allowing Russia to come into Crimea and Ukraine. What reckless is is inviting Russia into Syria to team with Iran," he said. "That is reckless. And the reckless people are the folks in the White House right now. Barack Obama and Hillary Clinton are the reckless people."
Former Florida governor Jeb Bush and Ohio Gov. John Kasich also weighed in.
"I don't understand this thing about Assad. He has to go. Assad is aligned with Iran and Russia," Kasich said. "The one thing we want to prevent is we want to prevent Iran being able to extend a Shia crescent all across the Middle East. Assad has got to go."
As TheBlaze has reported, many evangelicals believe that Old Testament prophet Ezekiel provided a projection into a future end-times battle that will involve a nation to the north of Israel as well as a coalition of other countries. These nations, according to the text, will invade Israel.
In the opening of chapter 38, Ezekiel proclaims that the Lord has come to him and told him to prophesy against "Gog of the land of Magog, the chief prince of Meshek and Tubal."
This photo released by the Syrian official news agency SANA shows Syrian President Bashar al-Assad speaking during an interview with Al-Manar TV, owned by the militant Hezbollah group, in Damascus, Syria, Thursday, May 30, 2013. (AP)
God then, through Ezekiel, makes no bones about the fact that he opposes Gog, pointedly saying that he will "put hooks in your jaws and bring you out with your whole army," detailing an apparent military attack on that involve many other nations as well.
Definitions of Gog and Magog are not definitive in the biblical text — and many simply believe that these are events that have already come to pass — but it is written that God will judge the nations that invade the Jewish state.
Many evangelicals believe that Magog refers to Russia, based on references in the text that claim that the forces will come from the "far north" and join other nations, including: Persia, Cush, Put, Gomer and Beth Togarmah; Persia is modern-day Iran, which adds further fuel to these theological constructs.
But it doesn't end with Russia and Iran, as some theologians and pastors also believe that future events surrounding Syria are also prophesied in the Old Testament and have not yet come to pass.
Photo credit: Shutterstock
As previously reported, these prophecy experts believe that the destruction of Damascus, the capitol of Syria, is prophesied in Isaiah 17:1-3 and Jeremiah 49:23-27, with the former Old Testament text claiming that Damascus will be a "heap of ruins." Others, though, posit that Damascus has seen its fair share of war, and that these verses have likely already come to pass.
With much of the chaos unfolding surrounding Syria — and with Iran and Russia currently working together against the Islamic State inside Syria — many evangelicals' eyebrows are raising as they watch the situation unfold. Read more about these end-times theories here.
--
Front page image via Shutterstock.com. 
--
Follow the author of this story on Twitter and Facebook: