Harvard University administrators took the initiative this week to prepare students for a holiday break full of trigger warnings and difficult discussions.
In an effort to encourage conversations regarding social justice, the Ivy League school's Office for Equity, Diversity and Inclusion and the Freshman Dean's Office distributed brightly colored dinner placemats covered in detailed notes on how to approach topics like racism and the refugee crisis with friends and loved ones and included "tips for talking to families," one of which was simply "breathe."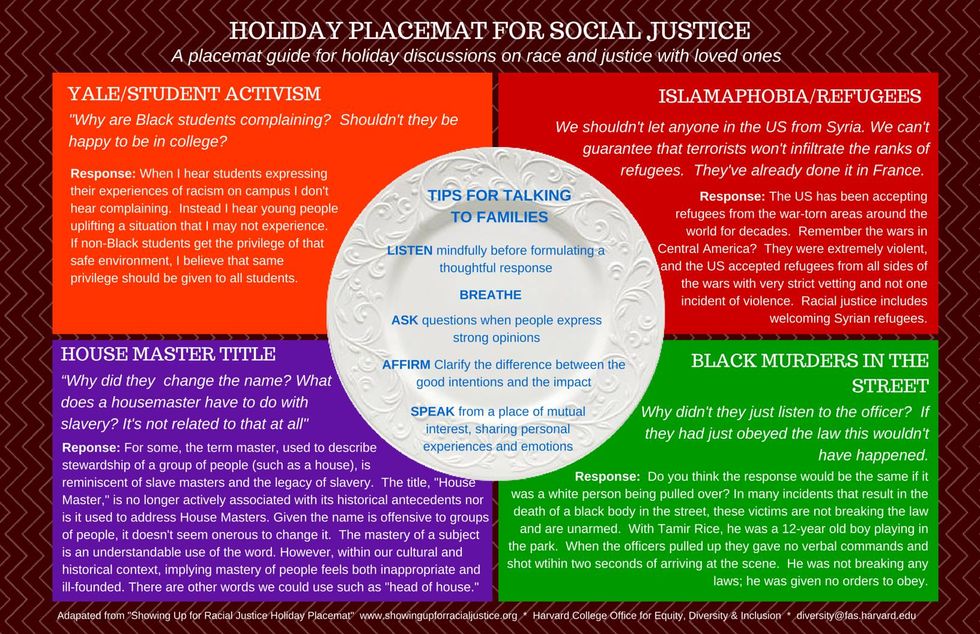 Harvard's Office for Equity, Diversity and Inclusion and the Freshman Dean's Office distributed brightly colored and laminated Holiday Placemats for Social Justice in the school's dining halls.
A panel containing the header "Yale/Student Activism" on the politically correct dining flow chart contained this discussion question: "Why are black students complaining? Shouldn't they be happy to be in college?" The response suggested by the Office for Equity, Diversity and Inclusion: "When I hear students expressing their experiences on campus I don't hear complaining. Instead, I hear young people uplifiting a situation that I may not experience. If non-Black students get the privilege of that safe environment, I believe that same privilege should be given to all students."
According to The Harvard Crimson, the placemats received mixed reactions, some of which were rather negative.
Aaron I. Henricks, a student at the university, characterized the topics noted on the placemats as "highly debatable" and described the political maneuver as "beyond inappropriate and arrogant."
Fox News reported that Harvard's College Republicans chapter responded with its own alternative placemat, parodying the originals.
Earlier, Harvard provided students with a guide for dealing with pesky relatives back home. We've provided our own. pic.twitter.com/E0sF9Rja2H

— Harvard GOP (@harvardgop) December 16, 2015
The new "Holiday Placemat for Common Sense" includes the description: "A placemat guide for holiday discussions with your Harvard College Administrators."
A bright green panel on the parody placemat reads: "Let's have a real discussion. We want to talk about important issues. That's why we came to Harvard."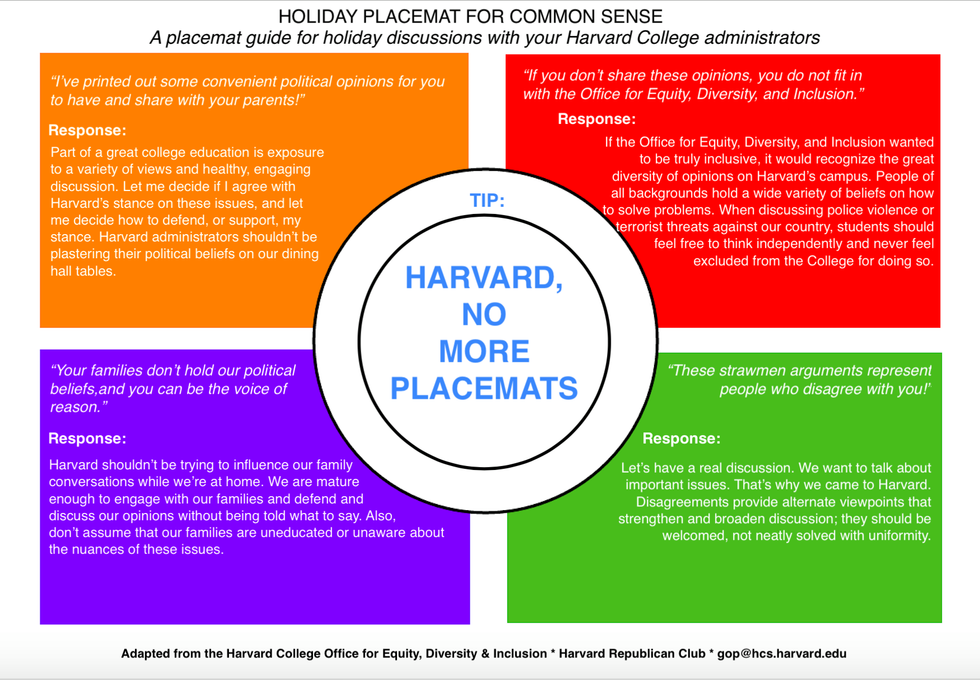 The alternate Holiday Placemat For Common Sense was created by the Harvard Republican Club in an attempt to lampoon the original.
According to Fox, two Harvard administrators — Stephen Lassoed, dean of student life, and Thomas Dingman, dean of freshmen — apologized for the placemats:
We write to acknowledge that the placemat distributed in some of your dining halls this week failed to account for the many viewpoints that exist on our campus on some of the most complex issues we confront as a community and society today. Our goal was to provide a framework for you to engage in conversations with peers and family members as you return home for the winter break, however, it was not effectively presented and it ultimately caused confusion in our community.