In a letter to then-first lady Hillary Clinton in the lead up to the 1996 election year, Chicago Alderman Daniel Soilis wrote that the White House's Citizenship USA program could "provide the Democrats with a strategic advantage" and that "people stuck in Chicago's naturalization bottleneck represent thousands of potential voters."
Today, border hawks are drawing comparisons between Citizenship USA, which was run out of Vice President Al Gore's office, and a private organization seeking to add 1 million new citizens to the voter rolls known as the National Partnership for New Americans.
"We don't know if there is coordination from the White House," Mark Krikorian, executive director of the Center for Immigration Studies, told TheBlaze. "There was in the 1996 election. Citizenship USA was a program from Al Gore's office to naturalize as many as possible before the deadline to register them to vote. So the previous Democratic administration was directly involved in this."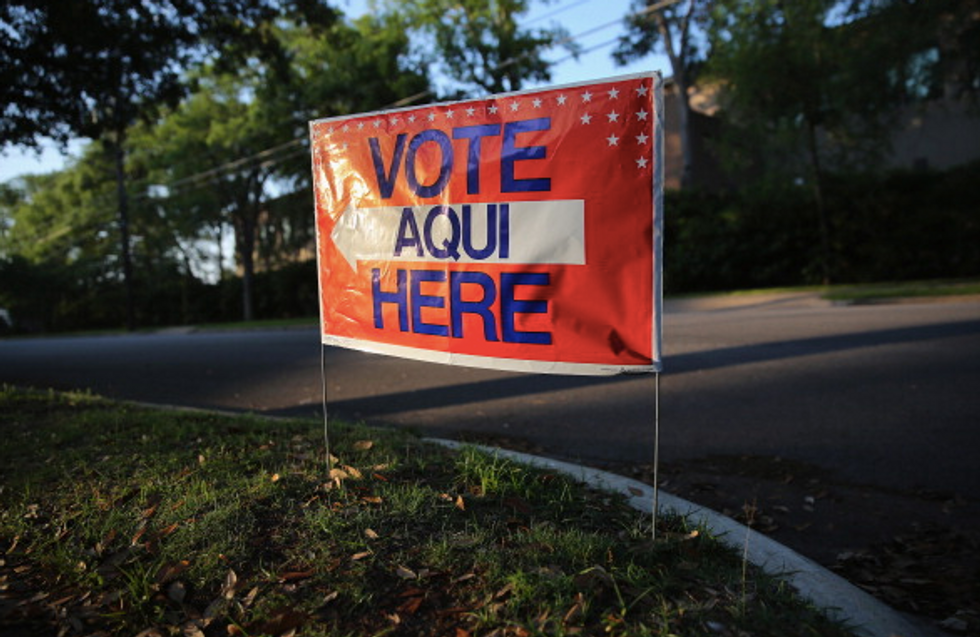 A bilingual sign stands outside a polling center ahead of local elections in Austin, Texas.  (John Moore/Getty Images)
Unlike 20 years ago, there are clear degrees of separation going into 2016. But the website for the National Partnership for New Americans doesn't hide the organization's political preferences, prominently featuring the three Democratic presidential candidates — Clinton, Vermont Sen. Bernie Sanders and former Maryland Gov. Martin O'Malley — and no Republicans.
The partnership, funded in part by progressive billionaire George Soros's Open Society Institute, has expressed a desire to "punish" Republican presidential candidate Donald Trump. While it's a private organization, some of its stated goals are similar to that of the White House Task Force on New Americans.
The White House task force report says, "Naturalized citizens can vote in federal, state, and local elections; run for public office; and apply for federal employment opportunities reserved for citizens." It adds that a new welcome packet would contain "practical tips" on a number of fronts, including "registering to vote, and getting involved in their local community."
Moreover, the National Partnership for New Americans' policy director is Tara Raghuveer, who is among the "community partners with the White House to promote citizenship," National Public Radio reported.
"Will they register 1 million new voters? Probably not. It's a marketing tactic. They will be using Trump to gin up a boogeyman to motivate people to vote," Krikorian predicted. "Citizenship is a fine thing. If you are going to stay here, it's a good idea to be a citizen. It's part of buying into what it means to be an American. The question is, why this effort before an election?"
"Even without White House coordination, it's almost certain the group will focus their efforts with the Electoral College in mind — swing states like Florida, Colorado and Virginia, as opposed to California, Texas and New York, where you know how the vote will turn out," Krikorian added.
Neither the White House, nor the National Partnership for New Americans responded to inquiries from TheBlaze for this story this week or last week.
Even if private, the partnership is clearly similar to the Gore-run program in 1996, Ira Mehlman, spokesman for the Federation of Americans for Immigration Reform, said.
"Democrats understand what Republicans don't seem to grasp — that a large number of low-wage workers will vote Democrat," Mehlman told TheBlaze. "That's not a good reason to naturalize U.S. citizens. That's a crass reason to make people into citizens, but political parties will do what gives them an electoral advantage."
Citizenship USA, which was run directly from the White House, expedited citizenship ahead of 1996 in what many Republicans in Congress believed, was a brazen effort to boost voter rolls for Democrats.
In 1996, the House Oversight and Government Reform Committee began investigating Citizenship USA, citing several memos and letters — including the message from the Chicago alderman to the Hillary Cling — as to whether the program run by the vice president's office was politically motivated.
The Citizenship USA program continued after the 1996 election, and David Schippers, while working as the chief investigative counsel for the House Judiciary Committee in the late 1990s, investigated what the program had done in 1996 and wanted to do in the lead up to the 2000 presidential election. He found that the Immigration and Naturalization Services, which is now called Immigration and Customs Enforcement, took extraordinary measures to grant citizenship.
INS agents in district offices were directed to ensure all citizenship candidates pass the civics test, relax English testing and complete interviews in 20 minutes. Schippers even found that in some cases English tests were waived and criminal records were ignored in New York, Chicago, Miami, San Francisco, Log Angeles, Houston and Newark. More than 1 million immigrants were reportedly were made citizens in time for the 1996 election.