Co-host of MSNBC's "Morning Joe" Mika Brzezinski said Tuesday that she is "completely perplexed" as to why Hillary Clinton would chose to meet Trump's "lie with a lie."
Brzezinski said she is referring to Clinton's claim during last Saturday's Democratic debate that the Islamic State uses Donald Trump in their propaganda videos to recruit new militants.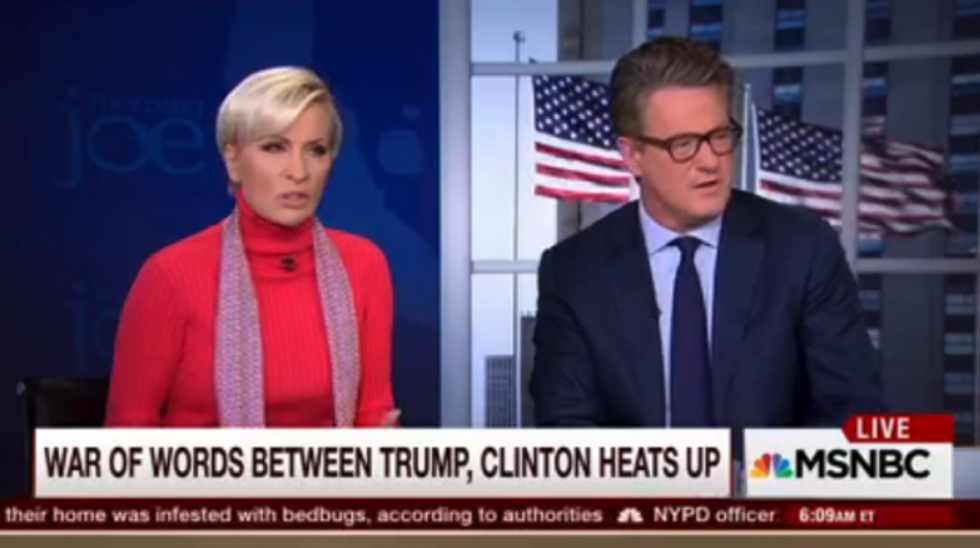 Image credit: Morning Joe/screenshot
"You notice Hillary Clinton is going after Donald Trump and I am completely perplexed as to why she would meet his lie with a lie," she said to the panel. "Does that make sense?"
"I know that there will probably be some people who won't say that it was a lie. They'll say it was just it was something that wasn't true because they're too scared of Hillary Clinton," Brzezinski continued, noting that Trump's lie was when he said he saw "thousands" of Muslims celebrating in New Jersey just hours after 9/11.
"Hillary Clinton, in the middle of the debate going after Trump, about [the Islamic State] using video of him to recruit, which is a lie - not true," she added. "And even her own team was stumbling and stuttering the next day."
Show host Joe Scarborough chimed in to note that it's "remarkable" that Clinton's team is standing behind her comments, much like Trump's people do his.
"What's remarkable is, like Trump, saying there were those celebrations in Jersey City or wherever, Hillary Clinton's people are sticking by this, and going 'hell no,'" he said. "There's a nice mirror there between Trump and Clinton - they're digging in."
On Monday, Trump demanded that Clinton apologize for her dishonesty, but her campaign had other plans. In response to Trump's demands, Clinton spokesman Brian Fallon had a blunt, two-word answer to whether or not Clinton would apologize: "hell no."
—
Follow the author of this story on Twitter and Facebook:
[facebook //www.facebook.com/plugins/like.php?href=