In 2008, former Arkansas Gov. Mike Huckabee won a resounding victory in the Iowa caucus, propelling him to win seven more states during the Republican primaries.
Now, just more than a month out from the 2016 contest and struggling in his campaign, Huckabee said he would drop out if he doesn't finish in at least the top three in the state that made him a viable contender for the White House eight years ago.
"If we can't come within striking distance of the victory or win it, then I think we recognize that it's going to be hard to take that onto the other states," Huckabee said in a radio interview with Simon Conway late Wednesday.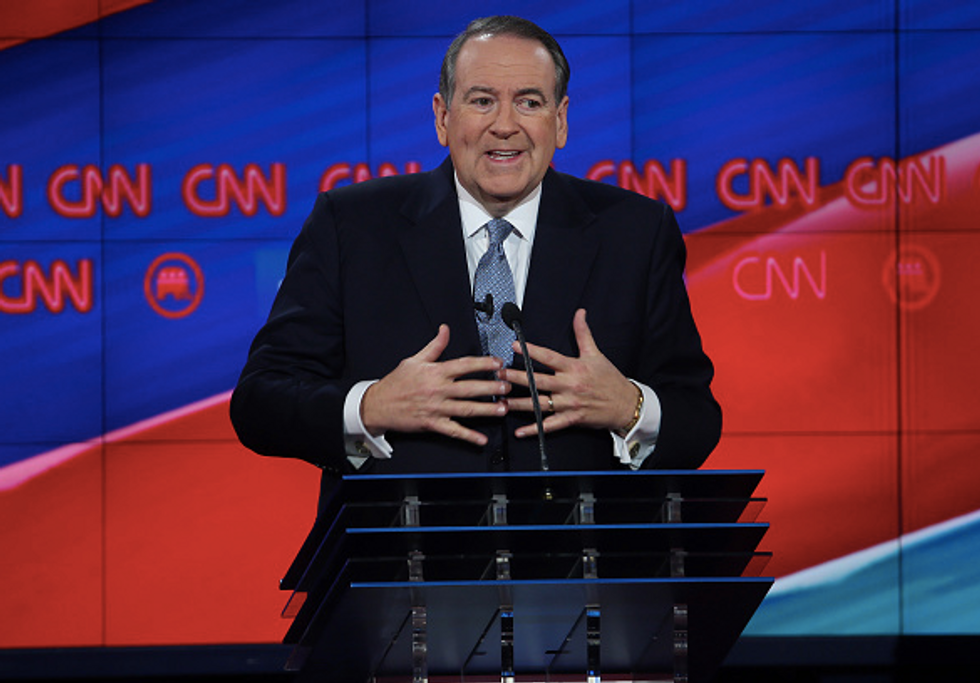 Republican presidential candidate Mike Huckabee speaks during the CNN Republican presidential debate Dec. 15 in Las Vegas. (Justin Sullivan/Getty Images)
Conway pushed him to elaborate.
"I mean, historically, we've always said there are three tickets out of Iowa: you have to come in number one, two or three," he said. "I think in many ways that's probably still the case. It may be that if you're a close second or a close third, that's very good. If you're a distant third, then maybe there's not a way to go on. I think you have a good, hard look at it after Iowa."
Despite his past victory, Huckabee stands at between 1 percent and 4 percent in Iowa polls.
Still, it should be noted that Huckabee was lagging in polls leading up to the 2008 caucus and had a rapid rise just weeks leading to the caucus votes — a formula he no doubt wants to repeat in 2016. In his surprising triumph, Huckabee defeated his nearest opponent, former Massachusetts Gov. Mitt Romney, by nine points.
(H/T: The Hill)