Republican presidential hopeful Gov. Mike Huckabee (R-Ark.) seemingly flipped his messaging on Josh Duggar last week, claiming he "never defended" Duggar after allegations surfaced that he had molested his sisters as a teenager.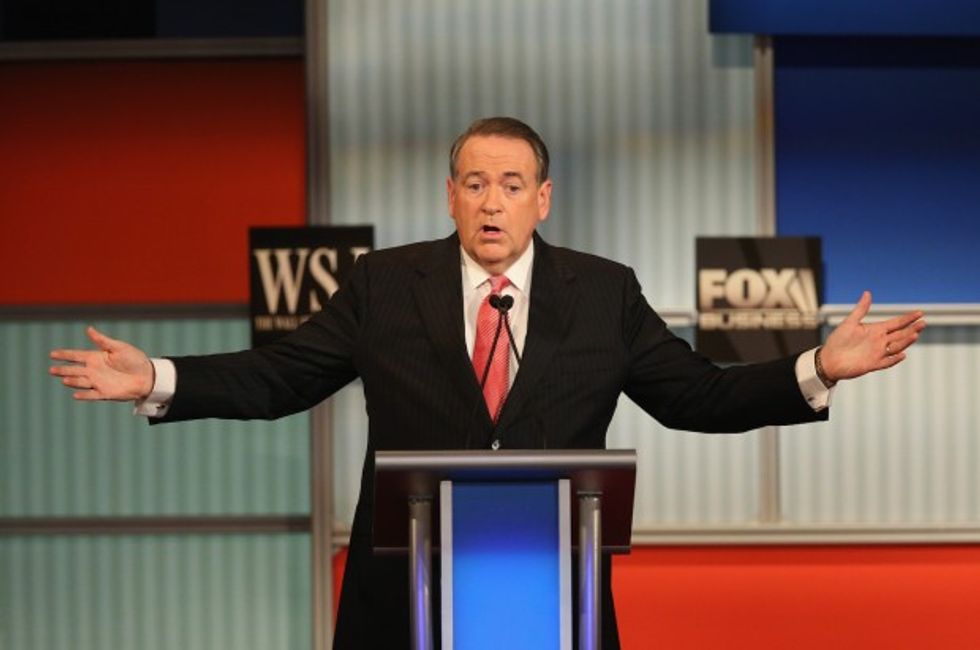 Scott Olson/Getty Images
"I really didn't support Josh. I supported his parents, if you'll go back and look at what I said," Huckabee told Iowa radio show host Simon Conway.
Huckabee added that Duggar's actions were "despicable," "dishonest," and "totally defy everything that he supposedly stood for," later saying he "never defended Josh" and that he doesn't now because there is "nothing to defend."
"There's no support for what he did," Huckabee said. "I think in subsequent months, as more things came out, what he did was despicable, it was dishonest."
When the Duggar story originally broke, Huckabee published a Facebook post that struck a different tone, seemingly lending some support to the embattled former reality TV star.
"Josh's actions when he was an underage teen are as he described them himself, 'inexcusable,' but that doesn't mean 'unforgivable,'" Huckabee wrote. "He and his family dealt with it and were honest and open about it with the victims and the authorities.
" ... No purpose whatsoever is served by those who are now trying to discredit Josh or his family by sensationalizing the story," Huckabee continued. "Good people make mistakes and do regrettable and even disgusting things."
Huckabee did, however, echo his earlier sentiments toward the media, who he described as "blood-thirsty" in his original Facebook posting, during last week's interview. The GOP candidate told Conway his support was for Duggar's sisters, claiming they were "exploited" by the media.
"My support was for his sisters, who were the real victims, I felt like they were being exploited by the media," Huckabee said. "The media didn't care what was happening to them and the emotional trauma they were going through."
Listen to the interview:
—