An annual report by the Foundation for Individual Rights in Education (FIRE) details the progress that has been made in reducing free speech restrictions on college campuses, while noting the immense amount of work that lies ahead to ensure that the First Amendment is honored.
The 2016 edition of "Spotlight on Speech Codes," gives a "red light" label to 49.3 percent of the 440 schools it examined.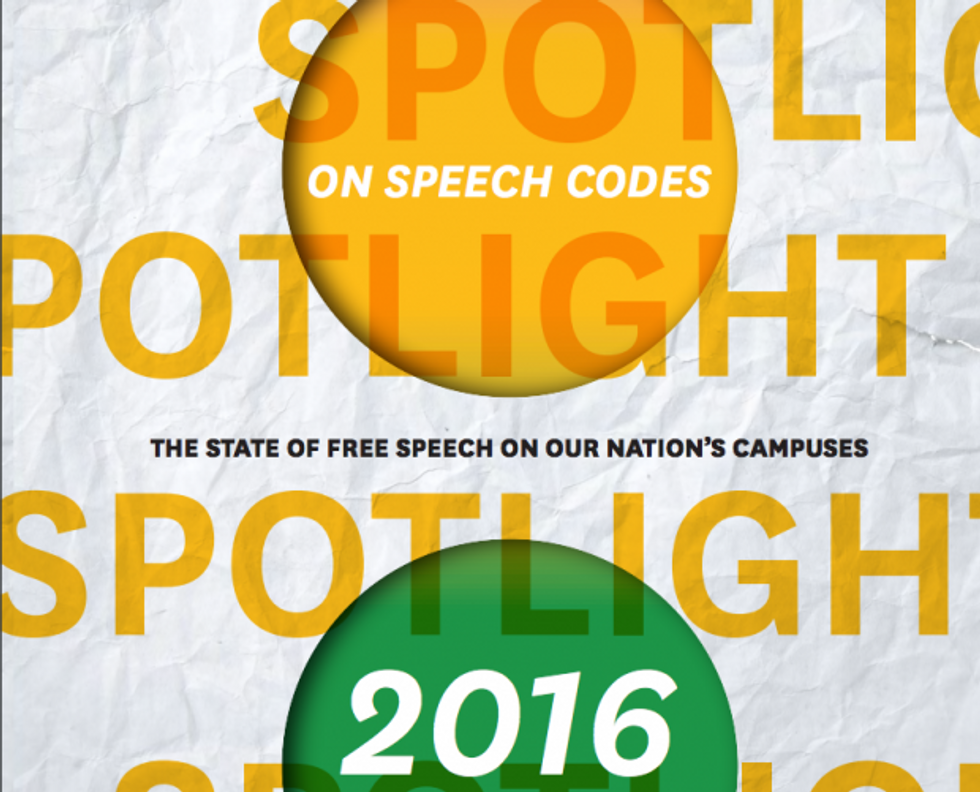 Image source: FIRE
Last year 55 percent of the schools received a red light, which signifies college-mandated codes that "clearly and substantially prohibit protected speech, or that bars public access to its speech-related policies by requiring a university login and password for access."
FIRE further specified that a "clear" restriction is unambiguous does not depend on how the policy is applied or enforced, and a "substantial" restriction is "broadly applicable to campus expression." A college or university that bans "offensive speech" would receive a red light under these standards.
This year 22 schools received a "green light," FIRE's highest rating reserved for campuses that best uphold the First Amendment rights of students. Last year only 18 schools received green lights.
In order for a university to receive a green light from FIRE, the school's "written policies must not pose a serious threat to free speech." The number of green lights awarded this year were unprecedented.
FIRE applies a "yellow light" rating to schools with policies that, while still restrictive of free speech and largely unconstitutional, only apply to narrow categories of speech or are relatively limited in scope.
FIRE gave out more yellow lights this year than last—194 (44.1 percent) compared to 171 (39.1 percent). This statistic, however, is almost exclusively attributable to red light schools loosening speech restrictions in order to pass as yellow.
While speech codes declined overall, the report noted a steady increase in "restrictive harassment policies" that FIRE believes to be "response to the federal government's unprecedented intervention into universities' handling of sexual harassment claims."
Between September 2014 and September 2015, the foundation downgraded 10
universities from a yellow to red exclusively for adopting what it deemed "overly restrictive definitions of sexual harassment."
"The suppression of free speech at American universities is a national scandal," FIRE wrote in the conclusion of the report, "But supporters of liberty should take heart. While many colleges and universities might seem at times to believe that they exist in a vacuum, the truth is that neither our nation's courts nor its citizens look favorably upon speech codes or other restrictions on basic freedoms."
In the report, the research foundation exhorted free speech advocates to "remain vigilant" about campus speech codes and all other attempts to prohibit or punish protected speech.
___