© 2023 Blaze Media LLC. All rights reserved.
State Department Ridiculed for 'Delusional' Boast of 2015 Achievements Including 'Bringing Peace' to Syria
"Did April Fool's Day come early this year?"
Social media was filled with ridicule of the State Department following its spokesman's boast that one of the U.S. Government's achievements this past year included "bringing peace, security to Syria."
While Spokesman John Kirby's essay "Pivotal Foreign Policy Moments of 2015" was posted on Christmas Eve, reaction started pouring online Monday following Politico's reporting on the achievement claims list.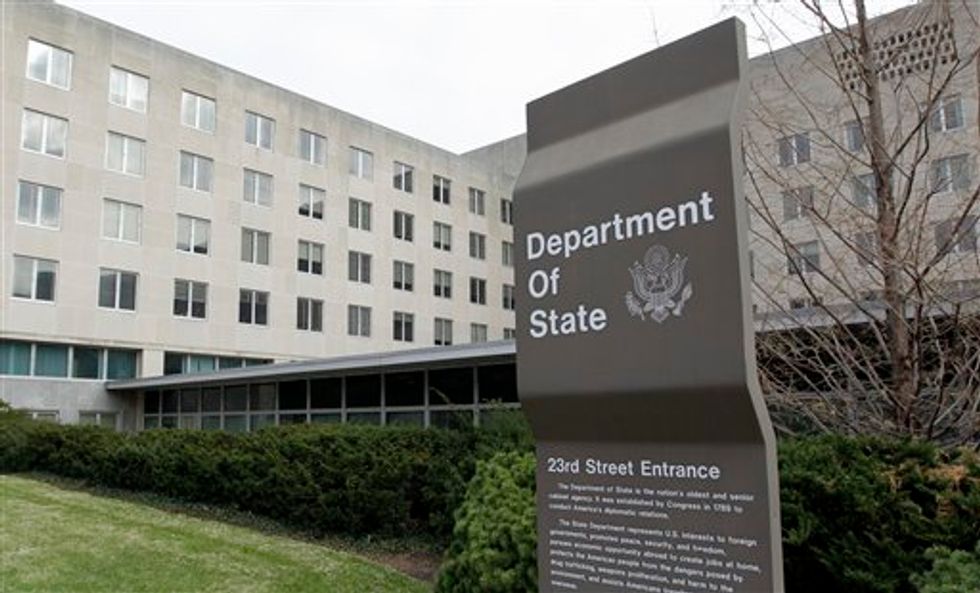 The State Department in Washington, Monday, Dec. 15, 2014. (AP/Luis M. Alvarez, FILE)
The Syria entry on the list was titled "Bringing Peace, Security to Syria. #2015in5words," but in the text below Kirby listed far more modest achievements on the Syria front.
He noted that the U.S. has "led the world in humanitarian aid contributions" and that "led by Secretary Kerry," the U.S. is pushing for a political transition. He also pointed to the passing of the U.N. Security Council resolution presenting a roadmap for government change in Syria.
Another achievement listed was the recent White House summit on countering violent extremism.
"Although challenges remain, we have made positive strides over the last year, including in our fight against ISIL," Kirby wrote, using the Obama administration's preferred acronym for the Islamic State group.
In the introduction to the year-in-review list, Kirby wrote that it's "important to take a step back and look at how the United States has helped change the world for the better."
Here are some of the more critical comments posted on Twitter in response to Kirby's Syria claim:
@politico That's called 'counting yr chickens ... ' right?

— steve from virginia (@econundertow) December 28, 2015
@politico They also protected Santa on his flight

— Col. Slade (@ColSlade68) December 28, 2015
@politico @BillKristol Did April Fool's Day come early this year? Obama admin completely clueless.

— David Kahane (@dkahanerules) December 28, 2015
@politico Sort of like giving Nobel Peace Prize before any accomplishment...

— Brooks A. Mick (@SailFree) December 28, 2015
In an amazing case of delusional bragging, #StateDepartment spokesman #JohnKirby said State in 2015: "Bringing peace, security to Syria."

— Tom Hallock (@SudoNimh) December 29, 2015
Literally speechless at how tone deaf this is. https://t.co/NTDwVKfKRy

— Emma Ashford (@EmmaMAshford) December 29, 2015
Proof that requiring 500 people to sign off on every document doesn't produce better results. #StateDepartment https://t.co/uEySqHQqMH

— Nate Mason (@yellowtavern1) December 29, 2015
Read Kirby's full year-in-review list (at this link) which also addressed diplomatic relations with Cuba and the Iran nuclear deal as the past year's achievements.
—
Want to leave a tip?
We answer to you. Help keep our content free of advertisers and big tech censorship by leaving a tip today.
more stories
Sign up for the Blaze newsletter
By signing up, you agree to our
Privacy Policy
and
Terms of Use
, and agree to receive content that may sometimes include advertisements. You may opt out at any time.