Hillary Clinton's State Department kept tabs on the Drudge Report, new emails released Thursday reveal.
In an April 2012 email, then-Assistant Secretary of State for Public Affairs Michael Hammer alerted then-Chief of Staff to Hillary Clinton Cheryl Mills about a story "running on Drudge."
Image source: Screen grab
The story was about a USAID program using federal dollars to train individuals for English-speaking jobs. The headline on the Drudge Report read, "Fed Gov't Training Foreign Workers for English-Speaking Jobs."
Mills forwarded Hammer's email, which included a press guidance and draft statement, to Clinton as an "Fyi."
In another email, this one from Dec. 2011, Hammer alerted Mills to a story "playing on Drudge."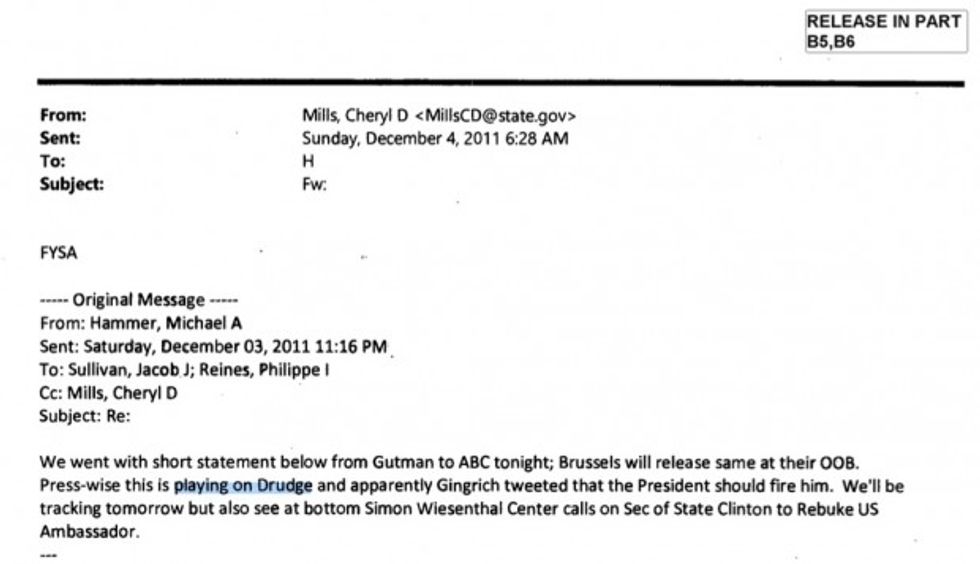 Image source: Screen grab
That story was about controversial remarks former United States Ambassador to Belgium Howard Gutman delivered during a speech. In it, he suggested some anti-Semitism in Europe is a direct result of the Israeli-Palestinian conflict.
Clinton was once again briefed on the situation, being forwarded the email from Hammer that explained how the State Department would respond.
It's no surprise Clinton's team kept close tabs on the Drudge Report. The conservative news aggregation website is widely considered one of the most influential in the U.S.
The Clintons also have a long history with the Drudge Report. The website gained fame in the 90s for breaking news of the Monica Lewinsky scandal. Its founder, Matt Drudge, was also previously sued by longtime Clinton advisor Sidney Blumenthal over a later-retracted story.
—
Follow the author of this story on Twitter and Facebook: