A reported 100 million American men spend untold amounts of money to remove body hair from their faces as well as other places.
Conversely, Mike Wolfe decided to go another direction and to turn his back hair, something he told KTVB-TV he was embarrassed by, into a moneymaker.
Wolfe appears to embody the adage, "if you can't change it, own it," as he has just released "Calendhair 2016," a photo calendar featuring his hairy back being used as a canvas and creating a themed image for each month of the year.
In 2008, Wolfe decided to take ownership of his hairy back and turn it into artwork. That was the year he reportedly asked his college friend Tyler Harding to shave an American flag into his back. Harding agreed and "Am-HAIR-ica The Beautiful" was born.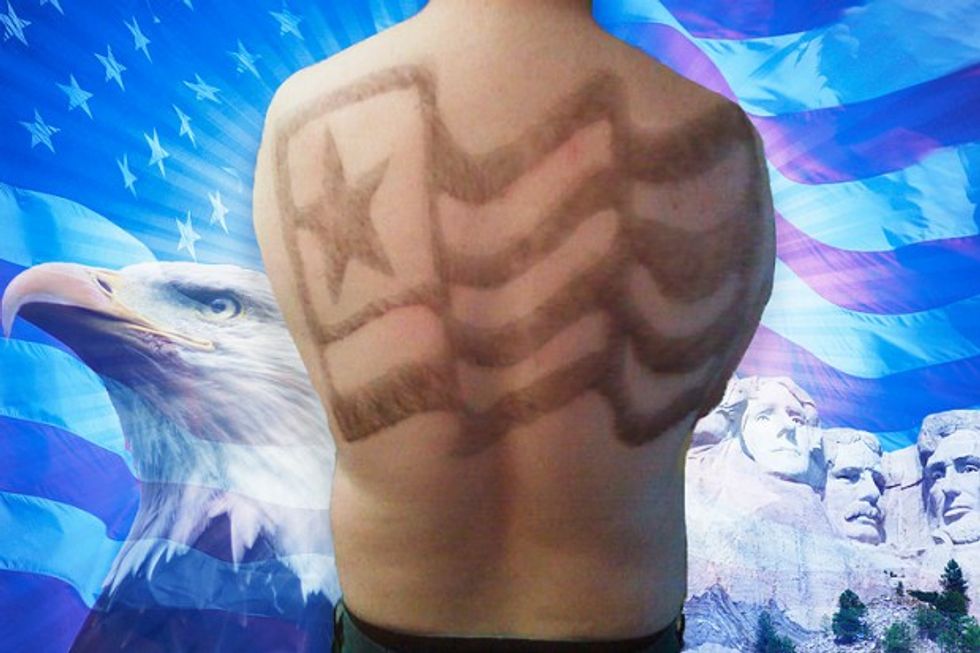 Image source: Calendhair.com
The attention he received for the first back hair image inspired Wolfe to create more images — enough to fill a calendar.
The biggest hurdle in making a calendar for an entire year was time. Wolfe said he needs four months for the hair to grow back and create enough of a furry canvas for Harding to shave the new image.
After years of hair growing, shaving and photographing the artwork, the calendar was finally ready.
The CalendHair 2016 calendar opens with, "JanuHAIRY," a typical New Year's image complete with champagne glasses toasting.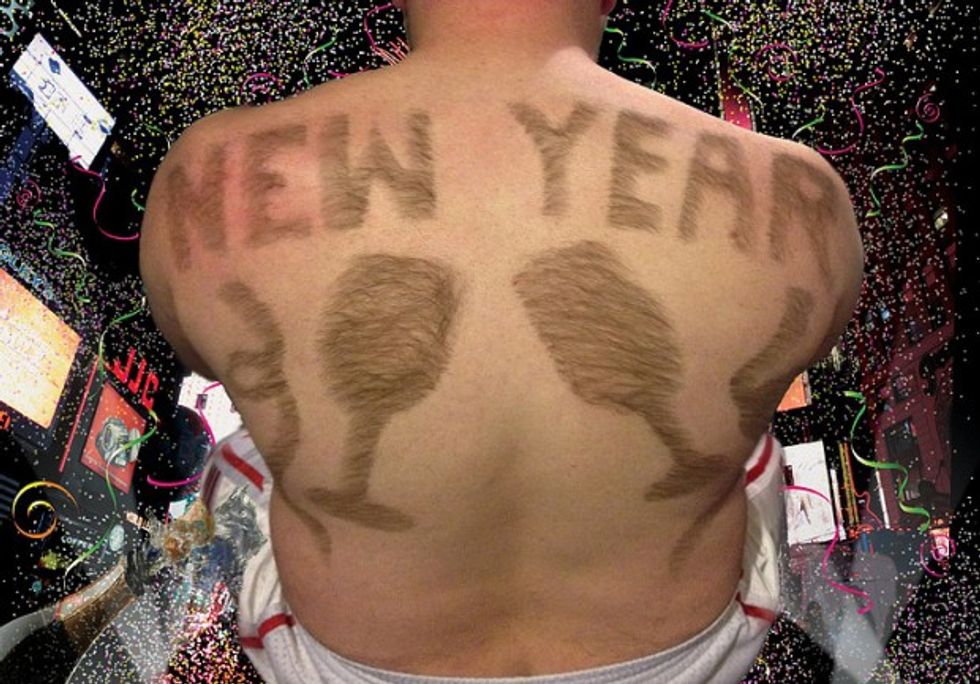 Image source: Calendhair.com
February's Valentines Day-themed "Hair-pid" displays Cupid as you have probably never seen him before.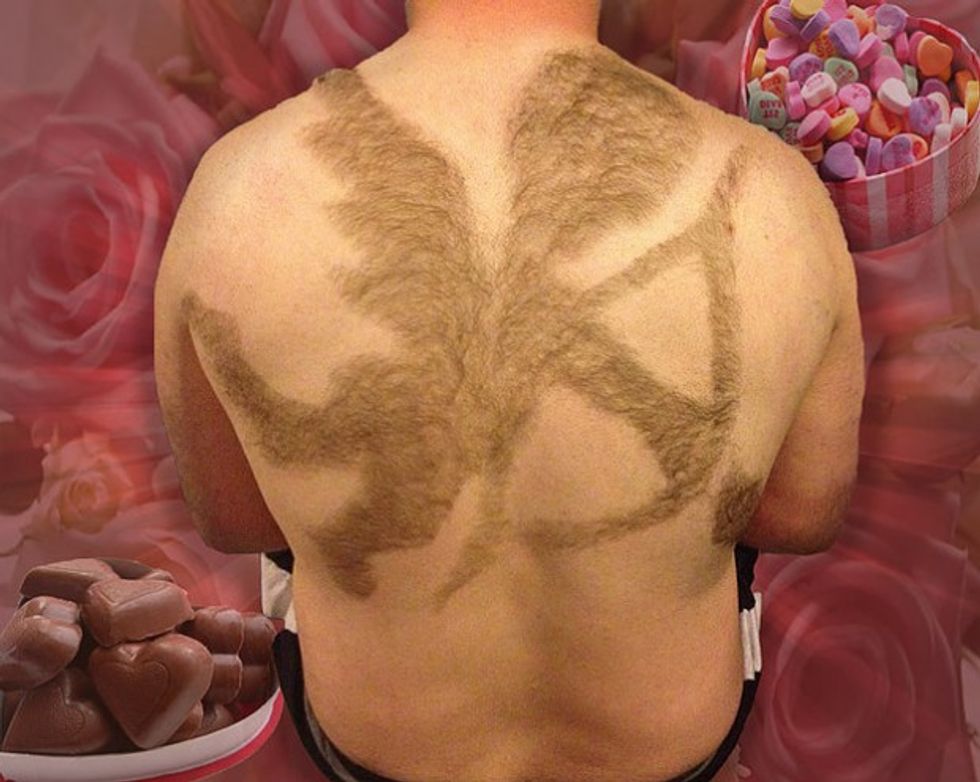 Image source: Calendhair.com
There are cleverly named images for each month, including an "East-Hair Bunny" for April, a back hair backpack for August's "BackHAIR to School" and a Nativity scene for December titled, "Away in a MangeHair."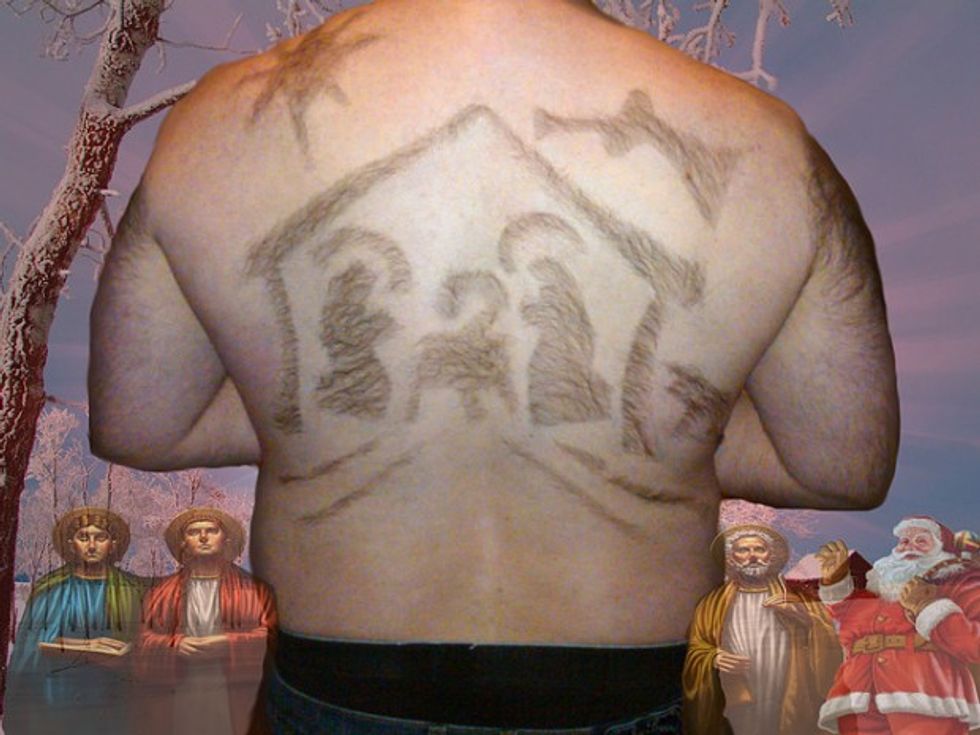 Image source: Calendhair.com
A portion of the proceeds from the sale of Wolfe's calendar is also being used to support a charity assisting an orphanage in Kenya called Gates of Hope.
What's next for Wolfe's hairy back and Harding's hair shaving skills? The two have just completed a piece they hope will lead to a spot on NBC's "Tonight Show with Jimmy Fallon."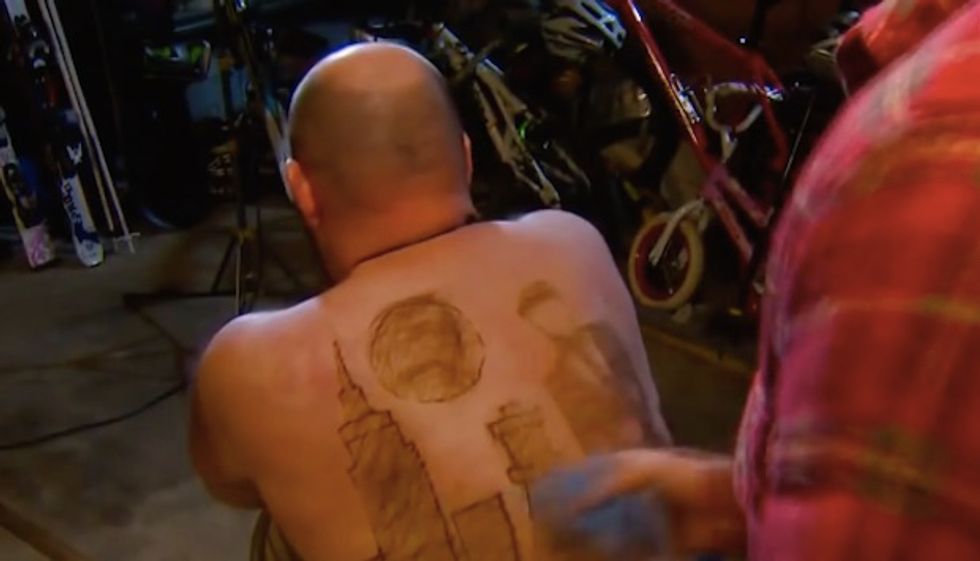 Image source: YouTube
See all the pages of the 2016 CalendHair here.
(H/T - KTVB-TV)
__
Follow the author of this story on Twitter and Facebook: