LOS ANGELES (TheBlaze/AP) — "Star Wars: The Force Awakens" marched confidently into the new year, raking in an additional $88.3 million over the New Year's weekend and topping the box office for a third week, according to studio estimates Sunday.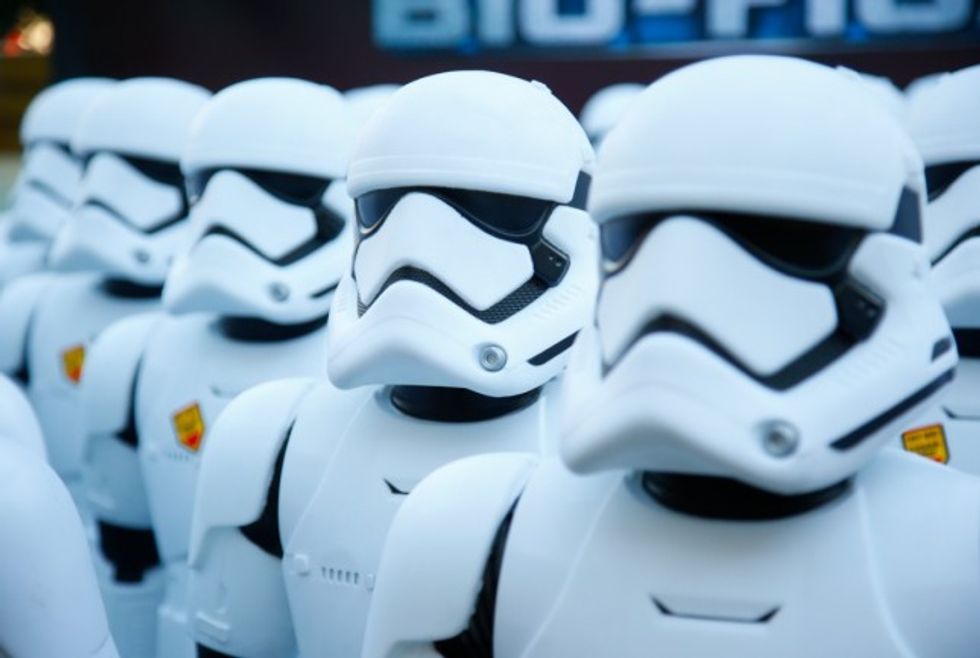 Over 100 JAKKS BIG-FIGS Stormtrooper action figures are seen as a part of an installation at The Americana at Brand for the opening of Star Wars: The Force Awakens, Thursday, Dec. 17, 2015, in Glendale, Calif. (Image source: Danny Moloshok/Invision for JAKKS/AP Images)
In addition to setting a new high mark in New Year's box office history, the record-busting film blew past the domestic grosses of both "Jurassic World" ($652.3 million) and "Titanic" ($658.7 million) to become the second-highest earner of all time with $740.3 million in just 19 days of release.
The top domestic film is "Avatar" with a $760.5 million lifetime domestic gross, but "Star Wars" is barreling in to surpass it soon. For context, it took "Avatar" 72 days to reach $700 million. "Star Wars" did that in 16 days.
Internationally, "Star Wars" earned $96.3 million this weekend, boosting its global total to $184.6 million. The film opens in China on Jan. 9.
While "Star Wars" might not give up its throne any time soon, films like "Daddy's Home" and "Sisters" have proven to be incredibly strong performers.
"Daddy's Home," the comedy starring Will Ferrell and Mark Wahlberg, came in second with an estimated $29 million, bringing its total to $93.7 million in just two weeks. The film fell only 25 percent from its first weekend in theaters. Even more formidable is the mere 11 percent drop from the Tina Fey and Amy Poehler comedy "Sisters," which brought in $12.6 million in its third weekend for a fourth-place spot. The film has earned $61.7 million so far.
"When you look at the holding power of 'Daddy's Home' and 'Sisters,' it shows you that those films are for many people the antidote to 'Star Wars,'" said Paul Dergarabedian, a senior media analyst for box office tracker Rentrak. "The diversity of the slate that the studios created by not retreating from 'Star Wars' is helping."