A recently released Netflix documentary series titled, "Making a Murderer" is taking the nation by storm, but it's not simply garnering a great deal of attention. The 10-part series is sparking debate, discussion — and calls for action.
In fact, "Making a Murderer" has led nearly 200,000 people to collectively sign two separate petitions asking the Obama administration to intervene to pardon the 2007 murder conviction of Wisconsin-native Steven Avery.
Without spoiling too many of the details, let's briefly recap the key events at the heart of the documentary: Avery was originally convicted of sexual assault in 1985, serving 18 years until he was exonerated in 2003 based on DNA evidence.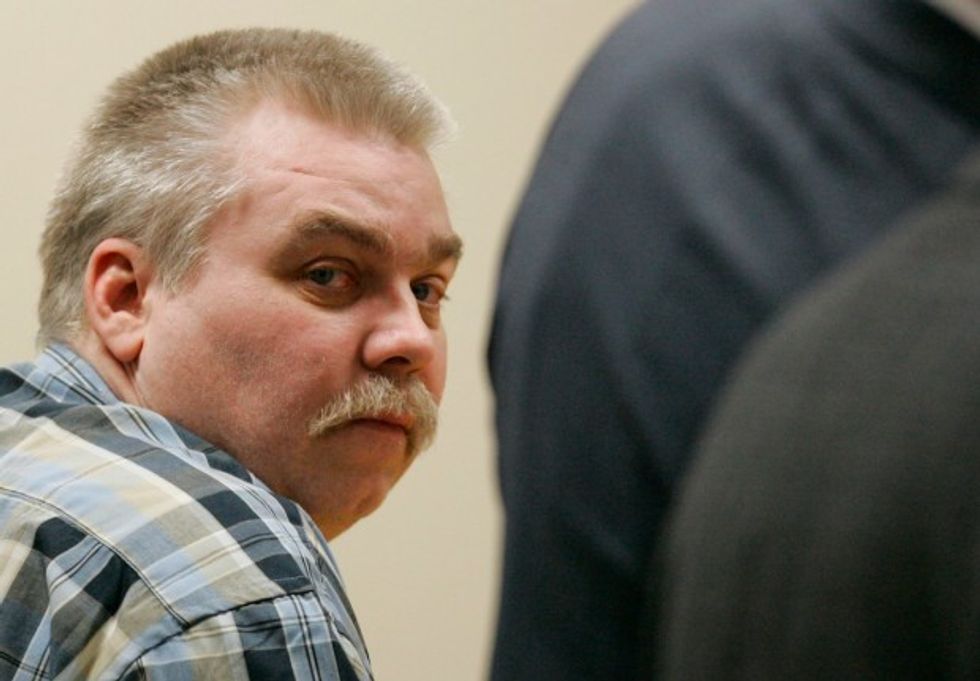 Steven Avery looks around a courtroom in the Calumet County Courthouse before the verdict was read in his trial, March 18, 2007, in Chilton, Wis. (AP Photo/Jeffrey Phelps, Pool, File)
Two years after his exoneration and release, Avery sued the Manitowoc County sheriffs department for $36 million over his false imprisonment.
But in 2005, just weeks after depositions of local cops who were associated with the case and subsequent lawsuit took place, Avery was, again, arrested — but this time on an entirely different charge: murder.
In a shocking twist of events, Avery went from a well-known exoneree in a sexual assault case to an accused killer, as prosecutors claimed that he murdered Teresa Halbach, 25, a photographer who had come to his house on Oct. 31, 2005, to photograph a van for Auto Trader magazine.
Without going any deeper into the final details, Avery and his nephew — then-16-year-old Brendan Dassey — were eventually convicted of the crime in 2007; both men are currently serving life sentences, with the former having no chance of parole, as the New York Times reported.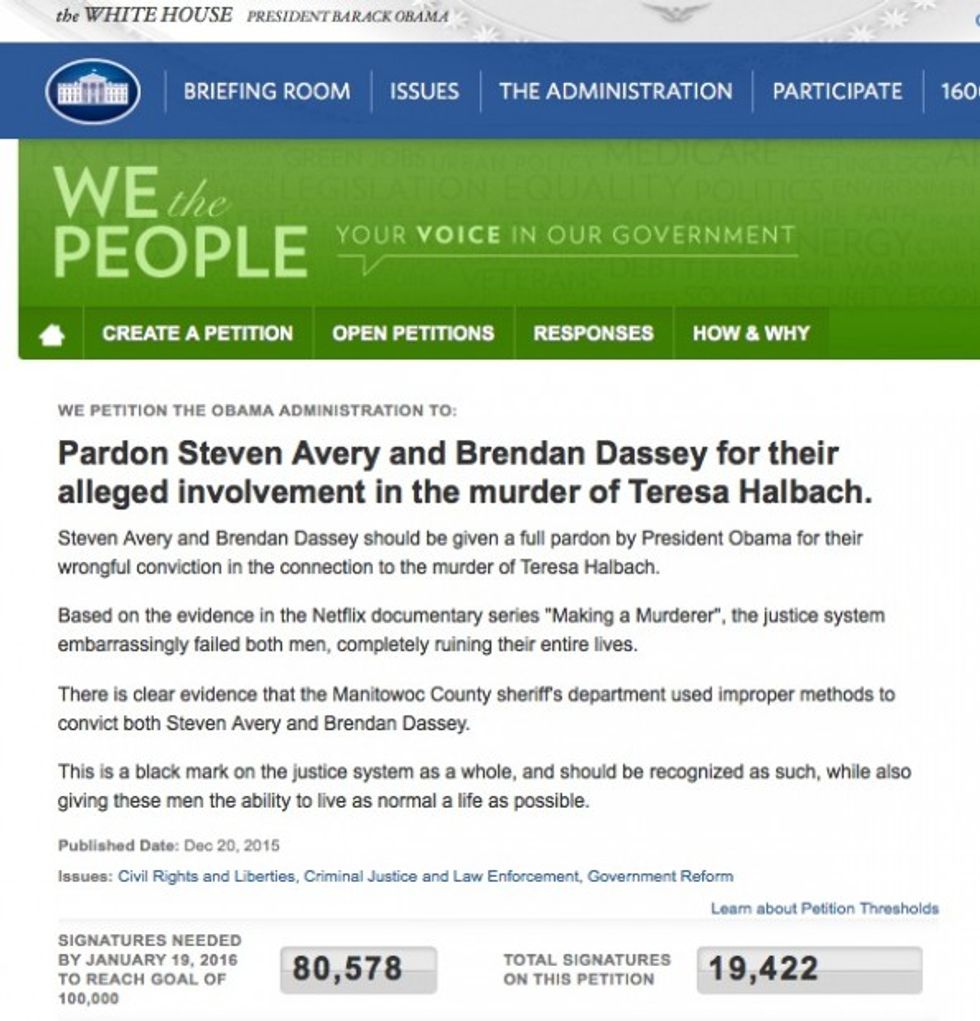 A screen shot of the petition on the White House website
"Making a Murderer" takes viewers through the complicated case, as they learn of Avery's repeated denials of involvement and his accusation that police in Manitowoc County framed him — a defense that clearly didn't compel the jury.
That said, some critics believe that there are still many unanswered questions surrounding the case, as Avery still maintains his innocence.
So many curiosities, in fact, that more than 19,000 people have signed a White House petition urging a pardon of Avery and Dassey "for their alleged involvement in the murder of Teresa Halbach."
"Based on the evidence in the Netflix documentary series 'Making a Murderer,' the justice system embarrassingly failed both men, completely ruining their entire lives," the petition reads. "There is clear evidence that the Manitowoc County sheriff's department used improper methods to convict both Steven Avery and Brendan Dassey."
A separate petition on Change.org titled simply, "Free Steven Avery," also urges President Barack Obama to take action, but with even more stunning results, garnering more than 175,000 signatures of its 200,000 goal since its posting.
"Steven Avery should be exonerated at once by presidential pardon, and the Manitowoc County officials complicit in his two false imprisonments should be held accountable to the highest extent of the U.S. criminal and civil justice systems," the petition reads, in part.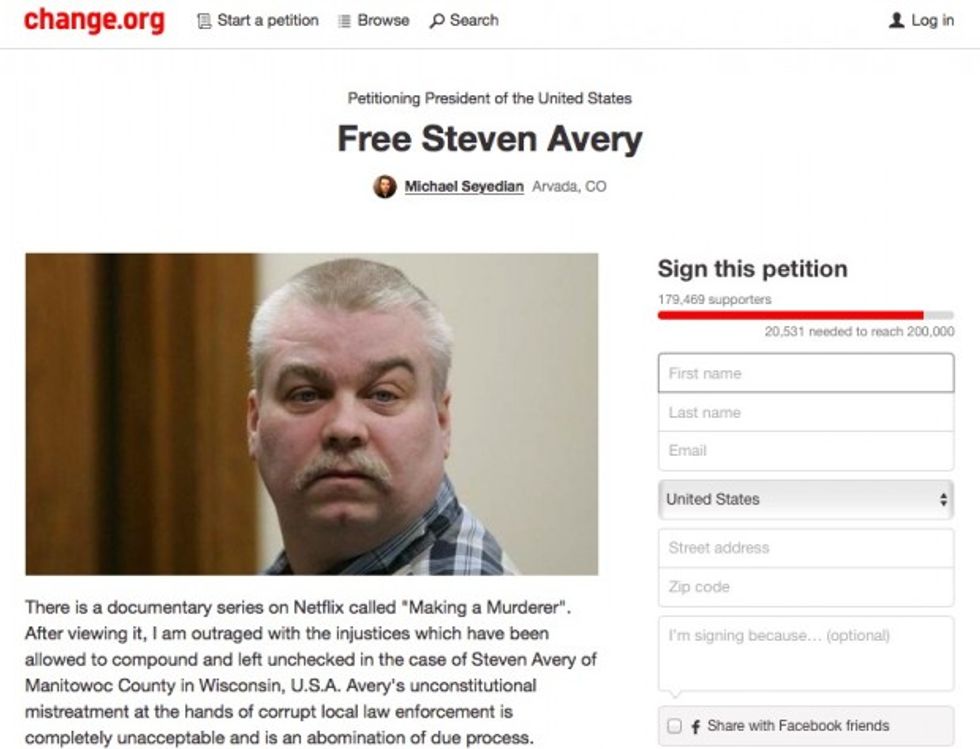 A screen shot of the Change.org petition
But law enforcement officials have pushed back against these claims, with Manitowoc County Sheriff Robert Hermann telling USA Today that he wouldn't exactly call "Making a Murderer" a documentary, per se.
"A documentary puts things in chronological order and tells the story as it is. ... I've heard things are skewed," Hermann said, adding that he hasn't yet watched the series. "They've taken things out of context and taken them out of the order in which they occurred, which can lead people to a different opinion or conclusion."
He continued, "Show me the evidence he was framed. There is not going to be any. It didn't happen."
See the "Making a Murderer" trailer below:
Again, we won't give up any more details of the case, but you can read a bit more about it here if you don't mind spoilers. Also, click here to see some of the evidence that the filmmakers didn't include — pieces of evidence that some believe point to Avery's guilt.
In the end, "Making a Murderer" has become a massive point of both interest and contention, as it opens new wounds in a case that concluded, legally speaking, years ago. You can read the full timeline of events surrounding Avery's arrests and legal battles here.
Numerous outlets have also reported that Obama cannot pardon Avery, as the president only has the power to do so for federal crimes, which were not part of the case against him.
--
Follow the author of this story on Twitter and Facebook: