A retired pastor who is on trial in Northern Ireland after delivering a 2014 sermon during which he called Islam "satanic" and "spawned in hell," is confident that he'll win his legal battle, but he has a warning about what could happen if he loses and is sentenced to jail time.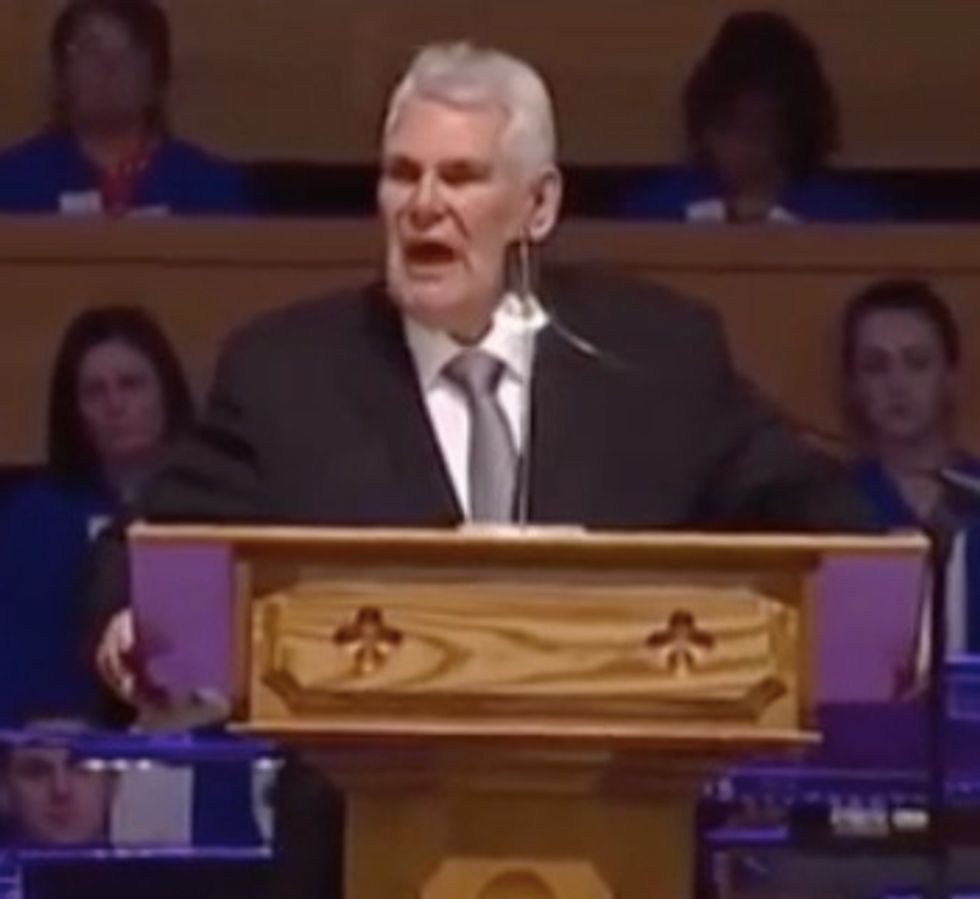 Pastor James McConnell (YouTube)
"I am willing to go to jail and I am going to stand for what I believe in," Pastor James McConnell told the News Letter. If the verdict goes against me – and they do put me in jail – there will be such an uprising in this country."
As TheBlaze previously reported, McConnell, 78, found himself in legal trouble for uttering "grossly offensive" words in the sermon, which streamed on the Internet, though he has vocally fought back against the charges that were brought against him.
The battle began after McConnell, who previously preached at Whitewell Metropolitan Tabernacle in Belfast, Northern Ireland, before retiring, made his comments — which included calling Islam "heathen" — in a sermon delivered at the church in May 2014, the BBC reported.
"The Muslim religion was created many hundreds of years after Christ. Muhammad, the Islam Prophet, was born around the year A.D. 570, but Muslims believe that Islam is the true religion," he preached. "Now, people say there are good Muslims in Britain. That may be so, but I don't trust them."
McConnell continued, "Islam's ideas about God, about humanity, about salvation are vastly different from the teaching of the holy scriptures. Islam is heathen. Islam is satanic. Islam is a doctrine spawned in hell."
The pastor's legal team argued in court last month that the preacher didn't intend to offend anyone with these words. The comments that seemed to most frustrate the prosecutors were the words that he uttered about not trusting the "good Muslims in Britain," the BBC reported.
It was that portion of the sermon that the prosecution said violated the Communications Act 2003, calling it "grossly offensive," but it's a stance against the majority of Muslims that McConnell wasn't willing to back down from, repeating his distrust of Islamic adherents before the court, according to the Belfast Telegraph.
Watch McConnell's Islam-themed sermon below:
To be clear, the pastor is accused of both improper usage of an electronic communications network and of sending a grossly offensive message through a public network when that message was streamed over the Internet.
Before his recent trial unfolded, a representative for the Public Prosecution Service in North Ireland had said that McConnell offense was "one of sending, or causing to be sent, by means of a public electronic communications network, a message or other matter that was grossly offensive."
A trial could have been avoided, but McConnell reportedly denied the issuance of an "informed warning," which is not a conviction, though it stays on a person's criminal record for the period of one year; accepting the informed warning would have prevented the pastor from being prosecuted in court.
With the verdict expected on Tuesday, McConnell said that he's more than willing to go to jail over his faith, if that's what it comes to.
"I can honestly say I haven't had one sleepless night over this court case. It's not that I'm an iron man or anything like that, I just have other concerns in my heart," he told the News Letter. "I am concerned about this country and about the way it is going politically, spiritually, every way I am really concerned about it."
McConnell said that he is praying for God's guidance as the conclusion of the case looms, saying that he's received over 20,000 emails in addition to phone calls and letters of support.
(H/T: News Letter)
--
Follow the author of this story on Twitter and Facebook: