During remarks on the House floor Friday, Rep. Gwen Moore (D-Wis.) accused Rep. Sean Duffy (R-Wis.) of making racially insensitive remarks while discussing abortion.
Duffy had cited the high abortion rate among African-American women during remarks on the House floor the previous day angering Moore.
"After nearly 30 years in public office, not much surprises me anymore," Moore said. "So you can imagine my lack of astonishment when my dear friend and colleague from Wisconsin, Sean Duffy, rolled out abortion statistics among African-American women to lecture black legislators like me about defending the welfare of our constituents."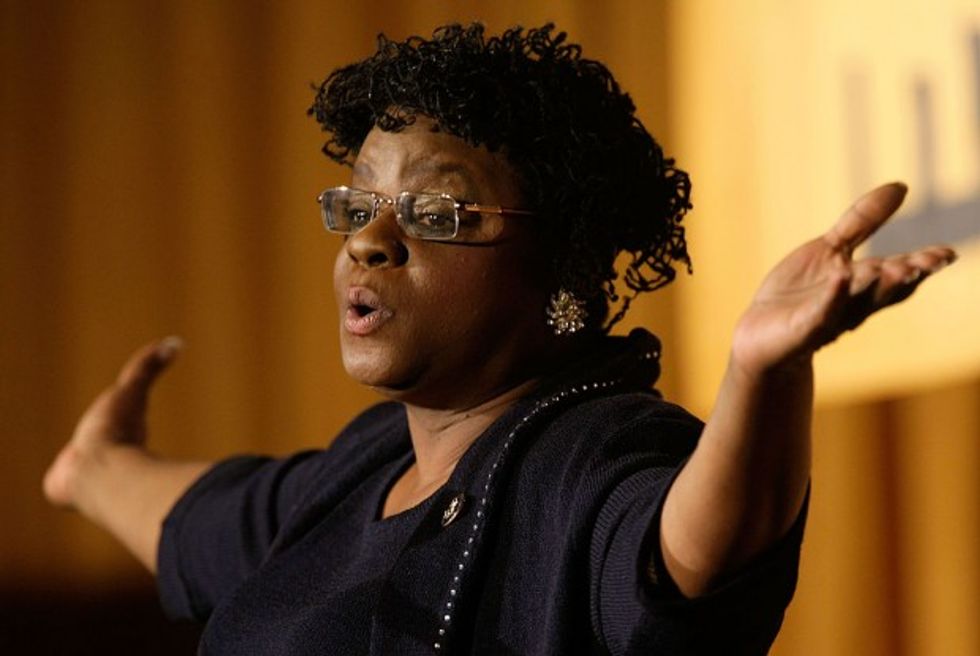 U.S. Rep. Gwen Moore (D-WI) addresses a luncheon of Emily's List at the Hilton Washington Hotel January 18, 2009 in Washington, DC. Emily's List hosted a gala luncheon to celebrate Barack Obama's election. (Photo by Alex Wong/Getty Images)
Duffy told TheBlaze that the statistics he cited are "irrefutable" and that they were used in an effort to defend human life.
"Rep. Gwen Moore has met my Latina wife and our seven children. She knows that she and I share a passion for helping minority communities access the American Dream," Duffy said.
"It's worth noting that Rep. Moore did not refute the harrowing statistics - more African-American abortions than live births in NYC - because they are irrefutable," he added.
"My remarks were not an attack on her or any of my colleagues," Duffy continued. "Rather, they were an invitation to work together to defend poor, minority women against a powerful industry that targets them and preys on their vulnerability. Together, we can do more to offer African-American women and their children hope and non-violent solutions to difficult or unplanned pregnancies."
During his remarks on the House floor, Duffy said, "I hear a lot in this institution from minority leaders about how their communities are targeted, but what I don't hear them talk about is how their communities are targeted in abortion."
"My liberal friends, Congressional Black Caucus members, talk about fighting for the defenseless, the hopeless, and the downtrodden," he added. "There is no one more hopeless and voiceless than an unborn baby, but their silence is deafening. I can't hear them. Where are they standing up for their communities, advocating and fighting for their right to life?"
Moore suggested that Duffy's remarks were racially insensitive.
"I don't expect Rep. Duffy to understand why his comments are offensive," Moore said.
"What he and so many of his Republican colleagues fail to acknowledge is the underlying context behind high abortion rates in African-American communities," she continued. "High rates of abortion are related to poverty and lack of access to quality care."
"Rep. Duffy's hypocrisy on this issue is as predictable as it is offensive. If he truly, truly wants to fight for the hopeless and voiceless, he should join us," Moore said.
According to The Hill, Rep. Dave Brat (R-Va.), who was presiding over House proceedings, informed Moore that her allotted time had expired, and reminded her that members may not engage in personal attacks under House rules. Moore left and "did not stop or look back."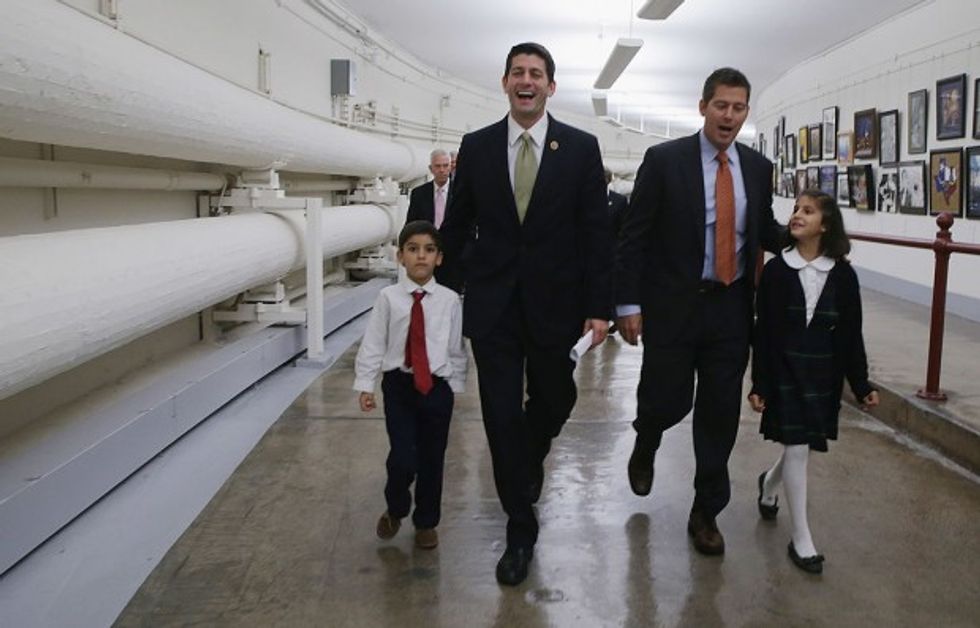 Rep. Sean Duffy (R-Wis.) and his nephew and niece are pictured here walking with Rep. Paul Ryan (R-Wis.) through the tunnel to the Longworth House Office Building on October 11, 2013 in Washington, DC. (Photo by Chip Somodevilla/Getty Images)
According to data from the Centers for Disease Control, of women 15-44 who had abortions in 2011, African-American women had the highest abortion ratio at 459 abortions per 1,000 live births.
(H/T The Hill)
—
Follow Kate Scanlon (@kgscanlon) on Twitter