Billionaire businessman Donald Trump vowed Thursday that as president he would end "gun-free" zones his first day in office.
"You know what a gun free zone is to a sicko? That's bait!" Trump told the crowd at his Vermont rally, which took place at the same time as President Barack Obama's town hall on guns.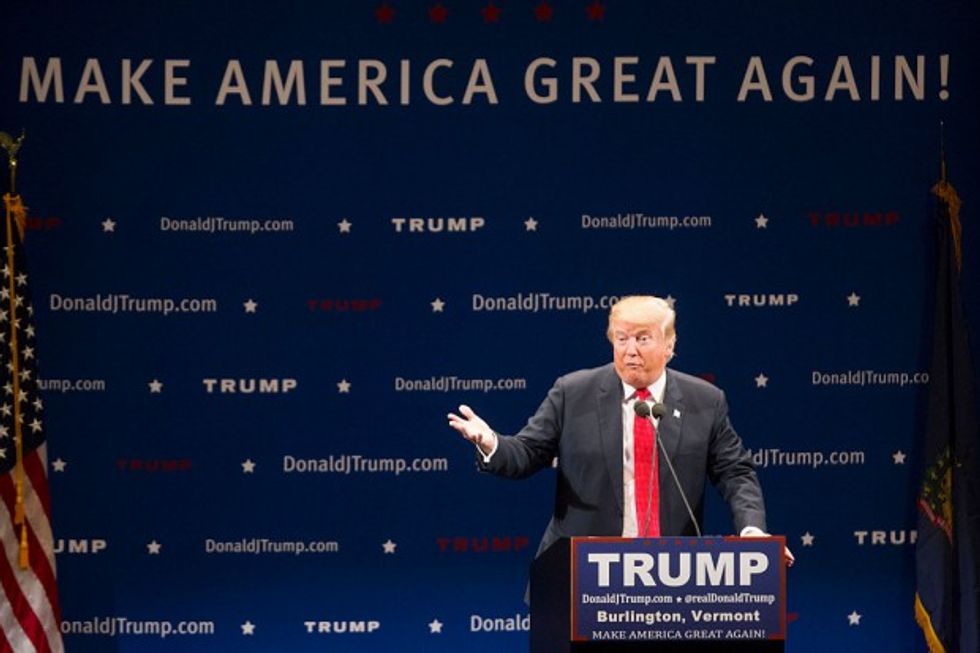 Donald Trump on stage during his event at the Flynn Center for the Performing Arts in Burlington, Vermont, Jan. 7. (Getty Images/Scott Eisen)
"I will get rid of gun-free zones on schools, you have to," the Republican front-runner added. "And on military bases, my first day it gets signed, OK? My first day. There's no more gun-free zones."
Trump's pledge drew "deafening" applause from the crowd of slightly less than 1,500, according to the Washington Examiner's Gabby Morrongiello.
The real estate tycoon, who is also a lifetime member of the National Rifle Association, considers himself to be an ally of those who want to protect the Second Amendment. While he has not been overly vocal over Obama's executive action on guns, he did say on Monday that "pretty soon, you won't be able to get guns."
"What I do see is I do see step by step by step, and then all of a sudden you have no Second Amendment," Trump told CNN's Chris Cuomo, adding that Obama's executive action is another "baby step."
TheBlaze reached out to a Trump spokesperson Friday morning, inquiring how Trump would eliminate gun-free zones on his first day in office — whether by executive action or through the legislative process. TheBlaze will update this story if the campaign responds.
—
Follow the author of this story on Twitter and Facebook:
[facebook //www.facebook.com/plugins/like.php?href=