With Vermont Sen. Bernie Sanders now in striking distance of Democratic presidential front-runner Hillary Clinton in Iowa, party leaders are becoming concerned, MSNBC's "Morning Joe" host Joe Scarborough said, citing sources close to both Vice President Joe Biden and Secretary of State John Kerry — who, according to those sources, could be late entries into the campaign.
Scarborough, a former Republican House member from Florida, also mentioned former Vice President Al Gore as a possible candidate.
"If Hillary loses in Iowa to Bernie Sanders, a guy that most in the Democratic establishment don't think she should be close to right now, and then she loses in New Hampshire, you have Mr. Biden, Gore, Kerry who start moving and start saying we need to get into the race, if she loses these two states," Scarborough said.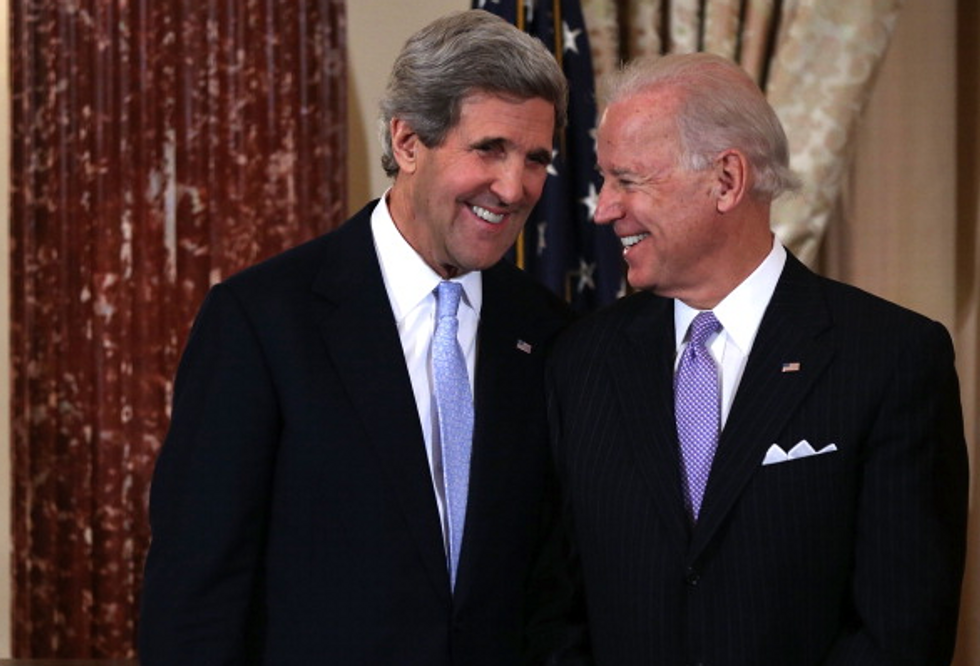 Secretary of State John Kerry, left, and Vice President Joseph share a moment during Kerry's ceremonial swearing in at the State Department Feb. 6, 2013, in Washington, D.C. (Alex Wong/Getty Images)
"Those close to John Kerry and Joe Biden have said specifically that, if she loses Iowa and New Hampshire, they are going to have to take a much closer look — and the entire Democratic Party — and then expect Joe Biden and Elizabeth Warren or John Kerry and Elizabeth Warren to have further discussions about running for the nominations," Scarborough said, indicating that Massachusetts Sen. Elizabeth Warren (D) is being discussed as a possible running mate for one or more potential Clinton replacement candidates.
Sanders has maintained a lead against Clinton in New Hampshire for months. But Clinton — in most polls — held a solid double-digit lead over Sanders in Iowa. That changed in the recent NBC News/Wall Street Journal Marist poll that found Sanders cutting the lead three points.
It's rare to win a nomination in either party without winning one of the first two contests — the Iowa caucus and the New Hampshire primary. In fact, the last candidate to lose both states and go on to win a party nomination was Bill Clinton.
However, the circumstances were different in 1992. In Iowa, home state Sen. Tom Harkin ran and many candidates didn't bother contesting the state. In New Hampshire, former Massachusetts Sen. Paul Tsongas was a bit of a favorite son candidate, with New Hampshire part of the Boston media market. Clinton's breakthrough was winning second place in New Hampshire, which he used to propel him to the nomination.
Unlike her husband, Hillary Clinton is not a "comeback" candidate. A loss in any state would be seen as a huge setback for the former first lady, New York senator and secretary of state long considered the inevitable standard-bearer of her party.
After much speculation, Biden bowed out of entering the presidential race last year. Though rumors emerged about Gore, the 2000 presidential nominee said nothing about another run. Kerry, the 2004 Democratic nominee, has likewise said nothing about running for president.
"Morning Joe" co-host Mika Brzezinski said, "Why can't they get behind Bernie Sanders. Why can't Elizabeth Warren get behind Bernie Sanders and help him win. I don't understand," adding that, like Republican front-runner Donald Trump, Sanders is "a movement."
Panelist Harold Ford Jr., a former Democratic House member from Tennessee, said mainstream Democrats could be concerned about Sanders.
"The fact that Mr. Sanders is an avowed socialist, I think there are a number of people in the Democratic Party who might be uneasy about that notion even though polling suggests today that he would do well against Mr. Trump, I think a lot of people feel that could change," Ford said.