Well-known atheist activist Michael Newdow isn't giving up on his battle to seek the removal of "In God We Trust" from U.S. currency, filing yet another lawsuit in federal court against the official U.S. motto.
Newdow, a doctor and lawyer, filed his latest complaint in Akron, Ohio, on Monday, alleging that the motto's presence on U.S. currency constitutes a violation of the separation of church and state, according to Cleveland.com.
The complaint is filed on behalf of 41 plaintiffs, including the Northern Ohio Freethought Society as well as unnamed children and adults.
Photo credit: Shutterstock
Newdow's lawsuit, which is 112 pages in length, refers to God as "G-d" throughout, and makes the claim that the presence of the motto on coins and dollars offers an unfair advantage to Christians, thus minimizing atheists.
"The 'In G-d We Trust' phrase has continued to be a tool used to perpetuate favoritism for (Christian) Monotheism," the document reads. "It has also continued to perpetuate anti-Atheistic bias."
As TheBlaze previously reported, Newdow's battle to remove the national motto from currency is nothing new, but has thus far been unsuccessful. Both he and the Freedom From Religion Foundation were dealt a major blow in 2013 when a U.S. district court dismissed their lawsuit brought against the Treasury Department.
Judge Harold Baer, a federal district judge in the Southern District of New York, ruled that the argument that the national motto violates the establishment clause of the First Amendment is unfounded, CBN News reported at the time.
After this loss, Newdow announced in early 2015 that he would be taking another tactic to push back against "In God We Trust," saying at the time that he was planning to file numerous lawsuits challenging the presence of "In God We Trust" on American money.
In a guest post on the Friendly Atheist blog last May, Newdow wrote that there are many people who find the presence of the theistic phrase "offensive" and "unlawful," specifically claiming that it poses a Constitutional violation.
Photo credit: Shutterstock
"It violates the first ten words of the Bill of Rights ('Congress shall make no law respecting an establishment of religion') and it violates the Religious Freedom Restoration Act (RFRA)," he wrote. "Unfortunately, because Constitutional principles can be twisted and perverted, the challenges to this practice under the Establishment Clause have, so far, failed."
From there, Newdow explained that the Religious Freedom Restoration Act might be a more viable tool for atheists to use if they want to see the line removed from currency, arguing that there is no compelling government interest for including "God" on coins and dollars.
"This is because every Supreme Court justice involved in the three RFRA cases heard to date has agreed that, under RFRA, religious activity may not be substantially burdened without a compelling governmental interest and laws narrowly tailored to serve that interest," he wrote.
Newdow cites RFRA in his latest complaint.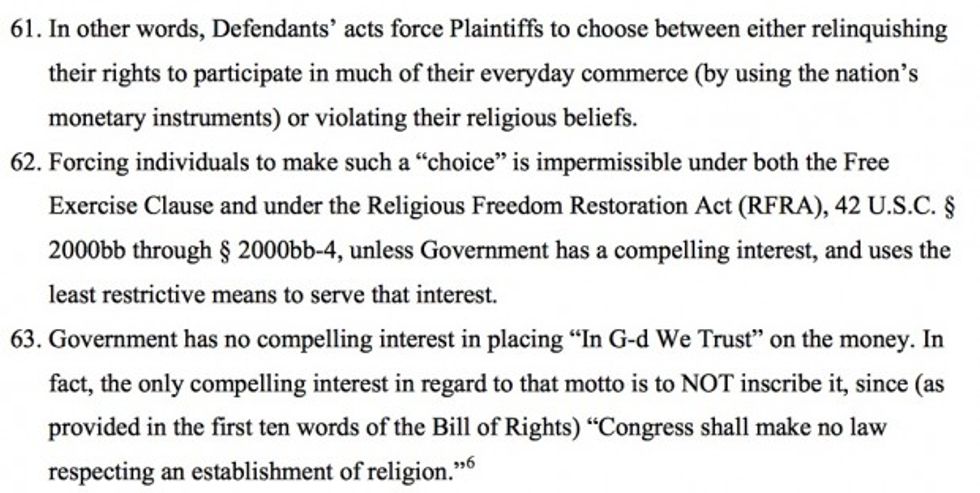 A portion of the lawsuit citing the Religious Freedom Restoration Act
Newdow went on to openly call for plaintiffs to join his quest to sue in seven separate federal circuit courts, arguing that there are many Americans who believe that they are being forced by the government to "carry a message that violates their religious ideals."
"Imagine if Christians had to carry on their body something they disagree with religiously, like 'Jesus is a lie' — how long do you think that would stand?" Newdow recently told liberal website ThinkProgress. "But atheists are so denigrated in this society that people accept this without a second thought."
So, he's hoping that the courts will agree, under the Religious Freedom Restoration Act — the same measure at the center of the Supreme Court's controversial Hobby Lobby decision — that "In God We Trust" poses as a serious constitutional violation.
We'll have to wait and see how the Ohio case unfolds.
(H/T: Cleveland.com)
--
Follow the author of this story on Twitter and Facebook: