The Des Moines Register grabbed an exclusive interview with Democratic presidential candidate Hillary Clinton Monday during her visit Iowa. But when a reporter asked her if she has had any communication with the women involved in her husband Bill Clinton's sex scandals during his presidency, Clinton was adamant that it was not that kind of interview.
"No, I have nothing to say and I will leave it to voters to determine whether any of that is at all relevant to their decision," Clinton said when asked if she had interacted with or feels any empathy for the women.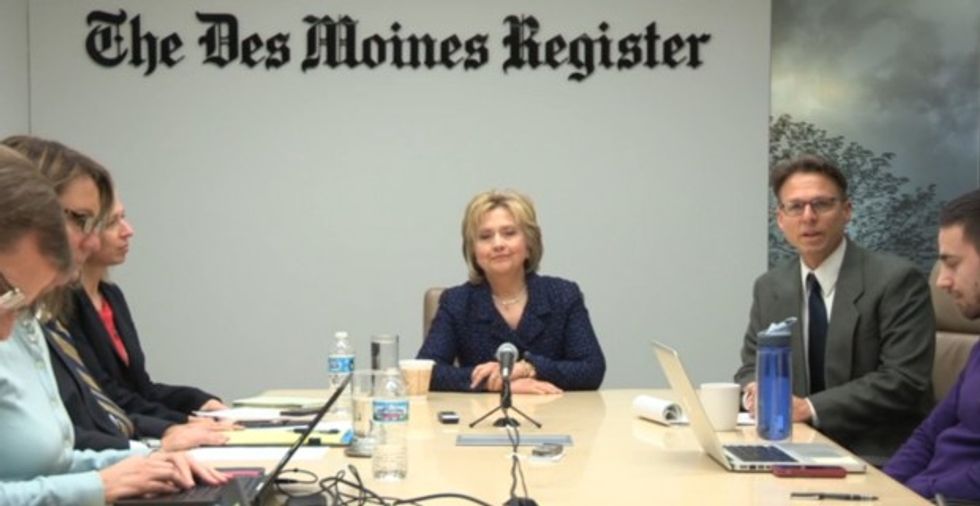 Des Moines Register
Republican presidential candidate Donald Trump has mentioned former president Bill Clinton's past exploits and allegations of sexual assault throughout his campaign, notably calling him "one of the great abusers of the world." Trump recently accused Hillary Clinton of being an "enabler" in an interview with Chris Wallace on "Fox News Sunday."
"She's not a victim. She was an enabler," Trump said. "She worked with him. She was --some of the women have been totally destroyed. Some of these women have been destroyed. And Hillary worked with him."
Clinton has repeatedly declined to answer questions about the women, or to comment on Trump's remarks.
The Democratic presidential candidate also denied a Fox News report suggesting that the FBI has expanded its investigation to look at possible public corruption within the Clinton Foundation. She called the report "unexpected and unfounded.
Watch the full interview below:
---