On the morning of his final State of the Union address, President Barack Obama told NBC's Matt Lauer in an exclusive interview that he does't believe there are any existential threats facing the United States.
Obama's reply came in response to a question from Lauer, inquiring if the "state of the union is strong," which is a traditional phrase used by presidents in the annual address.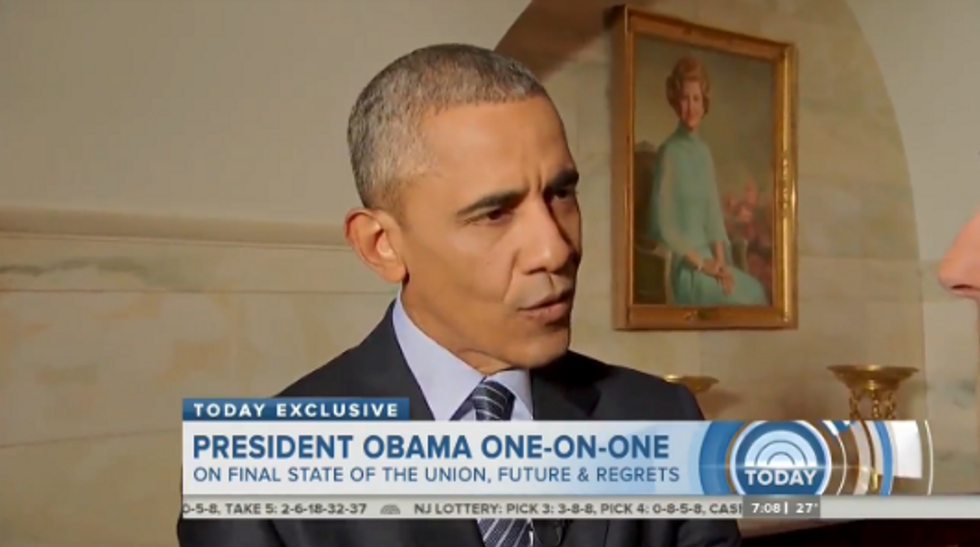 Image source: NBC News
"Now, I know in your speech it's traditional to say the state of the union is strong. When it comes to the emotional state of our union and when I go out and talk to people, the words I hear them most often in terms of how they are feeling right now, they talk about fear. They talk about frustration. They talk about fatigue," Lauer said. "Any of those words surprise you?"
"No," Obama replied, citing many of the chaotic situations that have plagued his presidency and the U.S. in the last 10 years.
"I think, you know, we went through a lot over these last 10 years. We went through Katrina. We went through the Iraq War. We went through the worst financial crisis in our lifetimes. We are still battling terrorism," Obama continued. "People are still recovering from some of the economic blows that hit, and it is sometimes important for us to step back and take measure of how far we've come."
"We remain the strongest nation on earth by far, and there are no existential threats facing us," the president added, "but if we make some good choices now, whoever the next president is, whoever is controlling the next Congress there, there's no reason why we shouldn't own the 21st century."
Many, however, would disagree with Obama, citing growing concerns in the Middle East, arguing that the Islamic State and the possibility of a nuclear Iran pose existential threats to the U.S. In addition, a nuclear North Korea is also a growing foreign policy concern for many Americans.
According to Mediate, Lauer went on to ask Obama if he believes his two daughters, Sasha and Malia, will be fighting radical Islam on a daily basis when they are his age.
"I am absolutely confident we will have defeated ISIL," Obama responded confidently. "I don't think we have to wait until they are 54 for that to happen."
—
Follow the author of this story on Twitter and Facebook:
[facebook //www.facebook.com/plugins/like.php?href=