Democratic presidential candidate Hillary Clinton has repeatedly declined to answer question regarding the smearing of women involved in past sexual scandals with her husband, former President Bill Clinton — but that likely can't last long.
"She is not responsible or Bill Clinton's behavior but she is responsible for her role in covering it up," Penny Nance, president of the Concerned Women for America, a conservative women's group, told TheBlaze. "She played a leading roll in how the Clinton machine sullied the reputations and trashed these women."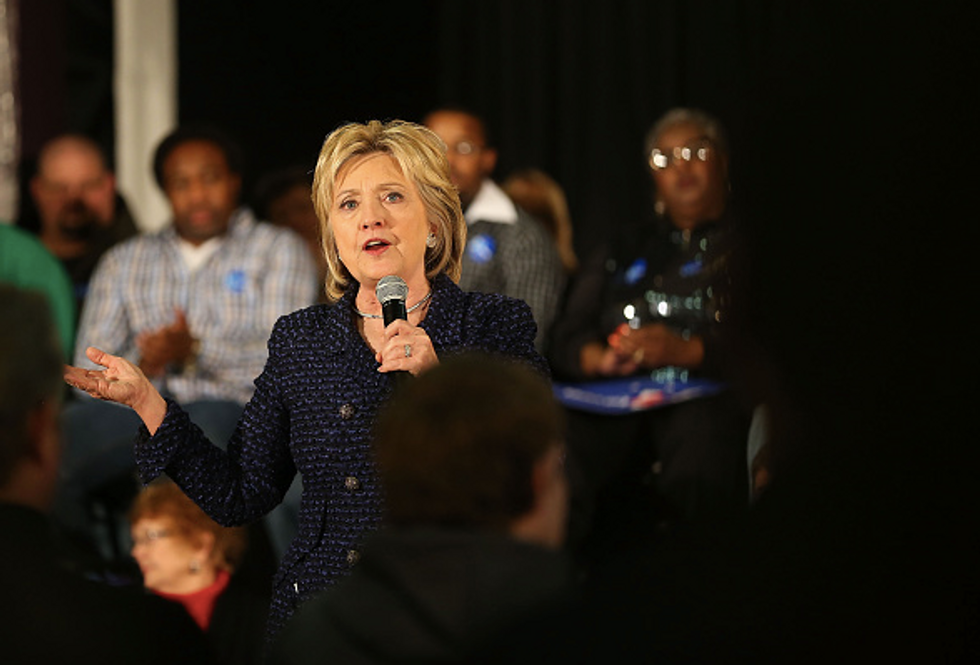 Democratic presidential candidate Hillary Clinton speaks during a campaign stop at the Electric Park Ballroom on Jan. 11 in Waterloo, Iowa. (Joe Raedle/Getty Images)
Clinton declined to answer questions about her husband's behavior in Iowa during a meeting with the Des Moines Register editorial board Monday. She did the same during a Tuesday interview with CNN. The Clinton campaign did not respond to TheBlaze for this story.
The Clinton scandals of the 1990s have resurfaced since the former first lady and secretary of state has touted herself during the Democratic presidential campaign as a voice for women while also attacking Republican presidential candidate Donald Trump for being sexist. He fired back with an ad blasting her decision to stand by her husband while touting women's rights.
Critics point out that Hillary Clinton played a leading role in calling women such as Jennifer Flowers and Monica Lewinsky liars, while dismissing other claims of harassment or worse from Paula Jones, Juanita Broaddrick and Kathleen Willey.
"Hillary Clinton at some point will have to explain why she allowed it," Nance continued. "She was very involved in the Clinton machine strategy. She can't legitimately say she wasn't involved."
Conservatives are not the only people raising the issue. Liberal New York Times columnist Maureen Dowd, a frequent Clinton critic, wrote about how Clinton blamed the women.
"Trump can be a bully. But Hillary was a bully, too, in the way she dealt with her husband's paramours," Dowd wrote. "Her impulse, as Lewinsky wrote in Vanity Fair, was to blame the woman — even herself. Hillary was not going to be hurt twice by Those Women, letting them damage her marriage and her political future. If someone had to be collateral damage, it was not going to be Hillary."
Dowd continued that "Bill hid behind the skirts of feminists — including his wife," and asserted that reevaluating Clinton's behavior in today's context won't play as well as in the 1990s.
"Trump may be a politically incorrect Frank Sinatra ring-a-ding type with cascading marriages to hot babes, but he knows that a retrospective of the Clintons' cynical campaigns against 'bimbo eruptions' will not play well in a politically correct society sensitized by epidemics of rape in colleges and the military and by the Cosby effect," she wrote.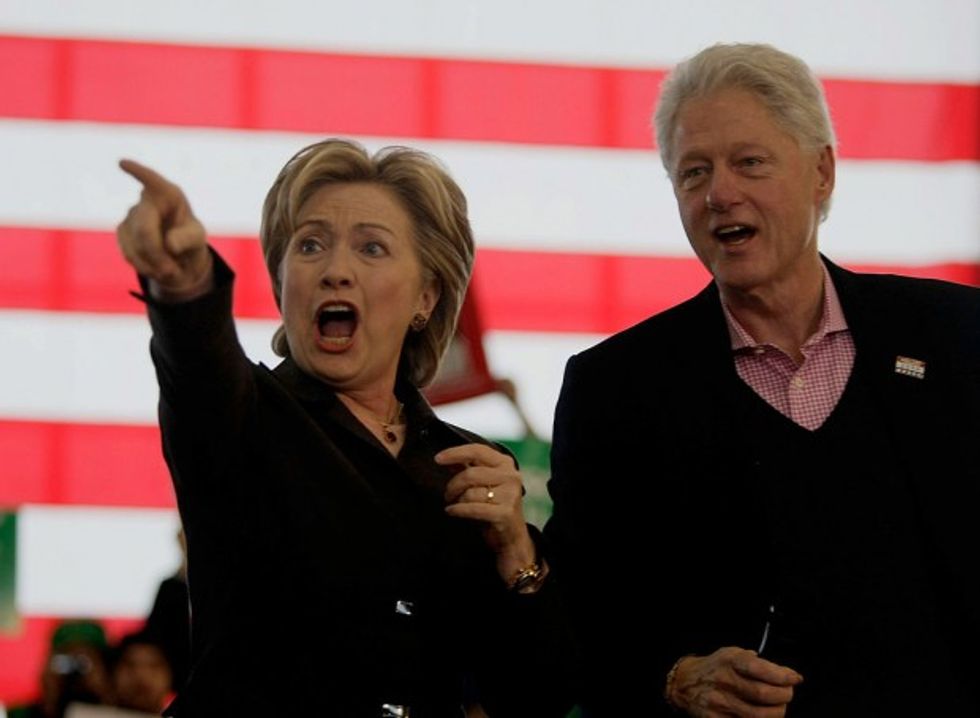 (Joe Raedle/Getty Images)
The former president settled the sexual harassment case with Paula Jones and was also found in contempt of court. So there is little doubt Jones was telling the truth, Nance said.
However other women such as Willey and Broaddrick haven't had their day in court, Nance said. "There was never justice or even due diligence in those cases."
Nance stated that how long Clinton could go without addressing her role in her husband's sex scandals will depend on how long the media will allow it. She added that she believes feminist might finally start asking questions.
"Feminist had been reflexive when it comes to Hillary Clinton, but her hypocrisy is overwhelming," Nance said. "It could reach a critical mass when she has to answer."
Ruth Marcus, a liberal columnist for the Washington Post, made a similar point last month:
Yet in the larger scheme of things, Bill Clinton's conduct toward women is far worse than any of the offensive things that Trump has said. Trump has smeared women because of their looks. Clinton has preyed on them, and in a workplace setting where he was by far the superior. That is uncomfortable for Clinton supporters but it is unavoidably true.
Tamara Stein, spokeswoman for the National Organization of Women, a liberal women's group, referred TheBlaze to an op-ed written by NOW president Terry O'Neill last week, in which O'Neill stood up for Clinton and called the Marcus column an "over the top screed," accusing the writer of being "deliberately provocative."
"For most women, whose lives have not been perfect, Sec. Clinton's career path — which has been marked by persistence and resilience in the face of extraordinary barriers — is cause for celebration and inspiration," O'Neill wrote. "When she ran for president in 2008, she was subjected to vicious forms of misogyny, but she didn't let that chase her out of the public square. As a result, today, other women know that they don't have to be chased out either."