Billionaire businessman Donald Trump said in an interview Wednesday night that his political uprising is greater than that of former President Ronald Reagan.
"I think that the closest thing I can think of is Reagan, but I don't think it's the intensity that we have," Trump told Bloomberg Politics' Mark Halperin and John Heilemann about his presidential campaign just minutes after a speech in Pensacola, Florida.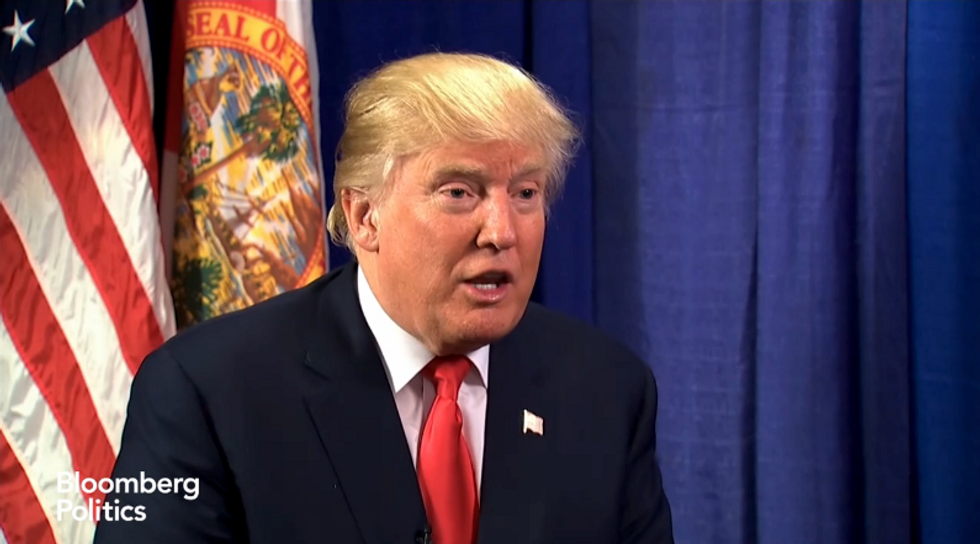 Image source: Bloomberg
"Now, Reagan had a little bit of this, but I don't think to the same extent — but he also won," he added. "And don't forget, we are very far out. This far out, the Secret Service and the all of the people, these are fantastic people ... and everybody tells me that they've never seen crowds like this, this far away from November — it's a long ways away."
Trump went on to tell the duo that he's very "honored" by the support, noting that he is a serious candidate, calling his campaign a political "movement." He also emphasized that his supporters are very committed to his campaign, pointing to the long wait times to get into his rallies.
"Why would a person stand in line for seven hours and then not want to go into a voting booth?" Trump asked rhetorically. "It takes 10 minutes. So I think they're going to vote."
Ahead of Thursday's GOP debate, Trump continues to have a dominating lead in the polls. According to the latest national average from Real Clear Politics, Trump has a 16-point lead over second-place Ted Cruz, 35 percent to 19 percent.
—
Follow the author of this story on Twitter and Facebook:
[facebook //www.facebook.com/plugins/like.php?href=