An Australian homeowner would have had to contend with 14 eastern brown snakes babies in her home — in addition to their mother — had a pregnant snake that nestled under her refrigerator not been captured.
The snake wrangler brought in to handle the hiding reptile, Rolly Burrell, who works with Adelaide Snake Catchers in Adelaide, South Australia, posted the video of the snake's capture online, according to Australia's 9 News.
In the video, Burrell moves the fridge and picks up the snake.
"Oh my goodness, don't let it go," a woman says as the snake tries to avoid being placed in a bag.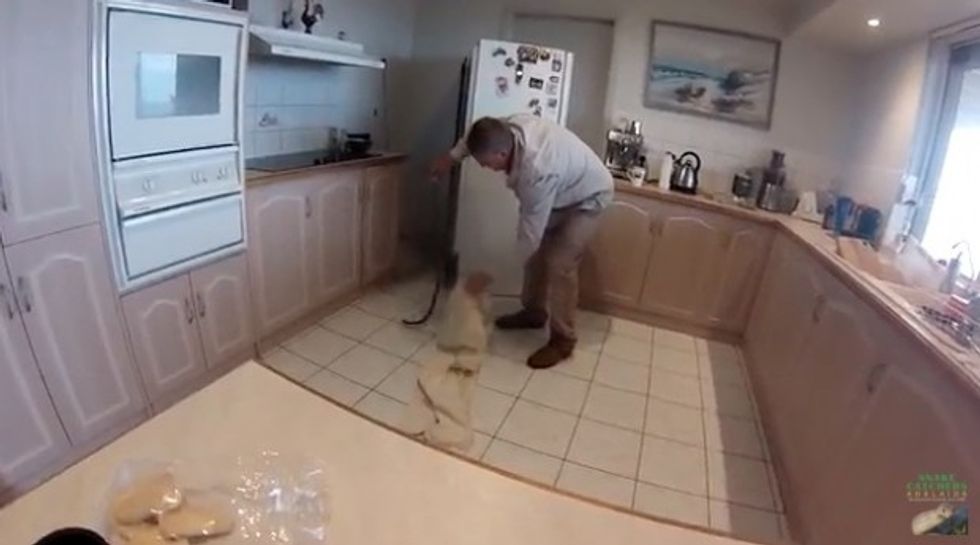 The capture of an eastern brown snake. (Image source: Snake Catchers Adelaide)
In another clip, Burrell tells viewers that the snake was pregnant.
"I thought that it was carrying eggs so we decided to keep it for a couple of days to see if she would lay in captivity so we could show our viewers on Facebook what it really looks like, what a snake egg looks like," he said.
Burrell estimated that the babies will hatch in March.
"This is what happens in the wild," Burrell said. "They find a nice moist spot with a lot of humidity, they lay their eggs and then they go."
According to the Australia Zoo, the eastern brown snake is the second-most venomous snake in the world.