Sean Penn defended his controversial interview with the drug lord Joaquin "El Chapo" Guzman by calling himself an "experimental journalist" and revealed his one "terrible regret," according to CBS.
In a preview of an interview taped for this Sunday's "60 Minutes," Penn told Charlie Rose that his "simple idea" was to "begin a conversation about the policy of the war on drugs."
"We're going to put all our focus - forget about blame - we're going to put all our focus, all our energy, all our billions of dollars on the 'bad guy,' and what happens? You get another death the next day the same way," Penn said.
However, Penn also said he has one "terrible regret" about his clandestine meeting with the cartel leader.
"Let me be clear: My article has failed," Penn said.
Penn lamented that people are discussing El Chapo rather than drug policy.
"Let's go to the big picture of what we all want. We all want this drug problem to stop. We all want… the killings in Chicago to stop," Penn said. "We are the consumer. Whether you agree with Sean Penn or not, there is a complicity there. And if you are in the moral right, or on the far left, just as many of your children are doing these drugs ... And how much time have they spent in the last week since this article [came] out, talking about that? One percent? I think that'd be generous."
Penn attempted to deflect from criticism that Rolling Stone gave El Chapo "story approval" over the article.
"When you get the story that every journalist in the world wanted, there's a lot of green-eyed monsters who [are going to] come give you a kiss," Penn said.
Penn denied that his meeting with the drug lord was "essential" to his capture.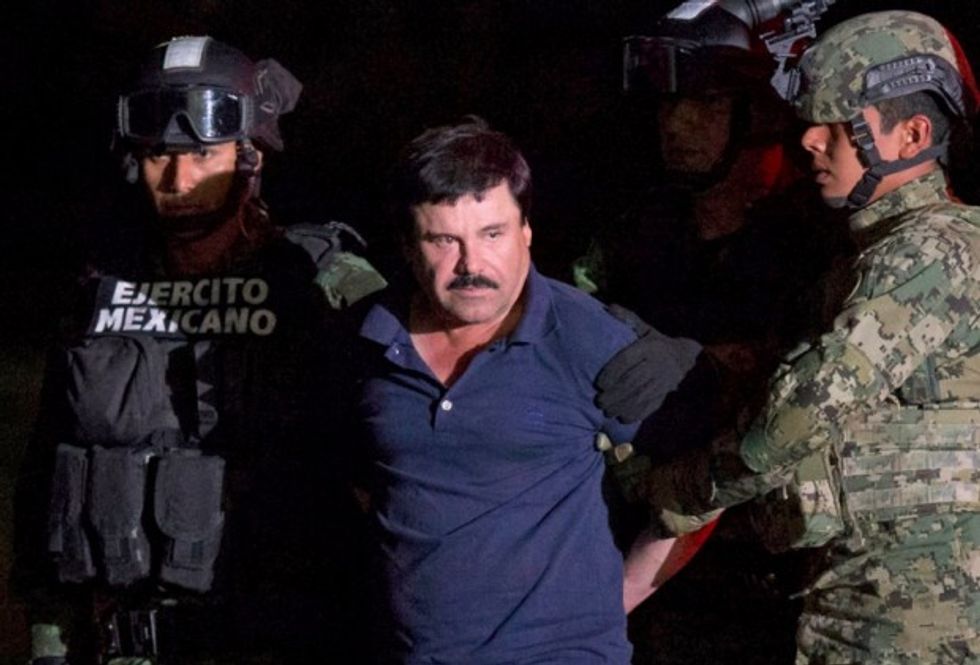 Mexican drug lord Joaquin "El Chapo" Guzman is escorted by army soldiers in Mexico City, Friday, Jan. 8, 2016. The world's most wanted drug lord was recaptured by Mexican marines Friday, six months after he fled through a tunnel from a maximum security prison in a made-for-Hollywood escape that deeply embarrassed the government and strained ties with the United States. (AP Photo/Rebecca Blackwell)
"There is this myth about the visit that we made, my colleagues and I with El Chapo, that it was -- as the Attorney General of Mexico is quoted -- 'essential' to his capture," Penn said. "We had met with him many weeks earlier... on October 2nd, in a place nowhere near where he was captured."
"So as far as, you know, you had nothing to do and your visit had nothing to do with his recapture?" Rose asked.
"Here's the things that we know: We know that the Mexican government... they were clearly very humiliated by the notion that someone found him before they did," Penn said. "Well, nobody found him before they did. We didn't - we're not smarter than the DEA or the Mexican intelligence. We had a contact upon which we were able to facilitate an invitation."
Asked if he was "fearful" that the cartel would retaliate against him for El Chapo's capture, Penn replied, "no."
---