As Michigan Gov. Rick Snyder (R) calls for the Obama administration to declare the area of Flint a federal emergency, Democratic presidential candidate Sen. Bernie Sanders (I-Vt.) is calling for Snyder's resignation.
Residents of Flint, Michigan have been saddled with the contaminated water for the past couple of years. According to the New York Times, some 100,000 people have been unable to use tap water for cooking, bathing or drinking as the National Guard has fanned out to distribute bottled water and water filters.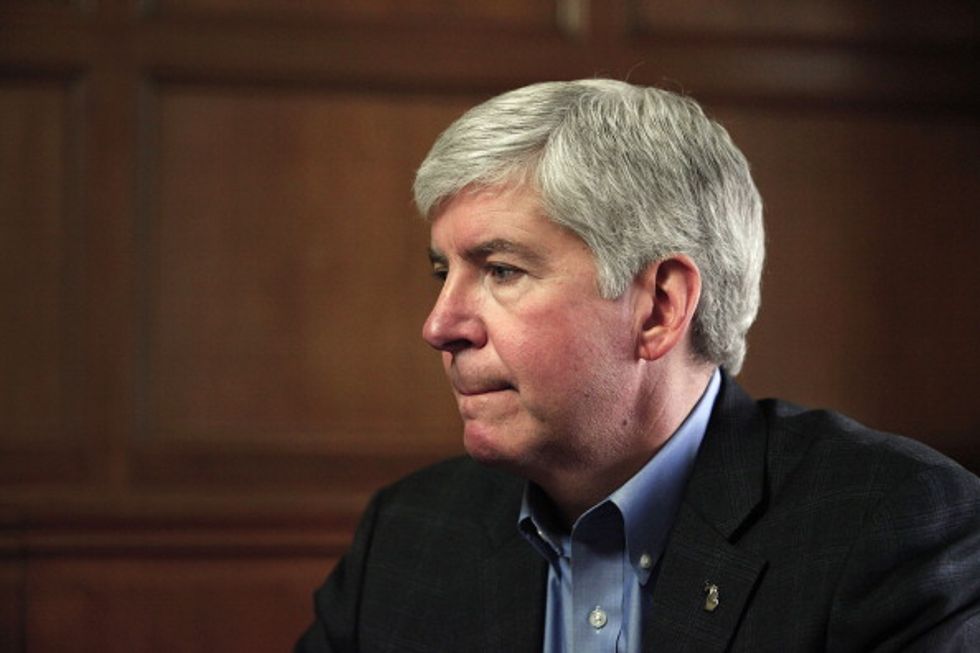 Michigan Governor Rick Snyder. (Photo by Bill Pugliano/Getty Images)
Snyder officially declared a state of emergency on Jan. 5 for the city of Flint and the surrounding area of Genesee County, but his administration has been widely criticized for not being quick enough to institute a water ban or take seriously complaints of contamination long ago. According to the Detroit Free Press, Snyder has been in contact over the past few days with federal emergency officials, including the Secretary of Homeland Security and a top White House liaison on state issues.  
On Saturday, Sanders called for Snyder's resignation in a statement — asserting the Snyder has endangered many children within the community.
"There are no excuses. The governor long ago knew about the lead in Flint's water," Sanders said. "He did nothing. As a result, hundreds of children were poisoned. Thousands may have been exposed to brain damage from lead. Gov. Snyder should resign."
The statement from Sanders goes on to assert that Snyder and other government officials were well aware that the river water was corroding pipes and causing lead to leach into the city's drinking water long before they chose to address the problem.
"Because of the conduct by Gov. Snyder's administration and his refusal to take responsibility, families will suffer from lead poisoning for the rest of their lives," Sanders said. "Children in Flint will be plagued with brain damage and other health problems. The people of Flint deserve more than an apology."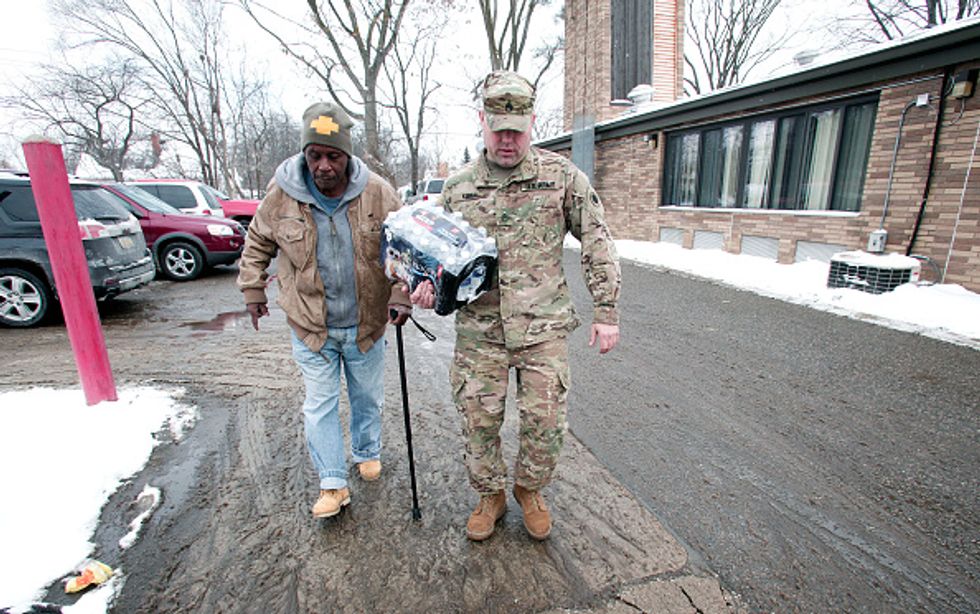 Michigan National Guard Staff Sergeant Steve Kiger of Beaverton, Michigan, helps a Flint, Michigan resident take bottled water out to his car after he received it at a Flint Fire Station January 13th, 2016 in Flint, Michigan. On Tuesday, Michigan Gov. Rick Snyder activated the National Guard to help the American Red Cross distribute water to Flint residents to help them deal with the lead contamination that is in the City of Flint's water supply. (Photo by Bill Pugliano/Getty Images)
Should federal aid be granted by the Obama administration, Snyder said Flint residents could receive temporary house and home repairs, according to a press release from Snyder's office. They also might be able to receive low-cost loans to cover any uninsured property losses. Federal aid also might be used to help fix any damage to public facilities and infrastructures, such as schools and the water system.
"We are utilizing all state resources to ensure Flint residents have access to clean and safe drinking water and today I am asking President Obama to provide additional resources as our recovery efforts continue," Snyder said a statement Thursday.
Besides Sanders call for the governor's resignation, Rep. Brenda Lawrence (D-Mich.) has called for a congressional hearing on the lead contamination. Similarly, Rep. Dan Kildee (D-Mich.) has written to Obama to ask for experts to be dispatched to Flint to investigate the crisis.
According to the Detroit Free Press, Snyder has said that he welcomes investigations led by authorities.
"I encourage them to investigate because we want to learn as much as possible from this to make sure it doesn't happen again," he said.
Flint has seen a rise in reported Legionnaires' disease, a form of pneumonia, since Flint switched its water source over to the Flint River, according to a report in the Detroit Free Press. State officials have said they cannot make a connection between the rise in the disease and the water but a drinking water expert who studied Flint called the spike in the disease "dramatic" and said there is a "very strong likelihood" the water is the cause.