© 2023 Blaze Media LLC. All rights reserved.
Swimming Pool Poster Teaches Middle Eastern Migrants that Touching Girls' Rear Ends Is a No-No
"The ground rule of respect for women – whatever clothing they're wearing – is unfortunately not respected by all our swimmers."
A poster hung at some public swimming pools in Germany aims to teach Middle Eastern migrants that touching the rear ends of girls they don't know is most definitely verboten.
The English-language news site The Local reported that swimming pools in Munich has begun issuing comic book-style leaflets with drawings instructing migrants about proper pool etiquette. The fliers were translated to Arabic, French, Pashto and Somali.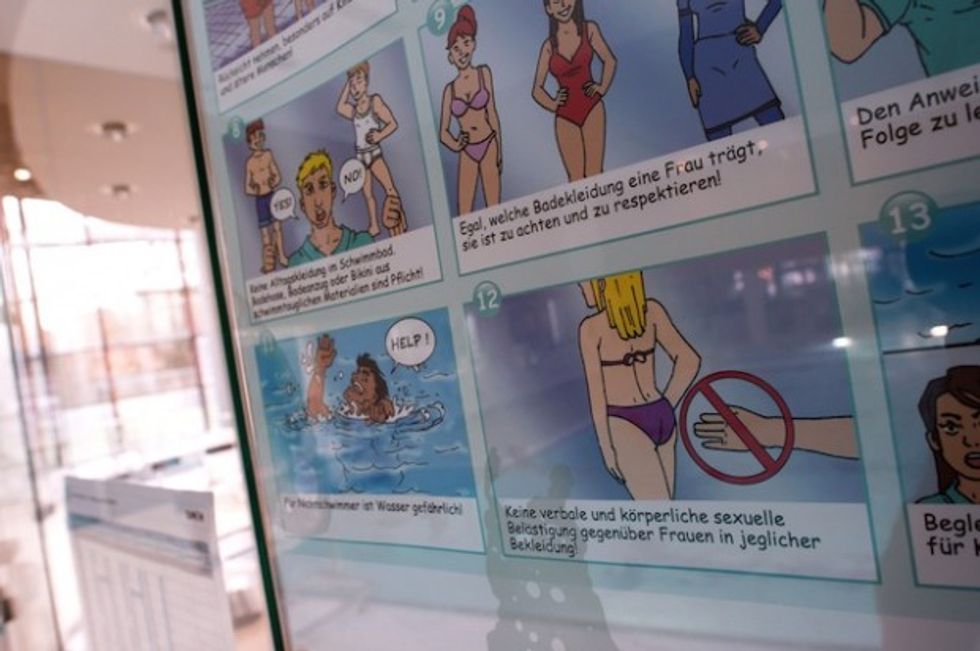 A poster informs about pool rules in a public swimming pool in Munich, southern Germany, on January 12, 2016. The city of Bornheim near Bonn, western Germany, has decided to ban male asylum seekers from its public pool since women have complained about harassment by migrants. (Photo: Sven Hoppe/AFP/Getty Images)
One cartoon panel showed the backside of a blond woman in a purple bikini. An outstretched hand behind her bottom was marked with the "no" red circle-backslash symbol.
The poster emerged as another German town decided to ban adult migrant men from visiting its public pool following complaints from female swimmers that they had been sexually harassed.
An official in Bornheim said the men who live in a nearby migrant shelter would be barred from visiting the pool until they "got the message" that harassment was not acceptable, the BBC reported.
The actions came just two weeks after reports of hundreds of group sexual assaults and muggings by Middle Eastern men occurred during New Year's Eve festivities around Germany.
A Munich city spokesman told the German news agency DPA that the cartoon leaflets were originally put together two years ago after problems were reported at the city's 18 swimming pools, The Local reported.
"The ground rule of respect for women – whatever clothing they're wearing – is unfortunately not respected by all our swimmers. That's why there is an explicit indication about it," the spokesman said.
The migrant ban at the pool in Bornheim was instituted after six people filed complaints over "sexually offensive behavior" by asylum seekers.
Bornheim sits 17 miles from Cologne, the site of a large number of the New Year's Eve sexual assaults.
Featured image: Shutterstock/UnderTheSea
Want to leave a tip?
We answer to you. Help keep our content free of advertisers and big tech censorship by leaving a tip today.
more stories
Sign up for the Blaze newsletter
By signing up, you agree to our
Privacy Policy
and
Terms of Use
, and agree to receive content that may sometimes include advertisements. You may opt out at any time.