MOUNT VERNON, Ohio (TheBlaze/AP) — After a woman called police on Sunday to warn that cops "were in danger," an officer was found dead behind the municipal building in Danville, Ohio. A suspect was later caught and is in now custody.
Danville Officer Thomas Cottrell was found killed in the line of duty without his gun or cruiser just before midnight on Sunday, leading authorities on a search to track down the individual responsible.
Knox County Sheriff David Shaffer said in a statement that police received a call just before midnight Sunday from a woman saying that police officers in Danville "were in danger," and that her ex-boyfriend had weapons and was looking to kill an officer.
Shaffer said dispatchers tried to make contact with the Danville officer, but were unsuccessful, and that prompted the Knox County Sheriff's Office to search the village.
The sheriff said that Cottrell was found deceased on the ground behind the Danville Municipal Building about 27 minutes after the phone tip came in, and that his service weapon had been taken.
"We are very sad to report the line of duty death of Danville Police Officer Thomas Cottrell," reads a post on the Knox County Sheriff's Office Facebook page. "Our officers and BCI are conducting the investigation."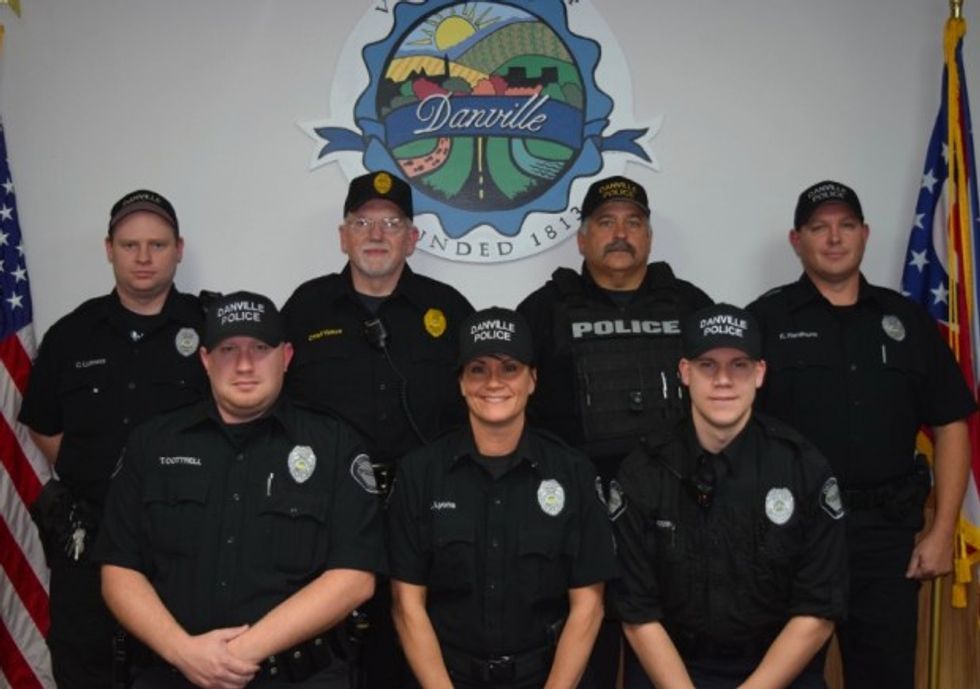 Members of the Danville Police Department. Officer Tom Cottrell is to the lower left (Village of Danville)
Officials did not immediately say how the officer died, though WCMH-TV is reporting that he was shot.
Suspect Herschel Jones III was captured at about 1:30 a.m. Monday, after a short foot chase.
Danville is located about 60 miles northeast of Columbus and 100 miles southeast of Cleveland.
--
Follow the author of this story on Twitter and Facebook: