FREETOWN, Sierra Leone (TheBlaze/AP) — Authorities in Sierra Leone have identified 28 individuals who were deemed "high risk contacts" in the country after a deceased woman was determined to have died from Ebola last week.
Ishmael Tarawallie, the National Coordinator of Office of National Security, said that there are over 100 contacts in the case -  and three of those known contacts were missing.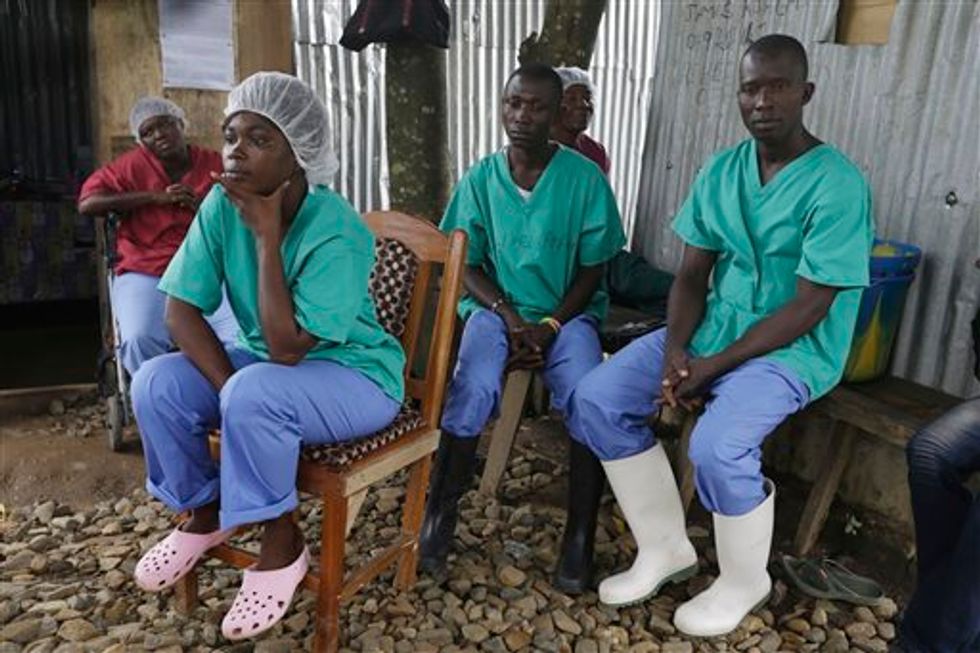 In this Monday, Aug. 10, 2015 photo, health workers take a break at the Kenema Government Hospital, where more than 40 health workers died of Ebola, in Kenema, eastern Sierra Leone. An Associated Press investigation has found a toxic mix of avoidable problems faced by Ebola responders, including weak leadership, shoddy supplies and infighting, exacerbated a chaotic situation at a critical front in the battle against the virus. (AP/Sunday Alamba) 
Authorities in the West African nation said that swabs from a 22-year-old woman who died last week tested positive for Ebola. The new case emerged a day after the World Health Organization declared the outbreak of the disease over in West Africa.
Tarawallie said that preliminary reports indicate that the woman sought outpatient medical treatment.
Almost 4,000 people died in Sierra Leone before the country was declared free from transmission on Nov. 7. Ebola is responsible for the deaths of more than 11,300 people, mostly in West Africa, since the outbreak in 2013.