Texas Sen. Ted Cruz rebuked Donald Trump on Monday, telling reporters at a campaign stop in New Hampshire that the billionaire businessman is nothing in comparison to former president Ronald Reagan.
"Donald did an interview where he described that he thinks that he's bigger than Ronald Reagan — I think the American people will make that determination," Cruz said in Washington, New Hampshire.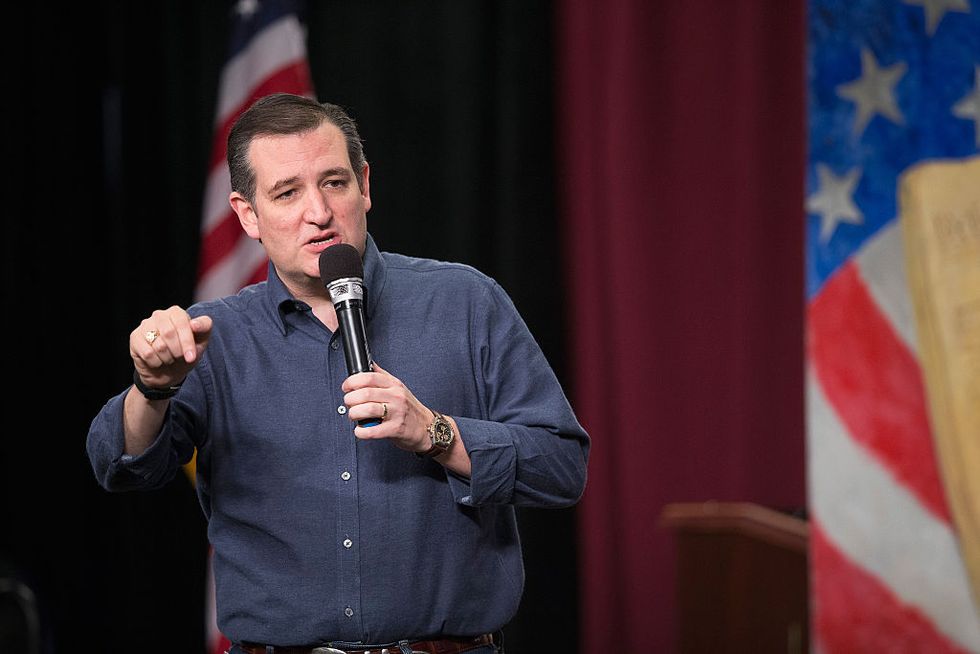 Ted Cruz speaks to guests at the 2016 South Carolina Tea Party Coalition Convention, Jan. 16, 2016. (Getty Images/Scott Olson)
During an interview with Bloomberg Politics last Wednesday, Trump likened his campaign and political uprising to that of Reagan's in the late 1970's. In fact, the real estate mogul even said that his is greater and larger than Reagan's was.
However, it wasn't the first time Trump compared himself to the Republican icon. Last September, while speaking with CNN's Don Lemon, Trump said he resembled Reagan, explaining that Reagan was a Democrat before he was a Republican — just like himself.
But it was that point — the fact that Trump supported Democratic policies before his switch to the Republican party — that Cruz honed in on.
"I would note that Ronald Reagan spent decades as a principled conservative, spent decades traveling the country sharing his conservative, free-market views [and] defending the Constitution," Cruz said. "Ronald Reagan did not spend the first 60 years of his life supporting Democratic politicians, advocating for big government politics, supporting things like the big bank bailouts, supporting things like expanding Obamacare to turn it into socialized medicine."
[sharequote align="center"]"Ronald Reagan did not spend the first 60 years of his life supporting Democratic politicians.."[/sharequote]
"That's not what Ronald Reagan did," the Texas Republican continued. "Ronald Reagan was a voice of consistency and I'm pretty sure that Ronald Reagan didn't write checks and support Democratic politicians like Andrew Cuomo, like Anthony Weiner, like Hillary Clinton."
"I'm pretty sure Ronald Reagan didn't write a huge check to Rahm Emanuel in December of 2010 after the big Tea Party wave," Cruz added. "We need a leader who is prepared to do whatever is needed to keep this country safe and that typically doesn't include spending your time on Twitter."
Cruz, who trails Trump in national polling, didn't end his criticism of Trump there. He went on to tell the crowd that Trump is beginning to be "rattled" by his upwelling of grassroots support.
"Donald seems to be a little rattled," Cruz said, according to the Associated Press. "For whatever reason he is very, very dismayed. I guess as conservatives continue to unite behind our campaign, as his poll numbers continue to go down, he's a little testier."
—
Follow the author of this story on Twitter and Facebook:
[facebook //www.facebook.com/plugins/like.php?href=