Volunteers in Seattle have built a "tiny house village" for the homeless on church property, according to KIRO-TV.
The first residents are expected to move in later this week.
Dennis McCrea, who volunteered to help build the houses, will also be the first to move in.
"It's a lot less stressful. You can think about what you have to do to move forward not where you are going to sleep every night," McCrea told KCPQ-TV.
McCrea expressed gratitude for the place to stay.
"This is nice. This will work until I get back on my feet," McCrea said.
The small houses are only 8 feet by 12 feet, but they are outfitted with basic amenities such as oil heat registers and fans.
The facility also includes a shared building with flush toilets and hot and cold water, and it will soon also include a shower.
Organizers say that the houses are a significant improvement on other alternatives for the homeless in the city.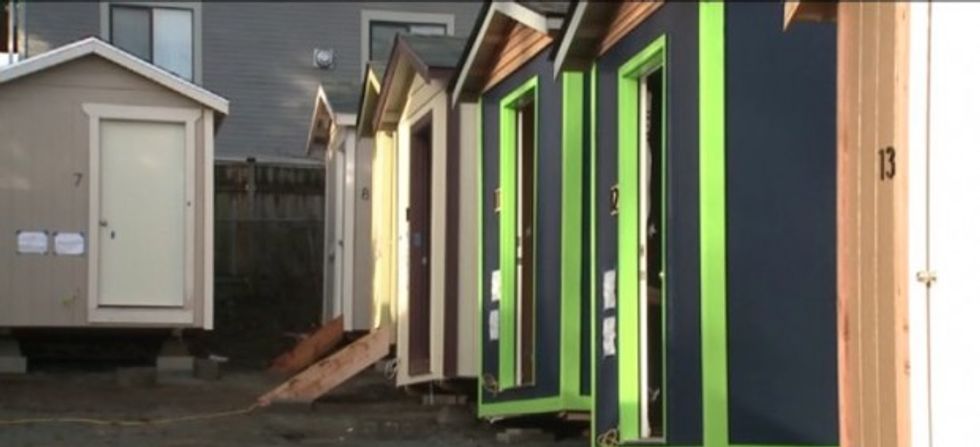 Seattle's "tiny house village" for the homeless. (Image source: KCPQ-TV)
"The difference is you have electricity and a lock on the door," said Steve Tucker, a member of the Lutheran Church of the Good Shepherd, the church hosting the village, told KIRO-TV. "I mean, it sounds [like] not much to you and I, but for somebody that's in a tent…"
"We think it's a good crisis response to homelessness," Sharon Lee of the Low Income Housing Institute told KIRO.
Lee said that she expects residents to stay between 4-6 months as they transition into affordable housing. Adults will pay $90 per month to stay in a house, which cost about $2,200 apiece to build.