During remarks made Wednesday in Davos, Switzerland, Vice President Joe Biden talked about the unusual election in the United States and the rise of new parties in Europe, warning that these events could lead to future terrorism.
According to the White House press poll report, Biden called for corporate executives to prioritize the long-term good of their workers over short-term profits, otherwise terrorism will spread as economic anxiety spreads to "real people."
"We see in the United States this most unusual political campaign I've been engaged in," Biden said in his remarks at the World Economic Forum. "I've never quite seen it this way. And you see it here in Europe in the emergence of third parties that there before had no fertile soil to grow in. You see, and this is the extreme example, of how people become attracted to terrorist groups."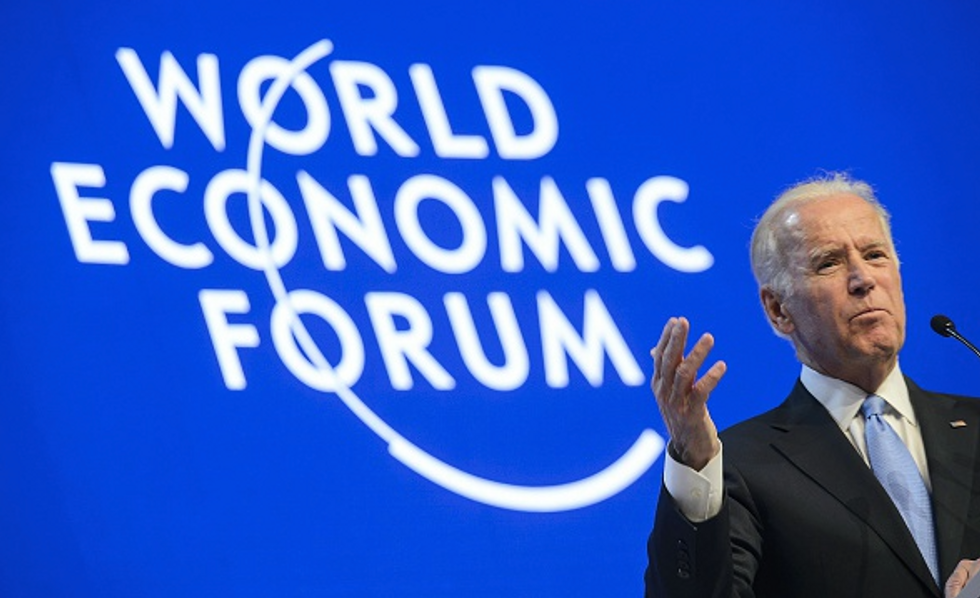 Vice President Joe Biden delivers his speech during the World Economic Forum (WEF) annual meeting in Davos, Switzerland, on January 20, 2016. Rising risks to the global economy and a string of jihadist attacks around the world overshadowed the opening of an annual meeting of the rich and powerful in the snow-blanketed Swiss ski resort.  (FABRICE COFFRINI/AFP/Getty Images)
The available remarks did not mention any names, but Biden could have been referring to unusual outsider candidates such as Donald Trump in the Republican primary and Bernie Sanders in the Democratic primary.
Biden gave a five-point road map in which he suggested the need to increase access to affordable education and job training, provide higher wages, upgrade infrastructure, change the tax codes where everyone pays a proportionate share, and make access to capital more available.
"If we get this wrong ... we'll see more people motivated to do harm, with more potential to do it," Biden said. "Political progress in fragile and failing states could be doomed if we don't change."