The standoff at the Malheur National Wildlife Refuge in Oregon took a tense turn Tuesday evening when attendees at a community meeting held at the Burns High School gymnasium unleashed remarks aimed at the federal government and public officials — as well as highly personal ones against Ammon Bundy.
Friends and neighbors gathered at the meeting in Burns, Oregon, to express their outrage and concerns that have arisen in the wake of the Bundy's armed seizure of the wildlife refuge managed by the U.S. Fish and Wildlife Service, which sits 30 miles southeast of Burns, according to OregonLive.
"It's time for you to go home," County Judge Steve Grasty told Bundy to his face during the meeting as a chant arose amidst the bleachers in the gymnasium: "Go, go, go, go, go," OregonLive reported.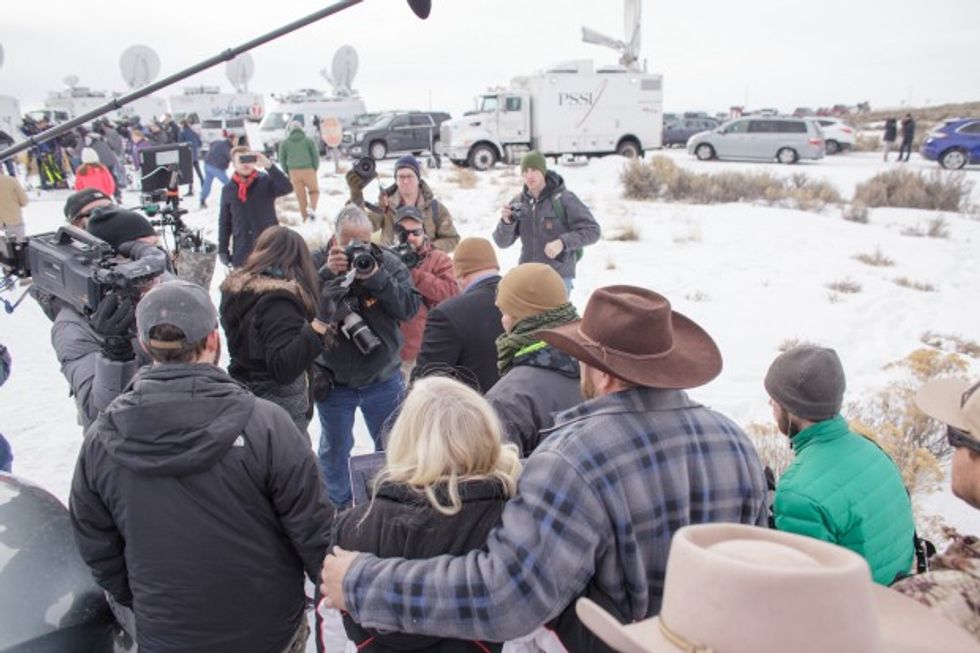 Ammon Bundy, leader of a group of armed anti-government protesters, arrives to speak to the media as other members look on at the Malheur National Wildlife Refuge near Burns, Oregon, Jan. 4. (Rob Kerr/AFP/Getty Images)
One woman told Bundy that although she appreciated the national attention his armed protest against the federal government brought to the treatment of Dwight and Steven Hammond, as well as to rural land and conservation issues, she still wanted him to "get the hell out of my county," OregonLive reported. One man reiterated the woman's sentiments, asking, "Are you happy you did this to our community?"
On Tuesday, another event occurred in which attendees called for Bundy and his militia to end their occupation of the wildlife refuge that began Jan. 2, according to a separate OregonLive report. As hundreds gathered at Northeast Portland's Holladay Park, Sean Stevens, the executive director of Oregon Wild, called for Bundy and his compatriots to relinquish their hold on Malheur National Wildlife Refuge.
"We can show the gang that's out there at the Malheur National Wildlife Refuge how you really make a public statement in support of something," Stevens said. "We're going to be positive. We're going to be peaceful, and we're going to talk about how much we love public lands."
Further rallies were held throughout Portland, as well as in Boise, Idaho, Tuesday that sought to draw attention to the numbers of people who support the federal government's management of public lands — in contrast to Bundy's calls for local control over federal land management, the Associated Press reported. During a Tuesday press conference, Bundy reiterated that "we're not going anywhere" until his group accomplishes its goals.
—
Follow Kathryn Blackhurst (@kablackhurst) on Twitter