A new poll commissioned by the Knights of Columbus has found that the majority of Americans — including individuals who embrace the "pro-choice" label — support major restrictions on abortion, according to a press release announcing the results.
Respondents in the Marist Poll were presented with a series of potential views on abortion and were asked to select which came closest to their perspective on the issue. Only 20 percent said that they believe in abortion up to six months or at any point in a pregnancy.
The vast majority — around 80 percent — selected that they would restrict abortion to the first three months, to cases of rape, incest or danger to the life of the mother, only to save a mother's life or that they would never support abortion.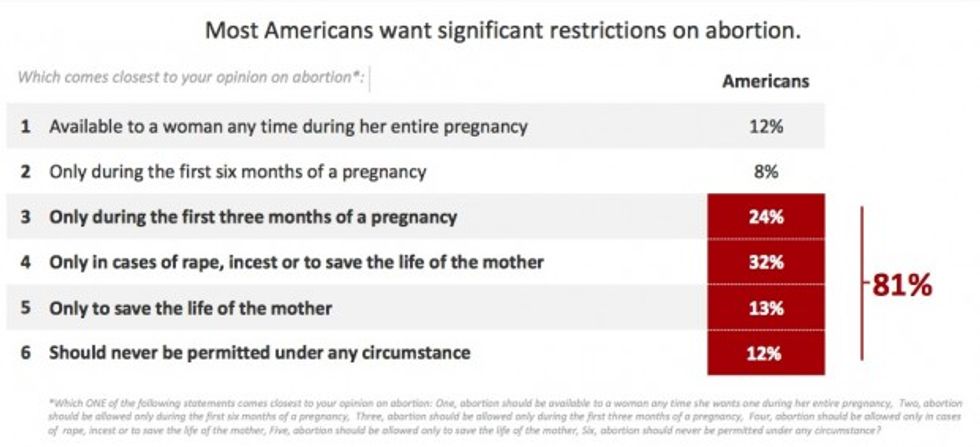 Marist/Knights of Columbus
But it's what pro-choice Americans said about this question that is, perhaps, most notable.
"[Sixty-six percent] of those who describe themselves as pro-choice say abortion should be allowed, at most, in the first trimester, in cases of rape, incest, or to save the life of the mother, or never permitted," the study reads.
Additionally, 82 percent of women took this same stance in the survey.
The majority of pro-choice supporters — 71 percent — also agreed that laws can protect both a mother and an unborn child — a notion that was held by 77 percent of Americans surveyed overall.
And while 60 percent of Americans said that abortion is "morally wrong," just 37 percent said that it is "morally acceptable."
These metrics did differ quite a bit among pro-life and pro-choice respondents, as 90 percent of pro-lifers called abortion "morally wrong" as opposed to just 33 percent of pro-choice respondents.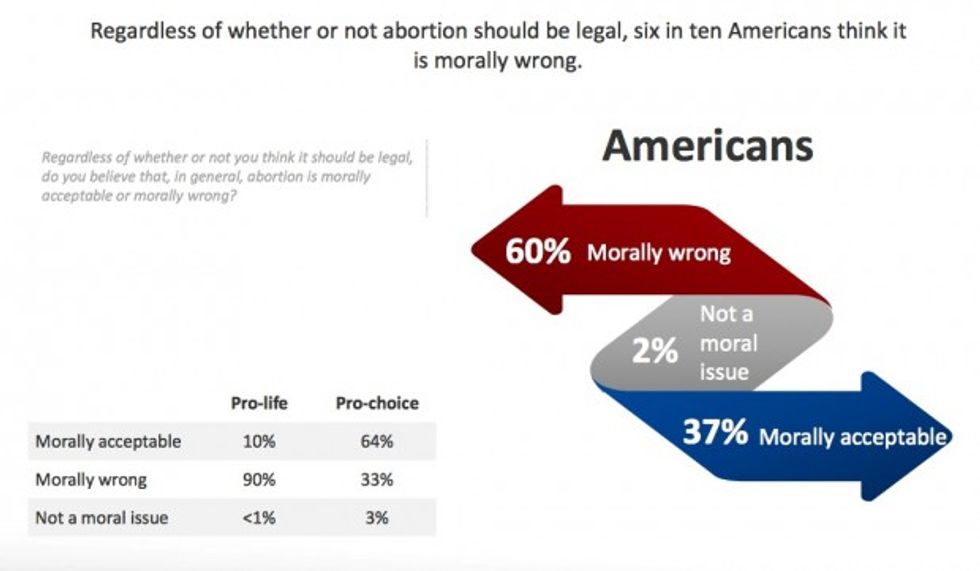 Marist/Knights of Columbus
A majority of Americans (61 percent), pro-choicers (62 percent) and women (60 percent) would support laws that ban abortion after the 20-week period so long as there is an exemption to save the life of the mother, according to the survey results.
The release of these results comes as the 43rd anniversary of Roe v. Wade — the Supreme Court decision that legalized abortion nationwide — is set to unfold on Friday.
Read the complete results here.
--
Front page image via Shutterstock.com.
--
Follow the author of this story on Twitter and Facebook: