Republican front-runner Donald Trump admitted at a campaign event in Iowa Tuesday that the GOP establishment is rallying around his campaign, seeming to prove valid recent criticism from Texas Sen. Ted Cruz, who's currently polling second in the party's presidential race.
"We've been complimented by so many people," Trump began. "We've been contacted by the establishment types. They all want to know how do they get involved with the campaign."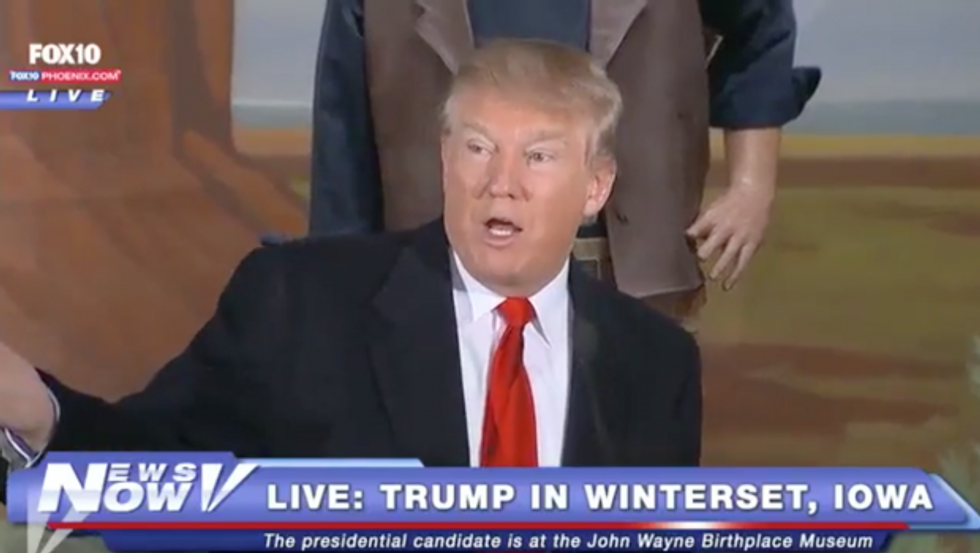 Image credit: Youtube/screenshot
"They're all giving up on their candidates," the billionaire businessman added. "And these are real establishment people, that I've known when I was a member of the establishment — meaning a giver, a 'big donor.'"
"But they are contacting us left and right about joining the campaign," Trump emphasized, "and these are serious establishment types."
"I'm not sure if that's a good thing or a bad thing, frankly, and I don't even care that much," the real estate mogul concluded. "It doesn't matter that much."
Trump's comments play heavily in the favor of Cruz and Kentucky Sen. Rand Paul, who are the two Republican candidates seen as the most conservative and anti-establishment. Both Cruz and Paul have ripped Trump in the past as a progressive establishment candidate.
Cruz also unleashed on Trump in an interview with Buzzfeed News Tuesday night, buffering his case that Trump is an establishment candidate because he has "promised to make deals and to continue the cronyism and corporate welfare of Washington," Cruz said.
Watch Trump's comments below:
(H/T: The Right Scoop)
—
Follow the author of this story on Twitter and Facebook:
[facebook //www.facebook.com/plugins/like.php?href=