The city of San Jose has made plans to track hundreds of thousands of cellphones during the week of Super Bowl 50. With the help of a startup called AirSage, officials will be able to collect and analyze wireless data for San Jose's Convention and Visitor's Bureau, KPIX-TV reported.
The city plans to use the data to gauge where fans stayed or visited in the San Fransisco Bay Area during Super Bowl week.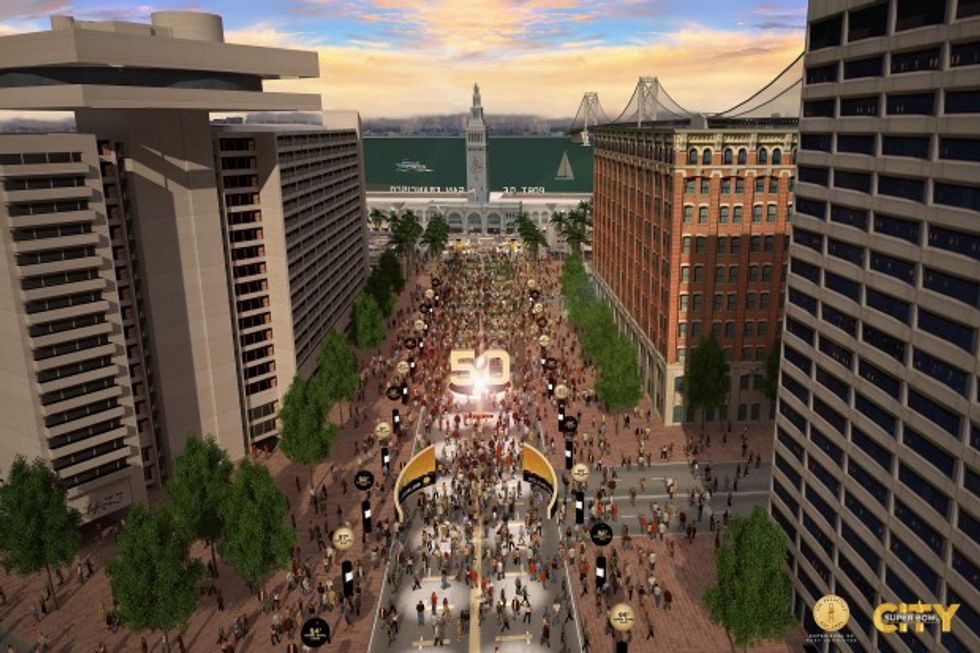 Computer generated shot of "Super Bowl City," which will be located in downtown San Jose during the week leading up to Super Bowl 50. (Image source: CBS)
"Their technology tracks cellphone usage. Cellphones tend to ping about 150 times a day from the phone, their GPS location to a nearby tower," Ben Roschke told KPIX-TV. Roschke works with Team San Jose, an economic development organization and the official Convention and Visitors Bureau for the city.
But this isn't new for San Jose. According to KPIX-TV, the city has already been tracking phones for a year. AirSage has access to Verizon and T-Mobile carriers and is able to pinpoint locations within roughly 100 yards. The data does not reveal the user's identity.
Roschke shared that utilizing the data collected by AirSage during the Super Bowl 50 events has the potential to benefit the city of San Jose tremenously.
"We really want to see what destinations they're liking, and what areas we can help focus on for future marketing efforts," he said.
According to KPIX, San Jose residents had mixed opinions upon hearing the news. Some, however, said they understood how the data could benefit businesses.
"I don't see the harm in it," Jamealle Spain, a San Jose local, said. "I mean I can see the potential harm, but I think in this case, in this scenario the way they're using the data, just so that they know how much to staff, what they should do, what places should be opened, what places should be closed."
Chris Arkley, who manages San Jose's San Pedro Square Market Bar, told the outlet that it makes sense to track the information for an event as huge as the Super Bowl.
"It's always gonna be a time of invasion of privacy a little bit, no matter how much they say they're not gonna look at stuff. But with an event of this size, I know for me running this bar, it's unpredictable — we don't know where people are going to be," Arkley said, explaining that the data will allow the city to better prepare for future events.
Super Bowl 50 will air Sunday, Feb. 7, on CBS. AirSage will provide a report on the collected data in April.
(H/T: KPIX-TV)
—
Front page image via Shuttershock.