A woman and her 8-year-old son almost drowned after their car careened into a flooded culvert in Salinas, California, Tuesday — but they were rescued by a homeless man who was camping nearby.
Rick Biddle's barking dog alerted him that there was a problem — and he quickly sprung into action to save Abby Valladarez and Mikey Azevedo.
According to California's KSBW-TV, Valladarez is still recovering at a local hospital "after taking in too much water," but Mikey and other members of their family sought Biddle out to thank him for being a "hero."
Rescue workers said that the mother and son "traveled about the length of five football fields" in fast-moving water before Biddle saw them.
"Your momma went over a half mile in the darkness through that tunnel not being able to see and all she could think about was you — that's all she could think about, 'God I'm glad he's all right,'" Biddle told Mikey.
Mikey said that he only has "a few scratches and sore wrist."
"I thought that I was going to die, like drown, because I didn't know how to swim," Mikey said. "I was yelling for help hoping someone would find me."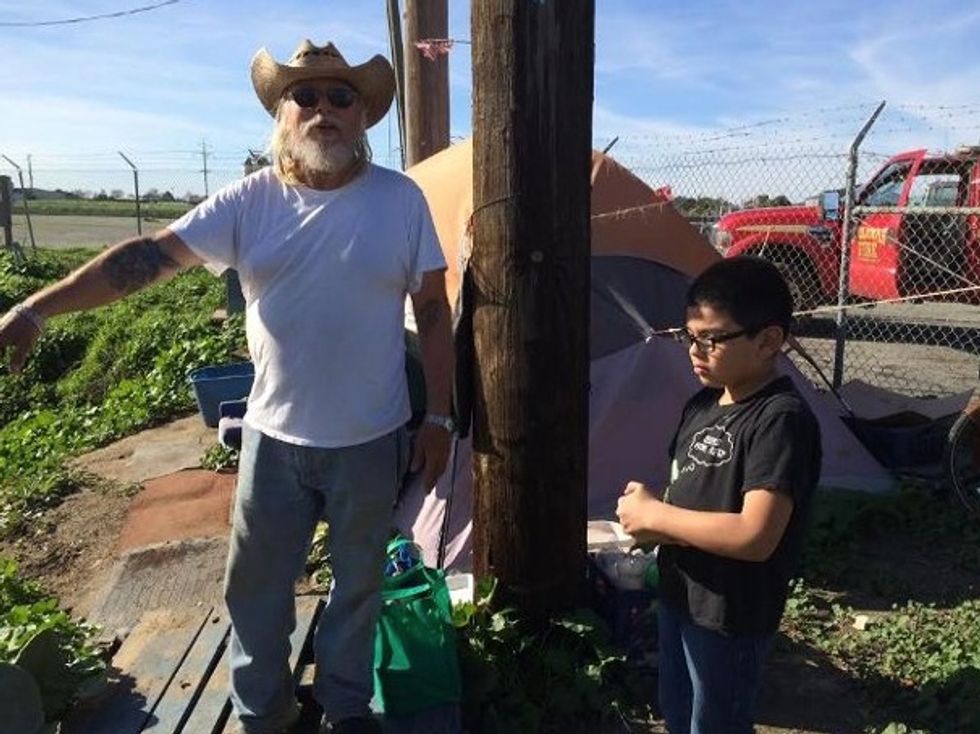 Mikey Azevedo thanks Rick Biddle for rescuing his mom, Abby Valladarez. (Image source: KSBW-TV) 
The family brought Biddle some supplies, including new sleeping bags and a warm jacket.
"I appreciate that," Biddle said. "You didn't have to do that, though."
"If I could do more, I would've," Henry Azevedo, Valladarez's ex-husband, said.
"If Rick wasn't here who knows what would've happened. She could've kept going and they might not have found neither of them and who knows what really would've happened and we're just very thankful," Henry later told KSBW.