A new unearthed video from 1988, which quickly spread like wildfire over the weekend, depicts the 18-year-old version of Cruz cracking jokes and talking about taking over the world.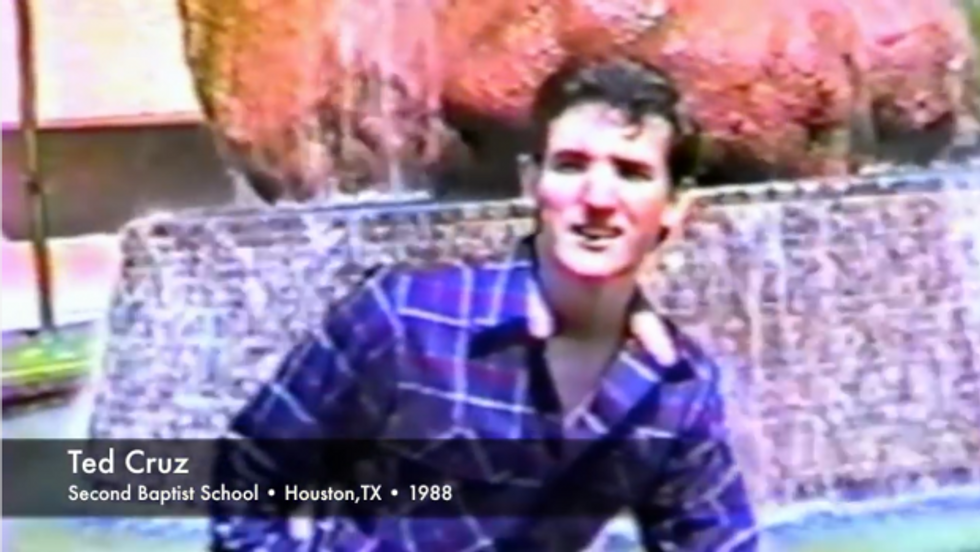 Image source: Youtube/screenshot
The video shows Cruz replying to a question from the man behind the camera about his future aspirations, to which he says, "Aspirations? Is that like sweat on my butt?"
"My aspiration is to, uh, oh I don't know, be in a teen tit film like that guy who played Horatio. You know he was in Malibu Bikini Beach Shop," he adds. "Take over the world, world domination, you know, rule everything, rich and powerful, that sort of stuff."
The video ends with a joke from Ted's father, Rafael Cruz.
"Mr. Cruz, do you think Ted is going to rule the world one day?" the man behind the video asks.
"I hope not," he jokingly replies, with a large smile on his face.
Politico reported that an individual obtained the video from one of Cruz's former classmates, who asked to remain anonymous.
Watch the video below:
—
Follow the author of this story on Twitter and Facebook:
[facebook //www.facebook.com/plugins/like.php?href=