Last week, a video of a Florida woman attacking an Uber driver went viral.
Shortly after word of the Jan. 17 incident began circulating, it was revealed that the belligerent woman featured in the video is a doctor in Miami, WFOR-TV reported.
Anjali Ramkissoon, a fourth-year neurology resident, has since been "placed on administrative leave" and "removed from all clinical duties," Jackson Health System's Director of Communications said in a statement.
Ramkissoon appeared on ABC's "Good Morning America" Wednesday to discuss the video that received hundreds of thousands of views.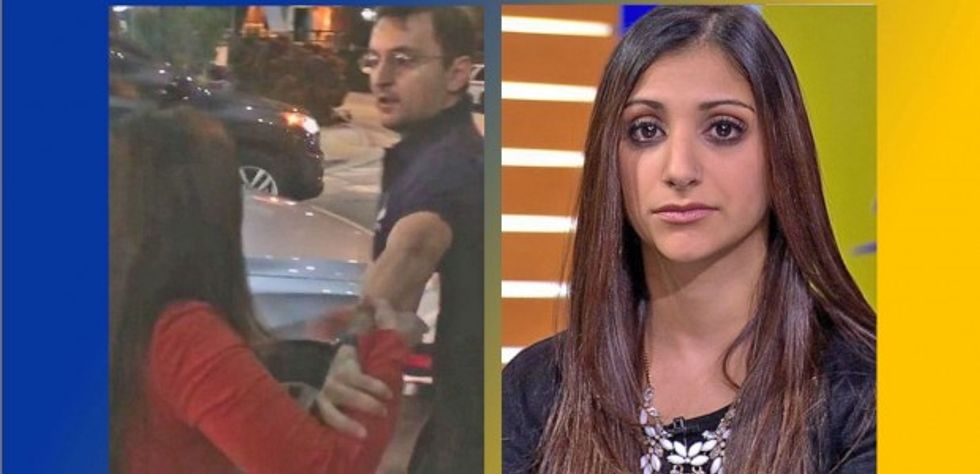 Image source: ABC News
She shared that, since she lashed out at the Uber driver in downtown Miami, who was waiting to pick someone else up at the time, she and her family have been targeted and critiqued on social media.
"My family was targeted. Their address was leaked," Ramkissoon told host George Stephanopoulos. "I've received messages telling me that I should kill myself, that I should have been raped that night."
"I see a person that is not me. I'm ashamed," she continued. "I still can't watch the entire video."
The video shows Ramkissoon taunting the driver, swatting at him, throwing items out of the passenger side window and even attempting to knee the driver.
"In the moment, I was just so angry. I wasn't really thinking, and if I could take it back, I would," Ramkissoon said. "There is absolutely no excuse for my actions. I am ashamed. I am so sorry. I've hurt so many people with this."
Ramkissoon explained that she had an uncharacteristically awful day leading up to the incident. Not only was her father admitted to the hospital that day but, just minutes before the incident, she and her boyfriend of two years had broken up.
"I was extremely stressed out that day," she said. "It was probably one of the worst days of my life, and I was caught at my lowest moment. Nothing like this has ever happened."
Still, she offered no excuses for her behavior.
"I made a huge mistake, the biggest mistake of my life, and that person is not me," Ramkissoon said.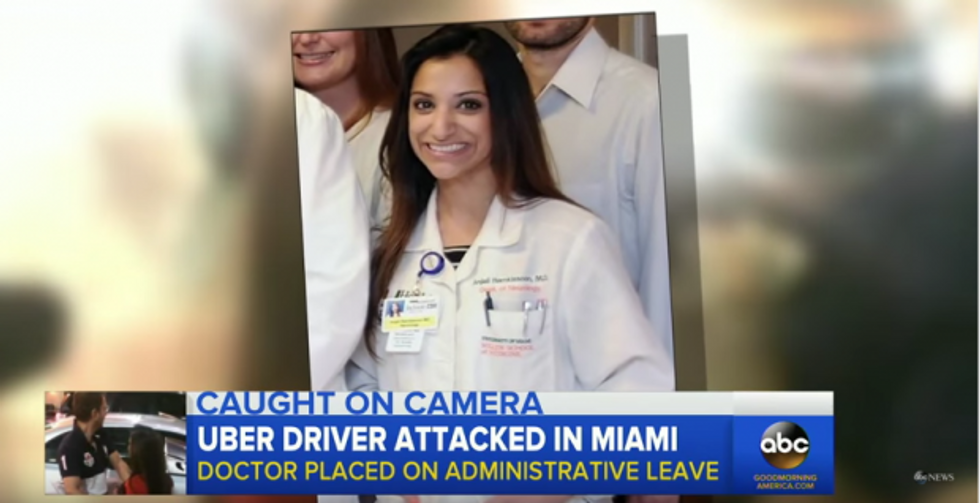 Image source: ABC News
Ramkissoon, who had been drinking a lot that evening, explained that, knowing she was in no state to be driving back home, she called an Uber.
The customer who ordered the car Ramkissoon tried to get into recorded a video of the altercation on a cellphone and posted it to YouTube.
"I think it's ridiculous, and I'm here to own up to what I did," Ramkissoon said. "I'm taking responsibility for it, and I'm asking for forgiveness."
The statement from Jackson Health System's Director of Communications said that the facility has launched an internal investigation of Ramkissoon.
"The outcome of the investigation will determine if any disciplinary action will be taken, up to and including termination," the statement said.
Uber told ABC News they've suspended Ramkissoon's account pending the investigation. The Uber driver Ramkissoon attacked, however, did not press charges, for which Ramkissoon said she was "grateful."
"We actually settled while we were out there. I paid for the damages and I apologized to him, and he accepted my apology," Ramkissoon said. "I'm so thankful that he did not press charges, that he did not have me arrested."
"It's affected my personal life," Ramkissoon said. "I get it. I did something extremely horrible, and I'm also extremely sorry for it."
When asked how she plans to move forward after the incident, Ramkissoon said she hopes her story can serve as a lesson for others.
"I did it, and I'm ashamed of what I did and this would never happen again," she said. "At the same time, I think that I should also speak out to send a message out to people and the public to be careful and use my story as a lesson to be careful what you do in public because the things that we do can be taped and we can have to suffer severe ramifications for these things."
WATCH: Miami doctor shown attacking Uber driver in viral video calls it 'biggest mistake of my life' in ABC News Exclusive interview. Ramkissoon also says father had been placed in hospital and she broke up with her boyfriend in the lead up to drinking and Uber incident: http://abcn.ws/1PSnUnL

Posted by Good Morning America on Wednesday, January 27, 2016
(H/T: ABC News)