Republican frontrunner Donald Trump offered to participate in Thursday's debate if the network would donate $5 million to his charities, a Fox News spokesperson said.
In a statement provided to TheBlaze, a network spokesperson said Trump had three "brief conversations" Thursday with Fox News Chairman and CEO Roger Ailes.
"In the course of those conversations, we acknowledged his concerns about a satirical observation we made in order to quell the attacks on Megyn Kelly, and prevent her from being smeared any further," the statement said. "Furthermore, Trump offered to appear at the debate upon the condition that FOX News contribute $5 million to his charities."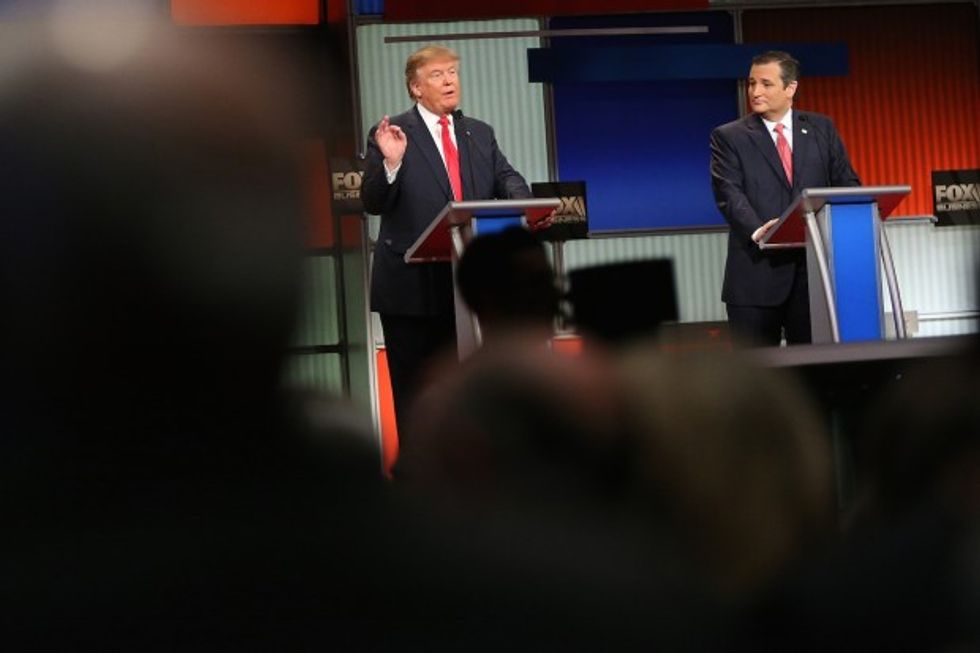 Scott Olson/Getty Images
The Fox News spokesperson said executives at the network "explained that was not possible and we could not engage in a quid pro quo, nor could any money change hands for any reason."
The statement concluded with a show of support for host Megyn Kelly, who Trump has relentlessly attacked and blasted as a "lightweight" journalist.
"In the last 48 hours, we've kept two issues at the forefront — we would never compromise our journalistic standards and we would always stand by our journalist, Megyn Kelly," the spokesperson said. "We have accomplished those two goals and we are pleased with the outcome. We're very proud to have her on stage as a debate moderator alongside Bret Baier & Chris Wallace."
Trump claimed earlier in the evening that a network executive, who he would not name, had called and offered an apology to him.
The billionaire businessman said that he reconsidered his decision to boycott, but ultimately concluded he could not make the debate because it conflicted with his special event planned to raise money for veterans, according to The New York Times.
—
Follow the author of this story on Twitter and Facebook: