Oscar-nominated actor Leonardo DiCaprio had a private meeting with Pope Francis Thursday, Vatican Radio confirmed.
DiCaprio, a long-time environmentalist, has a lot more in common with the pontiff than one might initially think. Though famous for very different reasons, the two share an interest in climate change issues and an ability to influence others.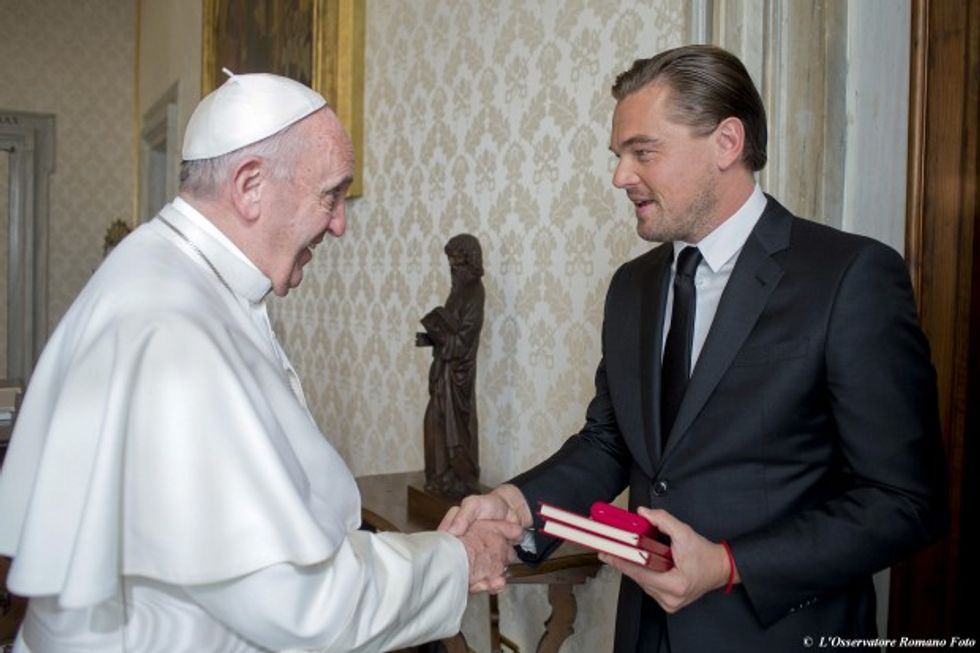 Pope Francis meets with actor Leonardo DiCaprio during a private audience in the pontiff's private studio at the Vatican Thursday. (L'Osservatore Romano/Pool Photo via AP)
Earlier this month, DiCaprio received an award at the World Economic Forum in Davos, Switzerland, for his commitment to green campaigning.
"We simply cannot afford to allow the corporate greed of the coal, oil and gas industries to determine the future of humanity," DiCaprio said at the forum, according to the Independent.
He also announced that the Leonardo DiCaprio Foundation will donate $15 million to environmental projects. "The Revenant" star launched his charity in 1998 to support sustainable environmental initiatives.
In May, Pope Francis published his encyclical Laudato Si ("Praise Be"), which exhorted wealthy nations to provide more aid in combatting climate change and encouraged environmental stewardship.
Watch the video from the Telegraph here: