Glenn Beck challenged Republican presidential candidate Marco Rubio Friday, telling Fox News host Megyn Kelly that the Florida senator is "turning his record upside down and inside out" as he battles his competitors for the GOP nomination.
As the race between Rubio and Texas Sen. Ted Cruz tightens, Cruz is shifting his focus away from his chief competitor Donald Trump and refocusing on Rubio, specifically highlighting their differences on immigration reform.
"I just can't take it anymore. We are an under-informed electorate and you're allowed to just lie, and lie, and lie on stage," Beck told "The Kelly File" host. "[I]t's soundbite city. They're turning everything upside down — it is incredible.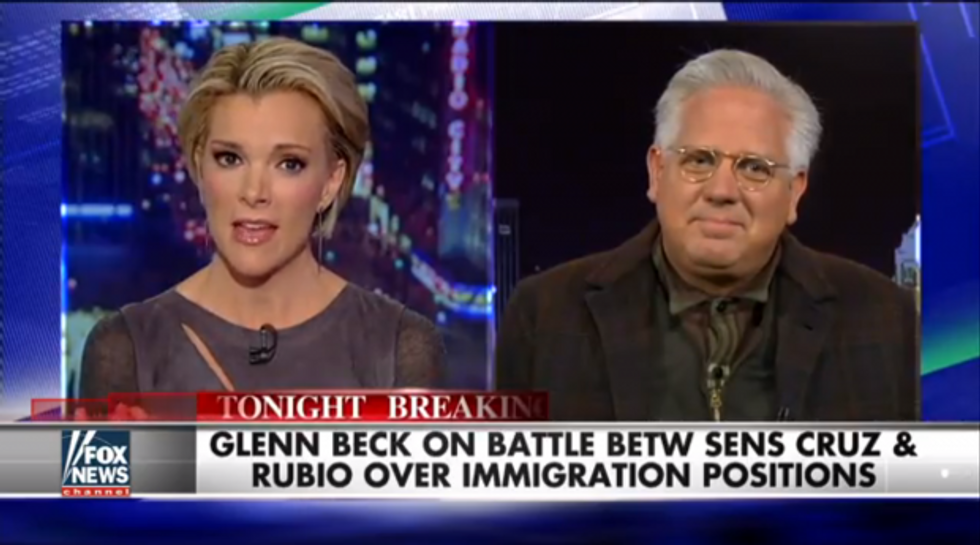 Glenn Beck discusses the candidates' battle for the GOP nomination with Megyn Kelly Friday, Jan. 29. (Image source: Fox News)
Beck, who has endorsed Cruz and is campaigning for him in Iowa this weekend, slammed Rubio for attacking the Texas lawmaker and accusing him of supporting amnesty.
"He is turning his record upside down and inside out when Cruz is very clear. The one thing you can say about Ted Cruz is he is consistent," Beck said of his position on immigration reform.
The popular radio personality went on to say the reason the Washington establishment doesn't like Cruz is because he does "exactly what he says he's going to do and he doesn't waver from that."
"That's why they hate him," Beck added.
Kelly, who during Thursday night's debate challenged Cruz on amnesty, agreed with Beck, saying that after she reviewed Cruz's record, she found it to be "pretty clear" that the senator did not support a pathway to legalization or amnesty.
"I think the record is pretty clear — just ask Chuck Schumer — Ted Cruz did not want legalization or amnesty to pass," Kelly said of Cruz's "poison pill" in the 2013 Gang of Eight immigration bill.
"What he was doing was saying, look, 'Oh, Chuck, oh, Marco, really? You don't want citizenship? Oh, OK, so that bill has no citizenship in it?' 'No it doesn't, Ted.' 'OK, great. I'm going to write a 38-word amendment. I'm going to tuck that in there so it's crystal clear,'" Beck said. "As soon as he did that, they wanted nothing to do with it."
According to Beck, Cruz was "exposing" Rubio and the Gang of Eight, not supporting their bill.
Later in the interview, the conversation shifted to Thursday night's GOP debate, which Beck said was not Cruz's "best night ever," but said the Iowa frontrunner has "the arrow on his back, the bullseye on his forehead."
"There's nobody in the media that wants Ted Cruz and there's nobody in the establishment that wants Ted Cruz. He has the arrow on his back, the bullseye on his forehead," Beck told Kelly. "He's coming under attack from everybody."
He went on to say he thought Cruz had a "good night, he just didn't have a great night." Part of the reason, according to Beck, is due to the fact that Rubio is a "good, dynamic speaker" who is "strong" on national defense.
However, Beck said Cruz is "principled" on defense policy, and voiced concerns that Rubio could breach constitutional liberties when it comes to national defense.
"There's a lot of people that will trade their freedom for their security — I'm not one of them," Beck said. "[P]eople say they want to restore America to her greatness. If we don't restore her principles, we will never be great."
"There is nothing to America besides our principles, and we have lost them," Beck concluded.
Watch the exchange below:
—
Follow the author of this story on Twitter: