The owner of a nightclub in Denmark said he has the right to keep patrons out of his establishment who don't speak Danish, German or English after he was accused of discriminating against Middle Eastern asylum-seekers.
The Daily Mail reported that Tom Holden Jensen, owner of the Buddy Holly club in Soenderborg, insisted the policy to exclude those who cannot speak the three European languages is appropriate after reports from female customers that they were being groped and "raped…with hands" on the dance floor by men they identified as asylum-seekers.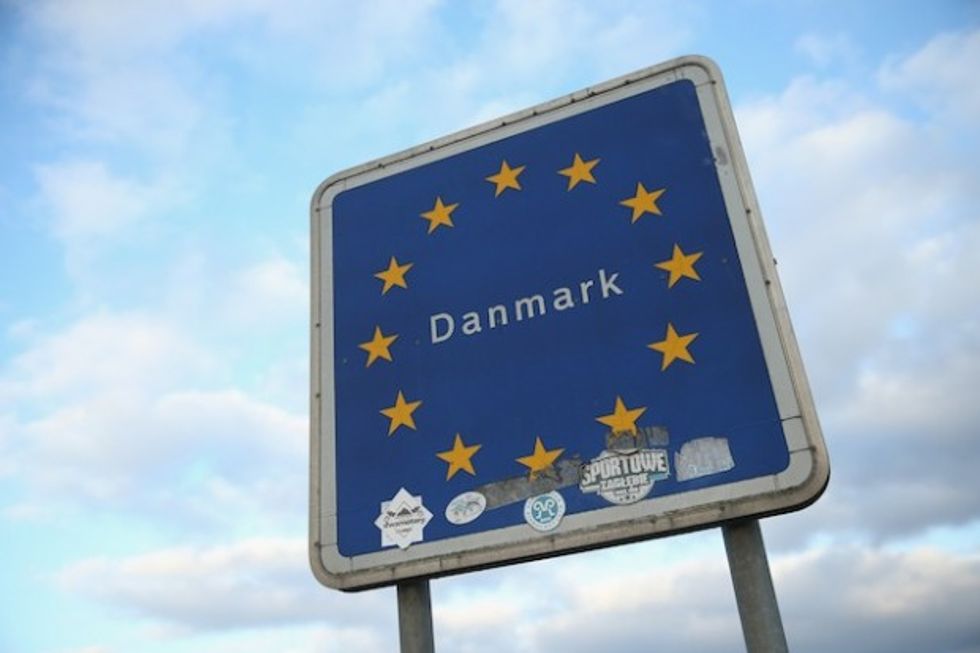 A sign marks the border to Denmark along the A7 highway on January 6, 2016 near Padborg, Denmark. Denmark introduced a 10-day period of passport controls and spot checks earlier this month on its border to Germany in an effort to stem the arrival of refugees and migrants seeking to pass through Denmark on their way to Sweden. (Sean Gallup/Getty Images)
Jensen said the language litmus test was put in place, because his staff in the past was unable to explain to the offending customers that their behavior was unacceptable.
"The challenge we face is that we can't communicate with refugees, they don't understand what I am saying at all," Jensen told the Daily Mail.
"We have experienced episodes where Syrians have danced too close to women, occasions when they have put their hands on their bottoms," he said, adding, "They continued to do so even though the women told them to stop and leave them."
The Daily Mail reported that the policy could put him at risk for violating Denmark's discrimination laws, an infraction the British paper noted carries a maximum sentence of six months.
However, the proprietor insisted that he has the right to operate the business as he sees fit.
"We reserve the right to operate our business as we have done all the years, also before there was a war in Syria, and we intend to continue that also after the war ends. And if someone thinks differently they are welcome to try it in court," he said.
Amnesty International said the measure is discriminatory against migrants, the English-language website The Local reported.
"Of course you can communicate with people if something security-related happens, even if they cannot speak Danish," spokesman Claus Juul told TV 2, according to the Local's translation.
The Mail noted that Jensen is a councilor with the right-wing Venstre Party.
Britain's Daily Telegraph reported that the Buddy Holly club is not the only one to institute a language filter for entry.
Nightclubs in at least three Danish cities have instituted rules designed to keep out asylum-seekers following reports of multiple sexual assaults in various European cities by men described as migrants on New Year's Eve, most notably in Cologne, Germany.
"A large number of the male guests who come from the local asylum center have a very hard time respecting the opposite sex," an unnamed employee at another Sonderborg club told TV Syd.
"In my eyes, it is harassment when one or more men continue to touch a young woman after she has said 'stop,'" the employee added.
Featured image: Shutterstock/AlphaSpirit