Calls to carpet bomb Islamic State terrorists are "inconsistent" with American values, U.S. Army Lt. Gen. Sean MacFarland said Monday, seeming taking a jab at Republican presidential contender  Ted Cruz.
While MacFarland did not call out any particular person by name as he spoke to reporters at the Pentagon via video from Iraq, his comments were most likely directed at the Texas senator who has promised to "carpet bomb" the Islamic State and see whether "sand can glow in the dark" on the campaign trail and during a debate.
According to the Washington Examiner, MacFarland, who is commander of Operation Inherent Resolve, said that while carpet bombing is not a solution to eradicating the Islamic State, he has been charged with figuring out a plan against the terrorist organization.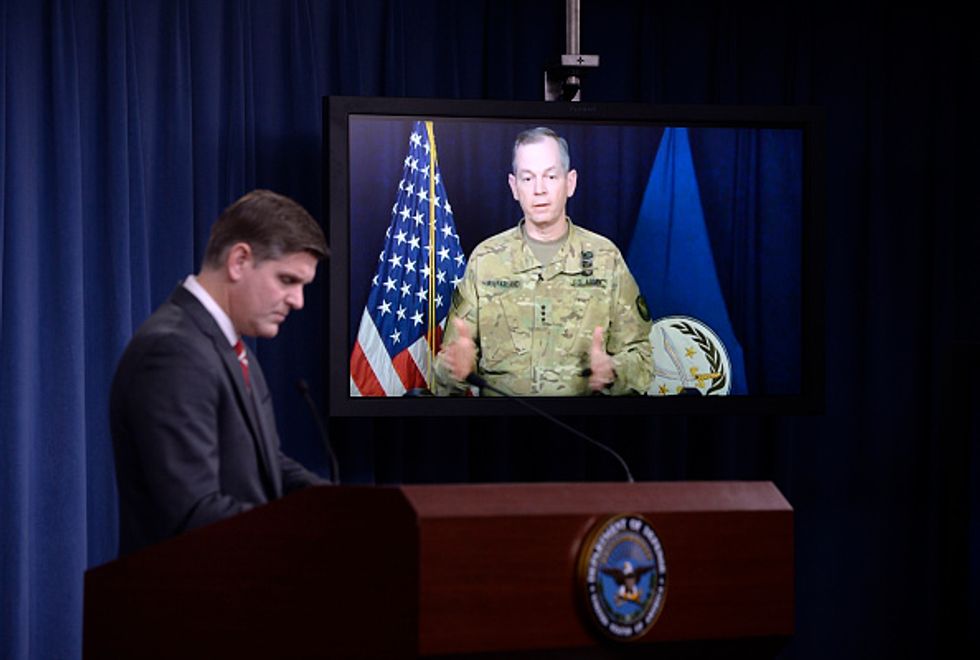 Combined Joint Task Force Commander Army Lt. Gen. Sean MacFarland speaks via teleconference from Baghdad, Iraq, as Pentagon press secretary Peter Cook listens during a media briefing at the Pentagon to update operations on Operation Inherent Resolve on Monday in Arlington, Virginia. (Oliver Douliery/Getty Images)
"We're the United States of America. We have a set of guiding principles," MacFarland said, according to Politico. "Indiscriminate bombing, where we don't care if we're killing innocents or combatants, is just inconsistent with our values."
"At the end of the day, it doesn't only matter whether or not you win, it matters how you win," he said. "So indiscriminate bombing where we don't care if we're killing innocents or combatants is just inconsistent with our values."
"Right now we have the moral high ground, and I think that's where we need to stay," MacFarland added.
Cruz's carpet bombing calls have irked many — apparently including President Barack Obama who addressed the idea in his State of the Union address in January. Obama said then that defeating the Islamic State would be more than "tough talk or calls to carpet bomb civilians. That may work as a TV sound bite, but it doesn't pass muster on the world stage."