MSNBC host Melissa Harris-Perry published a harrowing column Tuesday detailing an eerie incident that unfolded at a hotel lobby in Iowa the previous night.
"I don't know if he was there to kill me," the column began.
Harris-Perry said she was "sitting in a hotel lobby in downtown Des Moines" and "didn't notice until he was standing right next to me, much closer than is ordinary or comfortable."
"When he started he speaking it was like he was picking up in the middle of sentence, finishing a conversation we had begun earlier, but I couldn't remember ever meeting him," she wrote.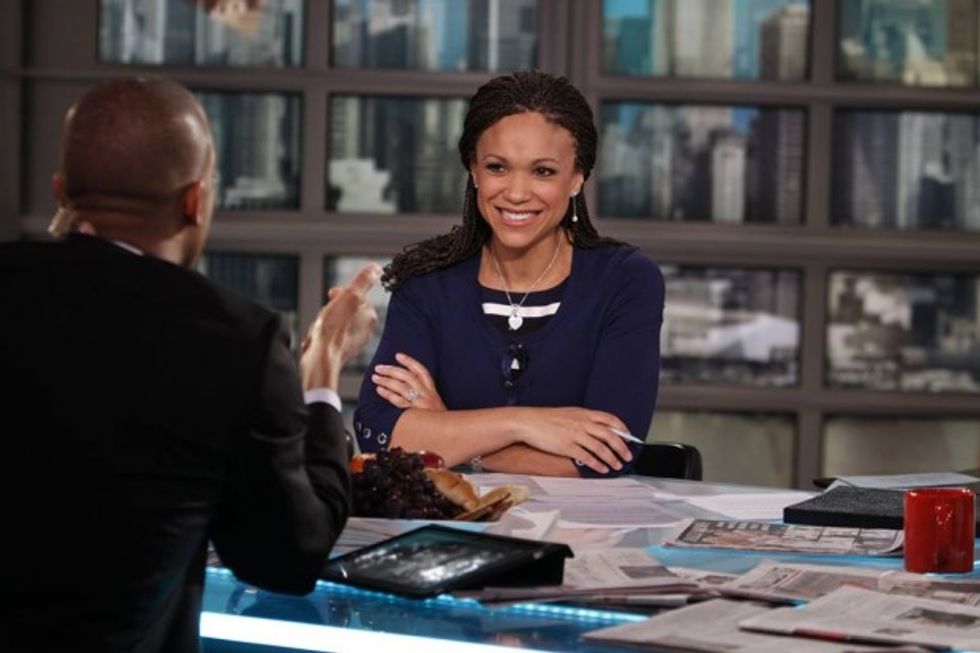 Image source: Facebook
The MSNBC host recounted a short conversation the two had before he asked how she got "credentialed" on the network.
"I am not sure if it is how he spat the word credentialed, or if it is how he took another half step toward me, or if it is how he didn't respond to my question, but the hairs on my arm stood on end. I ignored it," she wrote. "Told myself everything was ok."
Moments later, Harris-Perry said the man asked, "But why you? Why would they pick you?"
Now I know something is wrong. Now his voice is angry. Now a few other people have stopped talking and started staring. Now he is so close I can feel his breath. Before I can answer his unanswerable question of why they picked me, he begins to tell me why he has picked me.

"I just want you to know why I am doing this."

Oh – there is a this. He is going to do a this. To me. And he is going to tell me why.
Harris-Perry said she froze momentarily before jumping up. The MSNBC host, who also serves as a professor, said one of her friends "jumps too" and "throws herself between he and I."
"Together we raise our voices and make a fuss. He turns. He runs out. He jumps in a car. He drives off," she recounted. "We try to explain to hotel security what has happened and how I receive hate mail and even death threats, how I have had people show up at my workplace, how this might be serious. They listen politely, but this is the Iowa caucus, and I am not a candidate, so they go back to their evening. And we go back to ours."
Harris-perry said she didn't know "what kind of harm he was prepared to do." She guessed that it could have varied from a "barrage of hateful words" to "something worse."
"I don't know if he was there to kill me," she wrote. "I know they were there to save me."
—
Follow the author of this story on Twitter and Facebook: