Comedian Jimmy Kimmel decided to reimagine some of the quotes that have been made by Republican presidential candidates during the primaries, presenting them through the eyes — and lips — of "Jesus."
"God is a very important part of this primary election," Kimmel said this week during an introduction of a brief segment on "Jimmy Kimmel Live!" "Most all of the candidates go out of their way to talk about the Bible and their faith."
So, the comedian said that he wanted to see how some of their quotes would sound coming "from the mouth of Jesus."
He then flashed over to a pre-taped segment that featured an actor dressed as Christ uttering a variety of proclamations about guns, immigration and international affairs.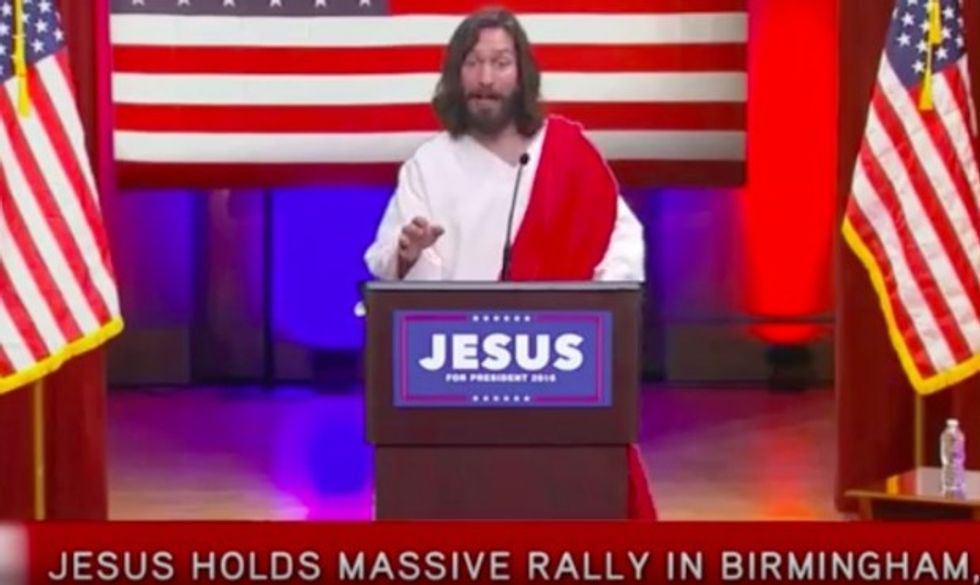 Jimmy Kimmel reimagines candidates' quotes through the mouth of Jesus (YouTube)
"You don't lock your doors because you hate the people on the outside," Jesus said, reciting a similar quote from Marco Rubio. "You lock your doors because you love the people on the inside."
He then pressed on by paraphrasing a quote from Chris Christie that went as follows: "We need appropriate vetting and I don't think that orphans under 5 should be admitted into the United States at this point."
There was also a Ted Cruz quote that was shared about stopping bad guys by "using our guns" as well as the infamous slam that Donald Trump seemingly made about Carly Fiorina's appearance a while back.
"Look at that face," Jesus recited along with an audible gag. "I mean, would anybody vote for that?"
Watch the segment below:
--
Follow the author of this story on Twitter and Facebook: